Ryan, Christina Day help establish fund to aid mental health awareness, efforts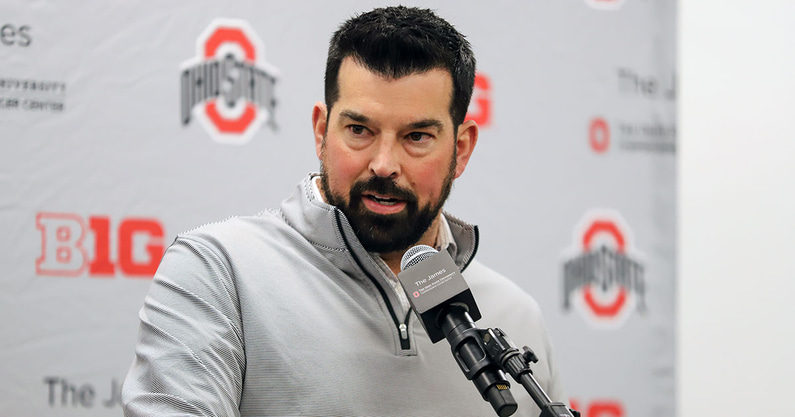 COLUMBUS — Ohio State coach Ryan Day and his wife Nina have been advocates for mental health awareness for years.
They continue to back up what they say with real help. The Day family donated $1 million to the Ryan and Nina Day Resilience Fund at the Ohio State University Medical Center. They made the announcement at a press conference at the medical center Wednesday.
Speaking with Day were Ohio State President Kristina M. Johnson, Ohio State University Wexner Medical Center chief clinical officer Dr. Andrew Thomas and Department of Psychiatry and Behavioral Health at Ohio State professor and chair Dr. K. Luan Phan.
Ryan and Christina Day previously helped with On Our Sleeves at Nationwide Children's hospital, but this is different. This fund at Ohio State will aid college-aged people and adults who are struggling with mental health. The Day family is choosing to attack mental health issues at every walk of life.
"The On Our Sleeves was for children and adolescents and educating those, trying to get to some of the schools and break the stigmas around that, but also to be part of the behavioral health hospital right down in downtown Columbus," Ryan Day said. "The thing that's different here is this is our people we work with every day. This is college-aged students. These are adults. There were a lot of things that happened, some like the [Harry Miller] situation. But there's another couple that we haven't made public, where there were people that needed the resources. And certainly that college age, when Nina and I started talking about that, that's tough, it's a tough year for a lot of people, a tough stretch for a lot of people. They need the resources, they need the help, but then also identifying what those risk factors are, we'd really love to be a part of to get out in front of it. … I guess the biggest differentiators is that one is really for the children. And this is more for our students, Buckeye Nation and for adults."
To be able to do it at Ohio State is an added bonus for the Days.
"We just felt like it was the right thing to do," Ryan Day said. "So many people have poured into us — and invested in us."
Now the Day family is giving back to Ohio State, aiding with mental health awareness yet again.
Day family has history of aiding mental health awareness
The Day family previously partnered with Nationwide Children's Hospital to establish On Our Sleeves in 2019 with a $100,000 donation to the children's hospital.
They were also advocates for mental health when Buckeyes offensive lineman Harry Miller announced his battle with suicide attempts and mental heath struggles.
"We're still trying to figure [the next step] out and what that means for him," Day said about Harry Miller after Miller retired from football due to mental health issues. "The fact that he retired from football is one thing. But he still wants to be part of the program and find a way to make an impact. We don't need to make that decision right now. We're going to give it a little time and try to figure out what that is. But he certainly has a lot to give."
Miller is still with the football program, as Day and the Buckeyes made it clear he still had — and does have — a role in the program. The mental health advocacy goes well beyond the donations and