Analyzing impact of Omari Abor committing to Ohio State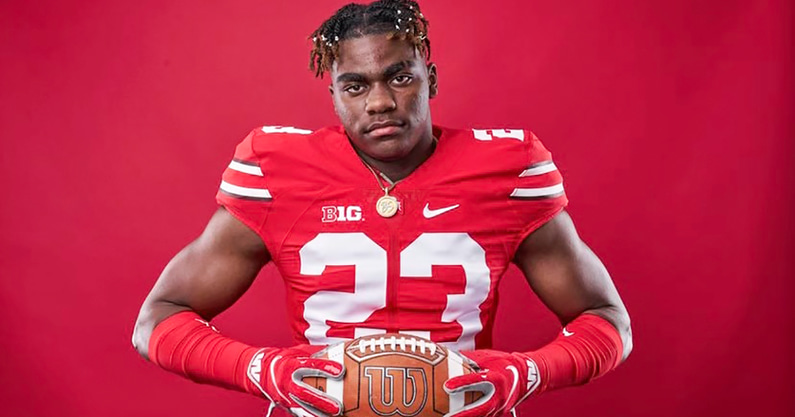 COLUMBUS – Ohio State needed numbers and star talent at defensive line in its Class of 2022. Omari Abor gives the Buckeyes got one more important piece of the puzzle.
Abor, a top-50 overall player out of Duncanville (Texas), pledged to the Buckeyes today, and that gives Ohio State a high-ceiling player out of the Lone Star State once again.
The nation's No. 6-ranked EDGE player, Abor committing to Ohio State gives the program a boost in the position that was of the most importance this late in the cycle.
Lettermen Row is breaking down the Abor commitment and what it means for Ohio State, the Big Ten and the national recruiting landscape.
What Omari Abor gives Ohio State on field
The first thing to notice about Omari Abor is that physically he looks college ready. He's a legit 6-foot-4 and 240-pounds and has a frame capable of carrying about 20-25 pounds easily. It's his frame and athleticism that has college coaches excited but as a player he's still very raw right now.
Ohio State is looking for defensive linemen capable of playing multiple positions and Omari Abor has lined up on the edge for Duncanville and as a three-technique defensive tackle. Duncanville plays at the highest level of competition in Texas and Abor has played regularly against some of the country's best players. That should make the transition to college football a bit easier for him as it does for most Texas high school prospects.
There is a lot of football ahead of Omari Abor and truthfully his best football may be. There were questions about his consistency during his senior season and he'll need to continue developing physically and mentally if he wants to be an early contributor at the next level.
From Charles Power, the On3.com Director of Scouting:
EDGE prospect with his best football ahead of him. Better prospect than player and has missed a senior with injury. Has shown exceptional snap anticipation at times over his high school career. Plays with aggressive hands and initiates contact with offensive linemen. Is flexible and athletic out of his stance. Capable of setting the edge as a run defender with effort, strength and eyes in the backfield. Stays in the fight to disengage.
Shows quickness and agility to pursue and chase down plays. Up and down with his initial movement with a tendency to hop at times when not rushing off the edge. Plays top competition in the largest classification in Texas high school football. Has a well-proportioned frame capable of carrying over 270 pounds. Off-season foot/toe injury required surgery and rehab time. Also suits up for the Duncanville basketball team, which is among the best in the country.
With a little weight gain, I think the Ohio State comparison here is defensive end Tyreke Smith.
Bottom line? Omari Abor is going to be as good as Omari Abor wants to be.
What pickup means for Ohio State 2022 recruiting class
Ohio State has been slow to build its defensive line group in the Class of 2022 but with the addition of Omari Abor the Buckeyes now sit at three new toys for Larry Johnson to work with. He joins fellow defensive end prospects Kenyatta Jackson and Caden Curry in the Ohio State recruiting class.
The Buckeyes have had continued success in the state of Texas over the last handful of cycles and landing Abor is a big win in the Lone Star State. He is the second player in the class from Texas, joining Caleb Burton. His recruitment will likely have some twists and turns before signing day in a month however. It's going to be up to new defensive coordinator Jim Knowles and Larry Johnson to make sure his development path is clear as Texas and others work to flip him.
How Omari Abor impacts 2022 recruiting rankings
Ohio State is the No. 4-ranked recruiting class in the country according to the On3.com rankings. The Buckeyes have 19 commitments in the Class of 2022, which is five fewer than any other top-five ranked class — Alabama has 24 — and eight few verbals than No. 1-ranked Texas A&M.
Inside the Big Ten, Ohio State ranks as the conference's best class. Penn State (24 commitments) and Michigan (23) are still chasing the Buckeyes to win the league's recruiting title.