Payton Kirkland sees path to progress, winning culture during first Ohio State visit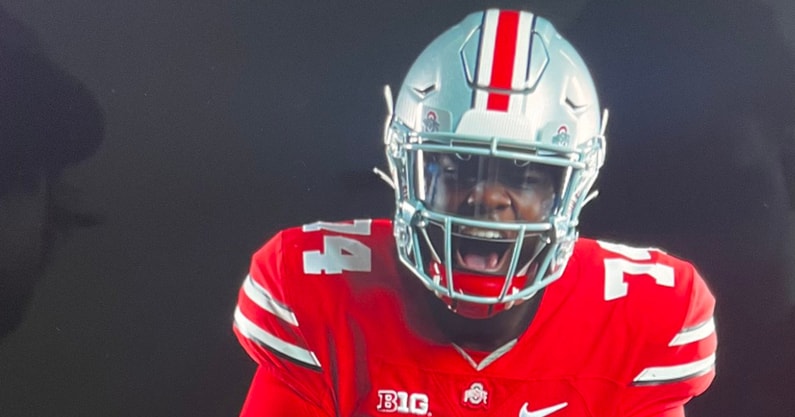 COLUMBUS – Payton Kirkland had talked for a while about wanting to visit Ohio State.
The 6-foot-5, 330-pound rising-junior offensive lineman finally made that happen this week. He was in town for the Buckeyes Bash and BBQ. The two-day stop in Ohio's capital was everything he'd hoped it'd be. As he left central Ohio on Friday morning, Kirkland says the Buckeyes strength program and strength coach Mick Marotti made a big impact on him.
"The strength program really stood out to me," Kirkland told Lettermen Row. "I sat down and talked to Coach Mick and all the strength guys. They showed me the plan they have mapped out for me, what it'd be like if I was to go there. We went over what they've been doing there and you can see it with the changes they've made to player's bodies there."
One of those players is Nick Petit-Frere. A former top-ranked Florida offensive line tackle himself, Petit-Frere's path is of interest to Payton Kirkland who plays at Dr. Phillips High School in Orlando. He talked with the potential first-round pick about Ohio State and how Marotti has helped shape him into the player he is now.
"I talked a lot with Nicholas," Kirkland said. "He's a very well-spoken guy. He talked to me about how it is there, just about the fact that we've got to work. He told me straight up if I want to be a part of the Ohio State program, I've got to be ready to work until I can't anymore.
"Nick was definitely blessed to be ranked high when he was in high school. And his growth shows that the proof is in the progress, you know? I've seen I've seen the progress and all the weight he's gained and all that. I aspire to be like that one day. I'm coming for the No. 1 spot in high school and then I'm coming to be a No. 1 draft pick in college."
That culture of work is one part of what made Ohio State unique for Kirkland. The other part of the Buckeyes culture stood out just as much.
"I really, really enjoyed my time talking to Coach [Ryan] Day," Kirkland said. "He's so big on family. That's something I really do like about the Ohio State program because it's so important to me, my mom and my family. He's just a very genuine guy but he's also very blunt, very up front. What he's done there, again, the proof is in the progress. You can really see the difference in culture between other schools and Ohio State.
"That is the family part of it. Coach Day and his staff take that very seriously and it's something I can see myself being a part of."
A Chicago-native now living in Florida, Kirkland has no issues at all with the idea of leaving the south for college. Whenever he's ready to make a college decision, he will. There's no timeline.
"I am definitely the type of guy to take my time with things," he said. "We'll see how things pan out. I'm on God's time, not mine. Whenever He leads me to the right time, it'll happen."
(Top photo: Payton Kirkland/Courtesy)