Scarlet Sunrise: Buckeyes early enrollees begin arriving in Columbus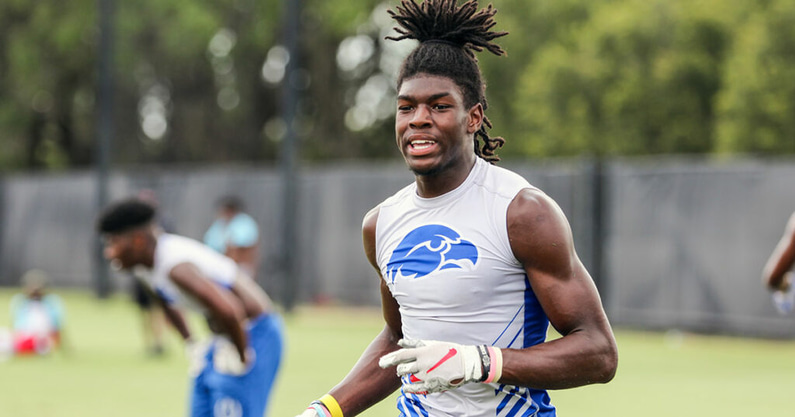 Good morning, Ohio State fans, and welcome to the Scarlet Sunrise. Football will always be our focus, but every day we'll cover news, notes and analysis from across Buckeyes sports. Join us each morning to get caught up on everything you missed in the world of Ohio State football, recruiting, basketball and more in Scarlet Sunrise.
Buckeyes early enrollees begin arriving in Columbus
Ohio State just played in the Rose Bowl last week.
But a part of next season is already starting. Some Buckeyes early enrollees began arriving to begin their Ohio State careers this weekend. Safety Kye Stokes was one of the first to touch down in Columbus on Friday, and he's now officially with the program after signing in December.
Stokes is one of at least 10 signees from the 2022 recruiting class that will be enrolling early to get a head-start on their careers with the Buckeyes, a strategy that has worked out for plenty of players before them who wanted to try their hand at earning early playing time.
So that process is already underway. Next season is, in a way, already here. The early enrollees are becoming part of the program just a week after last season ended.
ICYMI: Tim May Podcast recaps Rose Bowl
The Buckeyes rallied for a 48-45 Rose Bowl win over Utah over the weekend to end their 2021 season on a positive note and get the year 2022 off to an explosive start.
In order to break down the Rose Bowl even further here at Lettermen Row, the Tim May Podcast returns for another big show as Lettermen Row's Tim May welcomes in a pair of guests to this week's edition – Marlon Kerner and Bill Bender.
Kerner, a former Ohio State defensive back, once again brings some valuable insight from his play days to detail what impressed him about the Buckeyes thrilling win from Pasadena.
Bender, a national college football writer at Sporting News, comes to the table with plenty to talk about and takes a deep dive into what lies ahead for Ohio State this January.
Buckeyes long snapper back for rare seventh season
Bradley Robinson still isn't ready to move on from Ohio State.
The veteran long-snapper poked a little fun at himself for how long he's been in college. But with two degrees already secured and a starting job still available for the Buckeyes if he wanted, Robinson elected on Friday to stick around for one more season.
So, Ohio State secured a seventh-year special-teams contributor for the roster moving forward, ensuring more stability for that unit as the program continues to reload for a championship push next season.
The Buckeyes can check one more item off the to-do list as they start chasing those championships again heading into the new year. With the reliable Robinson back again, that's one more starting position that Ohio State won't have any concerns about either filling or dealing with inexperience. And even beyond his veteran presence in the locker room, the Rose Bowl Scholar Athlete Award winner also sets a strong example off the field.
READ: Bradley Robinson commits to rare seventh year of eligibility at Ohio State
Are you subscribed yet?
Are you ready to get all your latest Ohio State news in one place? Become a member of Lettermen Row today. With your Lettermen Row/On3+ membership, you'll not only have access to the everything that's happening with the Buckeyes, but you'll also be able to peruse other fan sites within the network to hear just how rivals are feeling about Ohio State, as well. Make sure to follow along on Twitter, Facebook, Instagram and on Youtube for all the latest Ohio State news you need to know.
Sign up for the Scarlet Sunrise newsletter
If you enjoy the Scarlet Sunrise posts, please consider having our newsletter delivered to your inbox every weekday morning.