Scarlet Sunrise: Ben Christman sheds black stripe for Buckeyes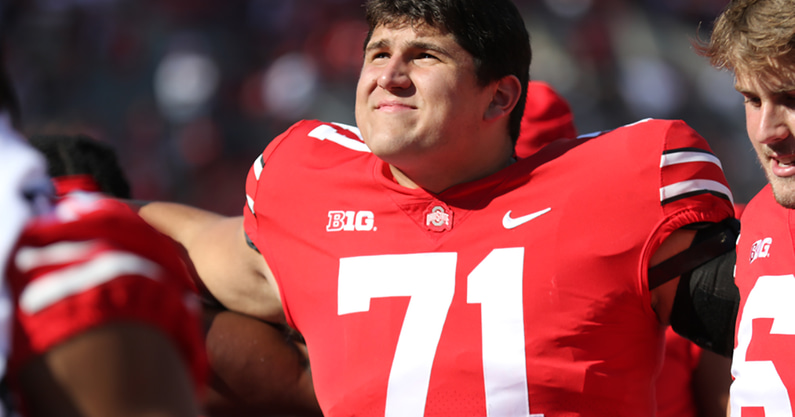 Good morning, Ohio State fans, and welcome to the Scarlet Sunrise. Football will always be our focus, but every day we'll cover news, notes and analysis from across Buckeyes sports. Join us each morning to get caught up on everything you missed in the world of Ohio State football, recruiting, basketball and more in Scarlet Sunrise.
Ben Christman sheds black stripe for Buckeyes
Ben Christman is going through a developmental first year at Ohio State.
A big mark of progress has been made. Christman lost his black stripe after practice Tuesday evening, a sign that he's officially a part of the Buckeyes football roster now.
A former four-star recruit, the freshman offensive lineman continues to progress and will be a valuable part of the future of the Buckeyes offensive line unit that is currently the top line in the country.
Christman, an in-state player from Richfield, can cement the Buckeyes status as the best offensive line for years to come. It won't happen this year during his developmental season. But it could happen soon, especially after shedding his black stripe late in his first Ohio State campaign.
Zach Boren breaks down Buckeyes defense
Yes, Ohio State will still see a few corrections that must be made, starting with a handful of missed tackles. But the encouraging signs from the previous couple games where the Silver Bullets led the way simply weren't washed away by what happened against Purdue.
That description doesn't really apply to Michigan State heading into the huge East Division showdown on Saturday, and it definitely doesn't fit Michigan next week in what could be an absolutely massive edition of The Game.
From that perspective, the Buckeyes are certainly able to take what they did on Saturday with a few grains of salt — even if the defense will still take any problems it watched on film seriously.
What can Ohio State learn from the defensive outing against the pass last week? Do the Buckeyes have any reason for concern after a couple solid games of clear improvement? Where will the emphasis be for the Silver Bullets against Michigan State? Former Ohio State captain Zach Boren was back in the film lab with Lettermen Row to answer those questions and more in the latest episode of BuckIQ.
Roll the tape!
Weekend Kickoff presented by Bryant Heating and Cooling Systems
Lettermen Row Weekend Kickoff presented by Bryant Heating & Cooling Systems: The Whatever It Takes Pregame Show is back!
The Lettermen Row crew will be live from Urban Meyer's Pint House in Dublin's Bridge Park on Thursday night for a full preview of the Buckeyes next Big Ten matchup, this time a massive top-10 showdown against Michigan State.
The next edition of the show will be Thursday, Nov. 18 at 7 p.m., and there will be plenty of Ohio State guests on hand to break down the pursuit of a win. Come out to see Cardale Jones, Zach Boren, Bobby Carpenter and other former Buckeyes greats give their insight about the upcoming game with the Spartans and give predictions about the matchup.
Get set with the panel of former Buckeyes with analysis, stories, delicious food from Urban Meyer's Pint House in Dublin and some cold Coors Light. Don't miss the next show Thursday at 7 p.m.
Lettermen Row Weekend Kickoff presented by Bryant Heating & Cooling Systems: The Whatever It Takes Pregame Show is proudly sponsored by Coors Light and Byers Auto!
Download Lettermen Row's free app
Want an easier way to get free premium content from Lettermen Row?
The Lettermen Row app is here! Get all of the Ohio State news, analysis, videos and everything else you've come to expect from us in one free, convenient spot. It's now available in both the App Store and Google Play. Check it out!
The Lettermen Row app can be found for free here:
Sign up for the Scarlet Sunrise newsletter
If you enjoy the Scarlet Sunrise posts, please consider having our newsletter delivered to your inbox every weekday morning.