Scarlet Sunrise: Buckeyes battle Michigan State for B1G East superiority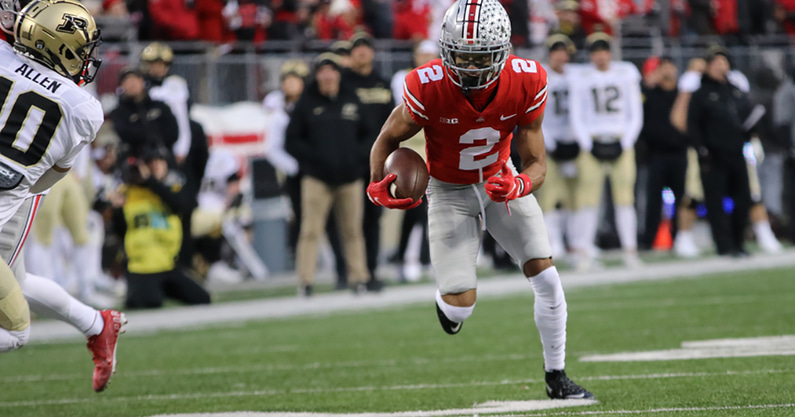 Good morning, Ohio State fans, and welcome to the Scarlet Sunrise. Football will always be our focus, but every day we'll cover news, notes and analysis from across Buckeyes sports. Join us each morning to get caught up on everything you missed in the world of Ohio State football, recruiting, basketball and more in Scarlet Sunrise.
Ohio State-Michigan State game time, details
Ohio State and Michigan State will kick off for the 50th time in their history. The Buckeyes are 34-15 against the Spartans all-time, including winning the last five games by an average of 26 points per game.
Ohio State hasn't lost to Michigan State since 2015, when the defending national-champion Buckeyes fell at home, 17-14, to a Michigan State team that ultimately won the Big Ten and went to the College Football Playoff.
Time: 12 p.m. ET
Date: Saturday, Nov. 20, 2021
Location: Ohio Stadium, Columbus, Ohio
Weather: 48 degrees and mostly cloudy
TV Channel: ABC
The line: Ohio State is a 19-point favorite, per VegasInsider
Over/under: 68.5 points
Ohio State gambling notes, trends
The Buckeyes are 6-4 against the number this season.
The losses came in the defeat to Oregon and the wins over Tulsa, Penn State and Nebraska.
The Buckeyes have been double-digit favorites in all 10 previous games this season.
Ohio State covered double-digit spreads in five of its past seven games.
The Buckeyes haven't lost a Big Ten conference game straight up since 2018 when it lost to Purdue.
Michigan State is 7-2-1 against the number this season.
The Spartans are underdogs for the fourth time this season. They are 3-0 straight up so far this season as an underdog.
Weekend Kickoff presented by Bryant Heating and Cooling Systems
Ohio State blew up against Purdue in a blowout win to get the Buckeyes back on the right track. Now, Ohio State is set for its next challenge as the Buckeyes welcome Michigan State into Columbus on Saturday.
Weekend Kickoff presented by Bryant Heating and Cooling Systems is back again to break it all down as the Buckeyes look for another big win in their quest for a return trip to the College Football Playoff and a shot at winning a national championship.
This week's show features former Buckeyes defensive back Tyvis Powell, former Ohio State quarterback Cardale Jones, former Buckeyes linebacker Bobby Carpenter and former Ohio State receiver Evan Spencer, alongside Lettermen Row senior writer Austin Ward.
This week's episode is presented by Ohio Heating.
Don't miss the full episode of Weekend Kickoff at Urban Meyer's Pint House.
Bold Predictions for Buckeyes in showdown against Michigan State
The Lettermen Row staff unanimously expects an Ohio State win in the top-10 matchup against the Spartans. And as always, the crew went deeper than the score to make Five Bold Predictions about what will happen on Saturday in the Horseshoe.
Stick with Lettermen Row for wall-to-wall game-day coverage
Lettermen Row will be on site in the Horseshoe for comprehensive coverage of the latest Ohio State matchup, as the Buckeyes take on Michigan State in a crucial Big Ten East contest. Follow along on Twitter, Instagram and YouTube for experienced Ohio State coverage.
Download Lettermen Row's free app
Want an easier way to get free premium content from Lettermen Row?
The Lettermen Row app is here! Get all of the Ohio State news, analysis, videos and everything else you've come to expect from us in one free, convenient spot. It's now available in both the App Store and Google Play. Check it out!
The Lettermen Row app can be found for free here:
Sign up for the Scarlet Sunrise newsletter
If you enjoy the Scarlet Sunrise posts, please consider having our newsletter delivered to your inbox every weekday morning.