Scarlet Sunrise: Buckeyes enter offseason near top of national-title odds boards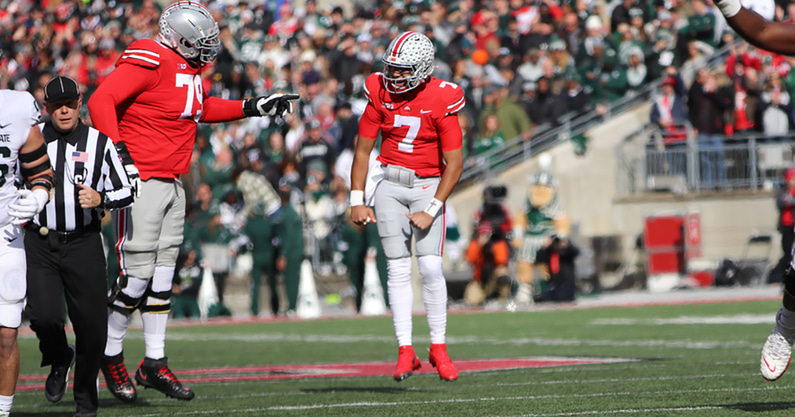 Good morning, Ohio State fans, and welcome to the Scarlet Sunrise. Football will always be our focus, but every day we'll cover news, notes and analysis from across Buckeyes sports. Join us each morning to get caught up on everything you missed in the world of Ohio State football, recruiting, basketball and more in Scarlet Sunrise.
Buckeyes enter offseason near top of national-title odds
Ohio State accomplished none of the goals it set out to hit last season.
The goals don't change for next season, and neither do the expectations. The Buckeyes are once again already near the top of the board for the too-early national championship odds as they enter a crucial offseason.
Alabama and Georgia have the best odds (+200 each), immediately followed by the Buckeyes (+600). Clemson and Michigan round out the top five on those odds as of Wednesday evening.
The Buckeyes will have quarterback C.J. Stroud, plenty of talented skill players and an entirely overhauled defensive scheme next season. They'll also have goals set — and high expectations. The folks in Las Vegas seem to think they can reach them.
Chris Holtmann will coach Buckeyes on Thursday night
Ohio State already earned one Big Ten win without its head coach.
While Chris Holtmann watched from his living room due to a positive COVID test, the Buckeyes beat Northwestern.
But when they travel to Wisconsin, they'll have their head coach and his top assistant for the ranked showdown. Holtmann and Ryan Pedon both expect to clear those health and safety protocols, paving the way for their return to the bench Thursday when the No. 16 Buckeyes take on No. 13 Wisconsin at 7 p.m. in Madison.
They won't travel with the team on Wednesday and will continue to meet virtually until Thursday, when they are scheduled to meet the team in Wisconsin.
It wasn't easy for Holtmann to be away from the team for five days, and it wasn't fun for him to watch Ohio State from afar as it played in a game. But five days and one game was enough time missed for the fifth-year coach.
READ: Chris Holtmann will coach Buckeyes at Wisconsin after one-game absence
Big Ten reshuffles Buckeyes 2022 schedule
In response to the schedule alterations that were made to get through the COVID-ravaged season of 2020, the Big Ten has reshuffled the lineup yet again for conference games heading into next season. But for Ohio State, the changes were limited to merely swapping around dates on the slate as the conference publicly unveiled the official plan on Wednesday.
Ohio State will now open the year with a five-game homestand, following up the untouched nonconference portion of the schedule with matchups against Wisconsin and Rutgers in the Horseshoe. The original Big Ten schedule called for back-to-back road games instead against Michigan State and Penn State, but those key East Division clashes have now been spaced out.
The Buckeyes do still have a two-game road trip on the docket, and it still includes the marquee showdown at Penn State — which is now going to be played on Oct. 29. Ohio State will then open the November championship push at Northwestern in one of just three Big Ten games for the program that wasn't impacted by the revisions.
READ: Three key takeaways from revised Big Ten schedule for Ohio State
Are you subscribed yet?
Are you ready to get all your latest Ohio State news in one place? Become a member of Lettermen Row today. With your Lettermen Row/On3+ membership, you'll not only have access to the everything that's happening with the Buckeyes, but you'll also be able to peruse other fan sites within the network to hear just how rivals are feeling about Ohio State, as well. Make sure to follow along on Twitter, Facebook, Instagram and on Youtube for all the latest Ohio State news you need to know.
Sign up for the Scarlet Sunrise newsletter
If you enjoy the Scarlet Sunrise posts, please consider having our newsletter delivered to your inbox every weekday morning.