Scarlet Sunrise: Transfer kicker Parker Lewis still working through eligibility process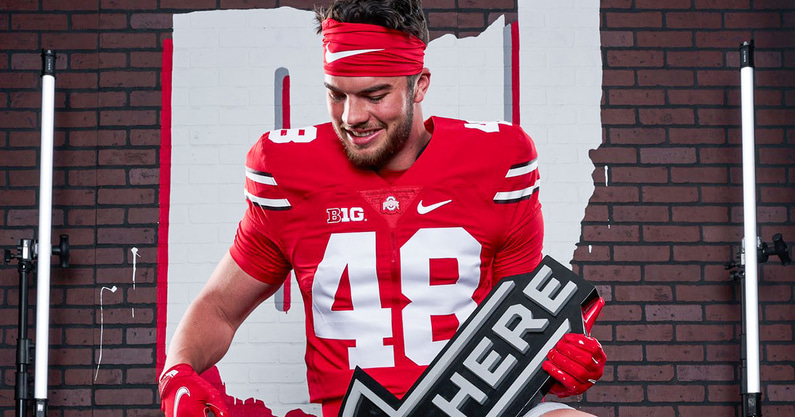 Good morning, Ohio State fans, and welcome to the Scarlet Sunrise. Football will always be our focus, but every day we'll cover news, notes and analysis from across Buckeyes sports. Join us each morning to get caught up on everything you missed in the world of Ohio State football, recruiting, basketball and more in Scarlet Sunrise.
Transfer kicker Parker Lewis still working through eligibility process
Ohio State is still waiting to hear back about one of its transfers taken this offseason.
Former USC kicker Parker Lewis picked the Buckeyes in April after two seasons with the Trojans. But now, he is still waiting on word of eligibility from the NCAA before he can begin his Ohio State playing career.
Ohio State coach Ryan Day updated the situation at Big Ten Media Days on Wednesday.
"We're waiting for him with eligibility and the transfer," Day said. "And so once he can get cleared, eligibility-wise, we can take the next step with him. … We're still figuring that out because we're only allowed 110 [players]. So we'll have to figure out how that works, numbers wise. But the first thing we have to do is try to get him eligible, and then we'll go from there. We're hoping in the next week, but you know, we don't know for sure."
Day and the Buckeyes hope Lewis is ready to go for fall camp. If he is, Lewis could push starting kicker Noah Ruggles in a competition to be the starting kicker. If not, the job is all Ruggles.
Buckeyes land first commitment in 2025 recruiting class
Ohio State picked up its first commitment in the 2025 cycle Friday night: Jontae Gilbert committed to the Buckeyes on Friday night.
The 6-foot, 161-pound Douglass (Atlanta, Georgia) safety becomes the first prospect to make a pledge to coach Ryan Day and defensive backs coaches Perry Eliano and Tim Walton for the 2025 class.
While an early commitment isn't unusual, Ohio State typically earns commitments for far-out classes through in-state prospects and those familiar with the program. Gilbert camped with the Buckeyes on June 9 and picked up his offer from Ohio State a month prior on May 9.
The Peach State native has four offers from Power 5 schools including Arkansas, Pitt and his hometown school Georgia Tech.
The Buckeyes remain in pursuit of top safety options as well for its 2023 and 2024 classes. Ohio State has two commits to its 2023 class in four-star Malik Hartford and four-star Cedrick Hawkins. The Buckeyes are still on the trail for four-star Jayden Bonsu.
The 2025 cycle still might be in the distance, but Jontae Gilbert gave a reason for the Buckeyes to look toward the future.
READ: Buckeyes pick up early commitment from 2025 safety Jontae Gilbert
Trio of Buckeyes racking up preseason honors, named to Walter Camp watch list
Quarterback C.J. Stroud, top wide receiver Jaxon Smith-Njigba and running back TreVeyon Henderson are all being listed on preseason watch lists and All-American teams this month, and Friday was the latest example. All three were named to the preseason watch list for the Walter Camp Player of the Year Award, which is given annually to the top player in all of college football.
Stroud missed out on being a finalist for the award a season ago, although he was a finalist for the Heisman Trophy. Smith-Njigba wasn't considered for the award, but that changes this offseason after a 1,606-yard year last fall for the Buckeyes. Henderson enters Year Two as the Buckeyes starting running back.
Now with plenty of recognition as the best quarterback-running back-receiver trio in the country, they're gaining attention on preseason watch lists. The Walter Camp Award is the latest of the lists to include all three players.
Stroud, Smith-Njigba and running back TreVeyon Henderson were all named to the preseason watch list for the Maxwell Award, which is given annually to the top player in all of college football, on Monday. Stroud, the Buckeyes second-year starting quarterback, was among 35 quarterbacks named to the Davey O'Brien Award watch list.
Counting down
Buckeyes training camp opens: 5 days away
Buckeyes season opener vs. Notre Dame: 35 days away
Ohio State vs. Michigan: 119 days away
Are you subscribed yet?
Are you ready to get all your latest Ohio State news in one place? Become a member of Lettermen Row today. With your Lettermen Row/On3+ membership, you'll not only have access to the everything that's happening with the Buckeyes, but you'll also be able to peruse other fan sites within the network to hear just how rivals are feeling about Ohio State, as well. Make sure to follow along on Twitter, Instagram and on Youtube for all the latest Buckeyes news you need to know.
Already signed up? Don't forget to join us in the Lettermen Lounge to talk about the latest Ohio State sports news.