Scarlet Sunrise: Buckeyes announce champion grades from win at Rutgers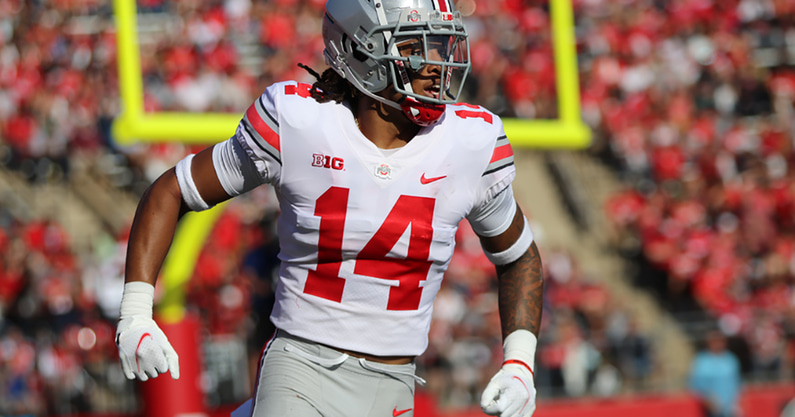 Good morning, Ohio State fans, and welcome to the Scarlet Sunrise. Football will always be our focus, but every day we'll cover news, notes and analysis from across Buckeyes sports. Join us each morning to get caught up on everything you missed in the world of Ohio State football, recruiting, basketball and more in Scarlet Sunrise.
Buckeyes name champions from road win at Rutgers
Ohio State improved to 2-0 on the road this season with a dominant win over Rutgers in New Jersey.
The Buckeyes used a massive performance by quarterback C.J. Stroud and an impressive defensive effort to get to 4-1 on the year. For his effort, Stroud was named Buckeyes offensive player of the game, and he graded as a champion. Three running backs, four offensive linemen, two tight ends and two wide receivers joined him on offense.
And defensively, do-it-all playmaker Ronnie Hickman was stellar yet again to earn defensive player of the game honors. He was joined by a pair of defensive linemen, a linebacker and a trio of fellow players in the secondary.
The full list of champions can be found below.
Offense: RB Master Teague, RB Marcus Crowley, RB TreVeyon Henderson, TE Jeremy Ruckert, TE Mitch Rossi, WR Chris Olave, WR Garrett Wilson, OC Luke Wypler, OG Thayer Munford, OT Nicholas Petit-Frere, OG Matthew Jones
Offensive Player of the Game: QB C.J. Stroud
Defense: DE Zach Harrison, DT Tyliek Williams, CB Denzel Burke, DB Marcus Williamson, LB Cody Simon, DB Bryson Shaw
Defensive Player of the Game: DB Ronnie Hickman
Special Teams Players of the Game: CB Demario McCall and LB Cade Kacherski
Lettermen Live hosted by Roosters
Is Ohio State now fully back on track to win its fifth consecutive Big Ten championship and reach a third straight College Football Playoff?
There are certainly discussions to be had about whether the Buckeyes are back. That's what the all-star Lettermen Row crew did on Monday on the latest episode of Lettermen Live hosted by Roosters.
Lettermen Row senior writer Austin Ward led a team of former Buckeyes linebacker Bobby Carpenter, former Ohio State quarterback Justin Zwick, Nicole Cox from Roosters and Lettermen Row Director of Recruiting Jeremy Birmingham to analyze the Buckeyes performance against Rutgers and what it means going forward.
The crew hands out some Buckeye Leaves for the team's best performers on Saturday, and there were plenty to dish out. That includes another head-turning game from Ohio State Bullet Ronnie Hickman.
You won't want to miss all that and more in the latest episode of Lettermen Live hosted by Roosters. Don't forget to grab the $2 appetizers every Tuesday at all Roosters locations. Fried pickles is this week's appetizer while supplies last.
Weekend Kickoff presented by Bryant Heating and Cooling Systems
Lettermen Row Weekend Kickoff presented by Bryant Heating & Cooling Systems: The Whatever It Takes Pregame Show is back!
The Lettermen Row crew will be live from Urban Meyer's Pint House in Dublin's Bridge Park on Thursday night for a full preview of the Buckeyes next Big Ten matchup, this time a Noon tilt against Maryland.
The next edition of the show will be Thursday, Oct. 7 at 7 p.m., and there will be plenty of Ohio State guests on hand to break down the pursuit of a win. Come out to see Cardale Jones, Zach Boren, Bobby Carpenter, Robert Landers and other former Buckeyes greats give their insight about the upcoming game with the Terrapins and give predictions about the matchup.
Get set with the panel of former Buckeyes with analysis, stories, delicious food from Urban Meyer's Pint House in Dublin and some cold Coors Light. Don't miss the next show Thursday at 7 p.m.
Lettermen Row Weekend Kickoff presented by Bryant Heating & Cooling Systems: The Whatever It Takes Pregame Show is proudly sponsored by Coors Light and Byers Auto!
Download Lettermen Row's free app
Want an easier way to get free premium content from Lettermen Row?
The Lettermen Row app is here! Get all of the Ohio State news, analysis, videos and everything else you've come to expect from us in one free, convenient spot. It's now available in both the App Store and Google Play. Check it out!
The Lettermen Row app can be found for free here:
Sign up for the Scarlet Sunrise newsletter
If you enjoy the Scarlet Sunrise posts, please consider having our newsletter delivered to your inbox every weekday morning.