Scarlet Sunrise: Justin Fields throws first NFL touchdown, wins again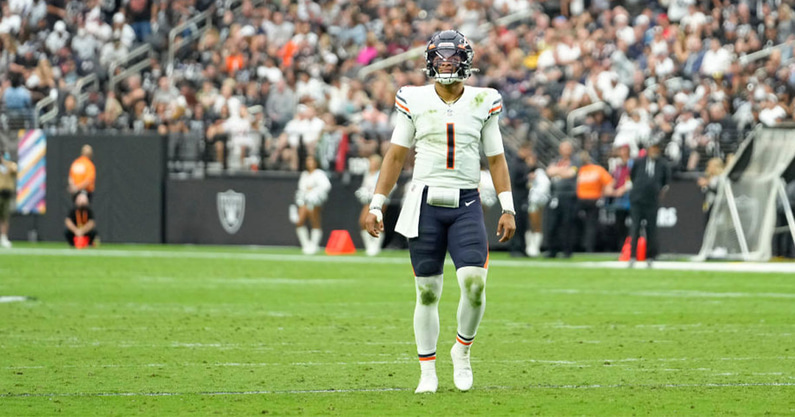 Good morning, Ohio State fans, and welcome to the Scarlet Sunrise. Football will always be our focus, but every day we'll cover news, notes and analysis from across Buckeyes sports. Join us each morning to get caught up on everything you missed in the world of Ohio State football, recruiting, basketball and more in Scarlet Sunrise.
Justin Fields throws first NFL touchdown, wins again
Former Ohio State quarterback Justin Fields didn't have the easiest path to the field during his rookie season. He sat behind Andy Dalton at the beginning of the year and struggled at times during his limited action.
Now a starter for the Chicago Bears, however, Fields looked more like what the Buckeyes saw from him during his two-year college career at Ohio State. Fields fired his first-career touchdown pass in a Bears 20-9 win on the road in Las Vegas.
Of course, Fields still has room to improve. He completed 12 of his 20 passing attempts for just 111 yards through the air. But he battled through an injury and led Chicago to a win — and he picked up his first touchdown throw in the process.
Buckeyes rise in AP Poll yet again
Ohio State does not look like the same team that took the field in Week Two.
The Buckeyes have shown drastic improvement since taking a home loss to Oregon. The turnaround has been highlighted by C.J. Stroud rising into the upper echelon of college football quarterbacks as a Heisman Trophy favorite and a hungry defense that has adapted into a unit that can back the nation's best offense.
Poll voters have taken notice. Ohio State moved up one spot to No. 6 in the latest AP Poll, which was released on Sunday afternoon.
Georgia moved into the top spot, as the Bulldogs earned a unanimous billing from all 62 voters as the country's best team. Georgia was followed by Iowa, Cincinnati, Oklahoma and Alabama to round out the top five. Of note, five Big Ten teams cracked the latest top 10 rankings with Iowa, Ohio State, Penn State, Michigan and Michigan State each earning spots.
The Buckeyes are finding the right groove midway through the season, and they will continue to get opportunities to show they remain the class of the Big Ten over the next few weeks.
Week 7 AP Poll (Oct. 10)
Georgia (62 first-place votes)
Iowa
Cincinnati
Oklahoma
Alabama
C.J. Stroud climbing Heisman Trophy odds boards
Two weeks is all it took for Ohio State quarterback C.J. Stroud.
Following a shaky win over Tulsa in which he turned the ball over for a third-straight game, Stroud rested for a week with a shoulder injury. Freshman Kyle McCord started in his place against Akron. It could have marked the beginning of a quarterback controversy.
Is Stroud healthy enough to lead the Buckeyes? Can Stroud lead Ohio State even when he's healthy? Is Stroud the best quarterback on the roster?
All were questions during the 2-1 start to the season for Ohio State. Consider them all answered. Since sitting out the win over Akron, Stroud has 736 yards passing, 10 touchdowns and a 73-percent completion rate — in just two games.
And with the confidence he's gaining in the potent Ohio State offense, Stroud is vaulting himself near the top of Heisman Trophy boards despite missing a start.
READ: C.J. Stroud gaining confidence, making Heisman Trophy case for Buckeyes
Download Lettermen Row's free app
Want an easier way to get free premium content from Lettermen Row?
The Lettermen Row app is here! Get all of the Ohio State news, analysis, videos and everything else you've come to expect from us in one free, convenient spot. It's now available in both the App Store and Google Play. Check it out!
The Lettermen Row app can be found for free here:
Sign up for the Scarlet Sunrise newsletter
If you enjoy the Scarlet Sunrise posts, please consider having our newsletter delivered to your inbox every weekday morning.