Scarlet Sunrise: Why Ryan Day once turned down coaching job at Oregon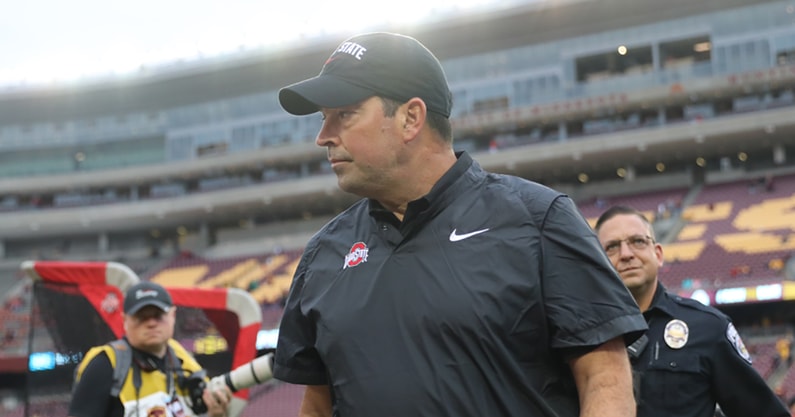 Good morning, Ohio State fans, and welcome to the Scarlet Sunrise. Football will always be our focus, but every day we'll cover news, notes and analysis from across Buckeyes sports. Join us each morning to get caught up on everything you missed in the world of Ohio State football, recruiting, basketball and more in Scarlet Sunrise.
Why Ryan Day once turned down coaching job at Oregon
Ohio State coach Ryan Day has ties to Oregon — kind of.
Day's coach from his playing days at New Hampshire, Chip Kelly, is the former coach of the Ducks. Kelly took Oregon to a national title game and nearly won it.
But Day never was able to coach with Kelly at Oregon, although he was considering doing so. Day made sure to explain why he was never hired on Kelly's Ducks staff.
"We talked several times about going there," Day said Tuesday. "It was very hard for for me at the time. I just had RJ [Day's son], and I think Nina [Day's wife] at the time was pregnant with Grace [Day's daughter]. We thought long and hard about doing it. But it was just too far to go at the time and didn't want to, with a young family, go all the way across the country. And Chip was great. He said, 'That's why I love you, because you love your family so much.' And he said, 'Well, we'll coach together someday.'
"And then lo and behold, about five years later, we're out in San Francisco together on the other side of the country working together. So that's football."
Day never had a chance to coach with Kelly at Oregon. But now, he has a chance to beat the Ducks on the opposite sideline Saturday.
Zach Boren breaks down Ohio State defense
The Ohio State defense showed glimpses last week of what it can become.
Back-breaking blitzes. A strip sack that turned into a touchdown. A bone-crunching hit that turned into another turnover created by Ohio State. When the aggression was dialed up with a group of young players in the midst of what at times appeared to be a grand rotational experiment to find the best pieces, there were clear signals that the Silver Bullets can reach the level the program expects again.
What positives can Ohio State take out of the defensive effort in the opener? How can a more aggressive approach make the Buckeyes a headache for opponents like Oregon? Where will the Silver Bullets need to focus this week? Former Ohio State captain Zach Boren was back in the Lettermen Row film lab to break down the highlights from the opening win at Minnesota in the first BuckIQ episode of the season.
Roll the tape!
Weekend Kickoff presented by Bryant Heating and Cooling Systems
Lettermen Row Weekend Kickoff presented by Bryant Heating & Cooling Systems: The Whatever It Takes Pregame Show is back!
The Lettermen Row crew will be live from Urban Meyer's Pint House in Dublin's Bridge Park on Thursday night for a full preview of the Buckeyes massive matchup against PAC-12 powerhouse Oregon.
The next edition of the show will be Thursday, Sept. 9 at 7 p.m., and there will be plenty of Ohio State guests on hand to break down the Ohio State pursuit of a national title. Come out to see Bobby Carpenter, Zach Boren, Cardale Jones, Tyvis Powell and other former Buckeyes greats give their insight about the upcoming game with the Ducks and give predictions about biggest regular season matchup in Columbus in years.
Get set with the panel of former Buckeyes with analysis, stories, delicious food from Urban Meyer's Pint House in Dublin and some cold Coors Light. Don't miss the next show Thursday at 7 p.m.
Lettermen Row Weekend Kickoff presented by Bryant Heating & Cooling Systems: The Whatever It Takes Pregame Show is proudly sponsored by Coors Light and Byers Auto!
Download Lettermen Row's free app
Want an easier way to get free premium content from Lettermen Row?
The Lettermen Row app is here! Get all of the Ohio State news, analysis, videos and everything else you've come to expect from us in one free, convenient spot. It's now available in both the App Store and Google Play. Check it out!
The Lettermen Row app can be found for free here:
Sign up for the Scarlet Sunrise newsletter
If you enjoy the Scarlet Sunrise posts, please consider having our newsletter delivered to your inbox every weekday morning.