Scarlet Sunrise: Buckeyes still working on final Palaie Gaoteote appeal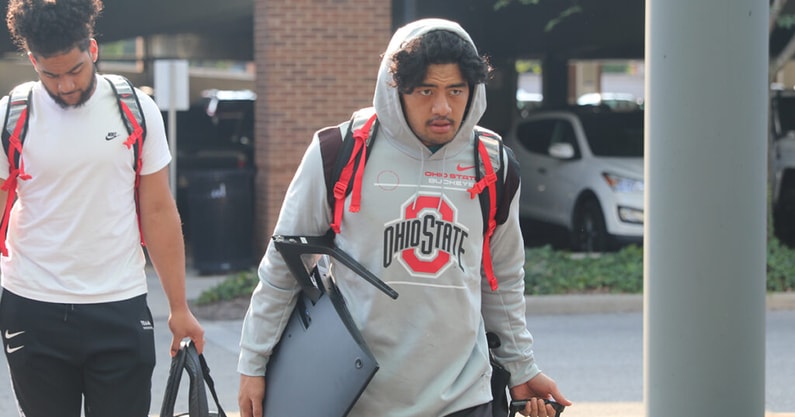 Good morning, Ohio State fans, and welcome to the Scarlet Sunrise. Football will always be our focus, but every day we'll cover news, notes and analysis from across Buckeyes sports. Join us each morning to get caught up on everything you missed in the world of Ohio State football, recruiting, basketball and more in Scarlet Sunrise.
Buckeyes still working on final Palaie Gaoteote appeal
Ohio State received bad news this week: former USC star and Buckeyes transfer linebacker Palaie Gaoteote was denied eligibility by the NCAA.
The Buckeyes aren't done fighting to help Gaoteote become eligible. They'll appeal the decision to the NCAA — and work alongside the NCAA and Gaoteote's former school to find a possible solution — and do what they can to help the former five-star recruit play this fall.
"Really, just what I know is that it was denied," Ohio State coach Ryan Day said. "We're going to look back into it and see if there possibly could be some kind of appeal or not. But we'll try to put a plan together for what's next for him."
Ohio State may have received bad news from the NCAA this week regarding Gaoteote's eligibility. But the Buckeyes aren't done fighting to have that decision reversed — and add another linebacker on the field to make an impact.
ICYMI: Lettermen Live hosted by Roosters
Ohio State moved to 1-0 after a big win on the road at Minnesota. Now, Ohio State is looking to hit more of those home runs as the No. 3-ranked Buckeyes welcome in No. 12 Oregon at noon on Saturday at The Horseshoe.
Lettermen Live is back at Roosters to break it all down.
Lettermen Row senior writer Austin Ward leads a unit featuring former Buckeyes linebacker Bobby Carpenter, former Ohio State quarterback Justin Zwick, Nicole Cox from Roosters and Lettermen Row director of recruiting Jeremy Birmingham.
How will C.J. Stroud grow as he gears up for the biggest game of his young. career? Will the Buckeyes finally be at full strength in the secondary? And what should be expected as Ohio State looks to shorten up its running back rotation?
You won't want to miss all that and more Buckeyes news that is featured in the latest loaded episode of Lettermen Live hosted by Roosters on Olentangy River Road in Columbus.
WATCH: Lettermen Live hosted by Roosters
Zach Boren breaks down Buckeyes defensive struggles
Ohio State still appeared a little unsettled at linebacker in the opener as it tried different combinations alongside Teradja Mitchell. A makeshift secondary held up reasonably well with two first-time starters and a converted wide receiver in the rotation at cornerback, and the Buckeyes may have found a future star in Denzel Burke to partner with Cameron Brown and Sevyn Banks when they return to the lineup. And the perception of that debut might have looked completely different if not for a costly roughing-the-passer penalty that negated what would have been a third takeaway by the Buckeyes.
Ultimately it all still added up to a double-digit win over a conference opponent on the road, which is always the primary objective. The fact that the Buckeyes can still play much better than that might just be a bonus.
Should Ohio State be concerned about a handful of mistakes on defense in the opener? Where can the Buckeyes improve heading into Week Two against Oregon? What did the Silver Bullets learn in the opener? Former Ohio State captain Zach Boren was back in in the Lettermen Row film lab with Austin Ward to answer those questions and more in the latest episode of BuckIQ.
Roll the tape!
Download Lettermen Row's free app
Want an easier way to get free premium content from Lettermen Row?
The Lettermen Row app is here! Get all of the Ohio State news, analysis, videos and everything else you've come to expect from us in one free, convenient spot. It's now available in both the App Store and Google Play. Check it out!
The Lettermen Row app can be found for free here:
Sign up for the Scarlet Sunrise newsletter
If you enjoy the Scarlet Sunrise posts, please consider having our newsletter delivered to your inbox every weekday morning.