Scarlet Sunrise: Buckeyes name players of game after beating Purdue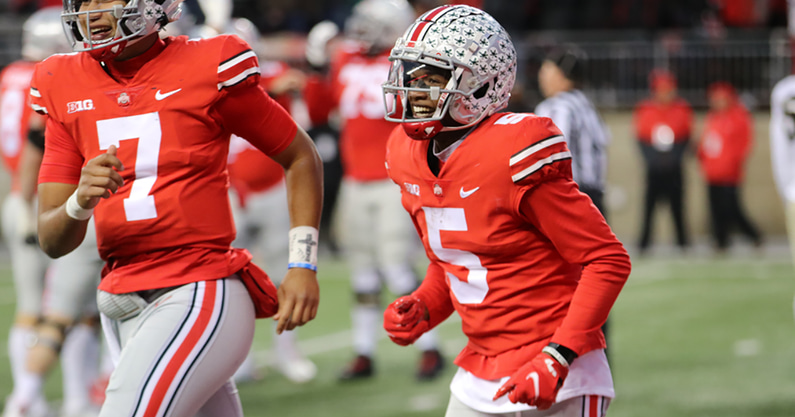 Good morning, Ohio State fans, and welcome to the Scarlet Sunrise. Football will always be our focus, but every day we'll cover news, notes and analysis from across Buckeyes sports. Join us each morning to get caught up on everything you missed in the world of Ohio State football, recruiting, basketball and more in Scarlet Sunrise.
Buckeyes name players of game after beating Purdue
Ohio State left no doubt about who was the better team inside the Horseshoe on Saturday night.
The Buckeyes scored early and often in their 59-31 beating of Purdue. And after stellar performances from plenty of players, the program made sure to name Players of the Game from the win over a ranked opponent.
There were two obvious choices on offense. Quarterback C.J. Stroud and wide receiver Garrett Wilson split the honors. Stroud had 361 passing yards and five touchdowns, three of them thrown to Wilson, who had 10 catches for 126 yards to go along with those three scores. Wilson also found the end zone on the ground to have four scores on the day.
Lathan Ransom was named Defensive Player of the Game after his six-tackle, two pass break-up performance.
And walk-on wide receiver Chris Booker was named Special Teams Player of the Game after recording a fumble recovery on a kickoff and a tackle.
The Buckeyes earned another win on the shoulders of some impressive performances against Purdue.
Ohio State climbs in latest AP Poll
The Buckeyes looked vulnerable and lethargic in nine-point wins over Penn State and Nebraska – especially the offense, which netted just 33 and 26 points, respectively, in those wins.
And then they obliterated the defense of No. 19-ranked Purdue on Saturday, exploding in a 59-31 win that put the rest of college football's defenses squarely on notice.
Also taking notice of the Buckeyes impressive performance were AP voters, as Ohio State moved up in the latest poll.
Georgia, Alabama, Cincinnati, Oregon and Ohio State fill the top five of the poll – a ranking that has no barring on the outcome of the College Football Playoff rankings.
Week 12 AP Poll (Nov. 14)
Georgia (62 first-place votes)
Alabama
Cincinnati
Oregon
Ohio State
Buckeyes heavily favored to take down Michigan State
Ohio State will be hosting Michigan State at noon on Saturday at The Horseshoe, and it will be doing so as double-digit favorites.
Ohio State has been a betting favorite of 10-plus points in every game this season. That is the case again as the Buckeyes are 18-point favorites over Michigan State according to the VegasInsider consensus.
Michigan State has a huge win over Michigan on its resume this season, but the Spartans also lost to Purdue this season. Ohio State just took care of business at home against the Boilermakers by a 28-point margin.
Weekend Kickoff presented by Bryant Heating and Cooling Systems
Lettermen Row Weekend Kickoff presented by Bryant Heating & Cooling Systems: The Whatever It Takes Pregame Show is back!
The Lettermen Row crew will be live from Urban Meyer's Pint House in Dublin's Bridge Park on Thursday night for a full preview of the Buckeyes next Big Ten matchup, this time a massive top-10 showdown against Michigan State.
The next edition of the show will be Thursday, Nov. 18 at 7 p.m., and there will be plenty of Ohio State guests on hand to break down the pursuit of a win. Come out to see Cardale Jones, Zach Boren, Bobby Carpenter and other former Buckeyes greats give their insight about the upcoming game with the Spartans and give predictions about the matchup.
Get set with the panel of former Buckeyes with analysis, stories, delicious food from Urban Meyer's Pint House in Dublin and some cold Coors Light. Don't miss the next show Thursday at 7 p.m.
Lettermen Row Weekend Kickoff presented by Bryant Heating & Cooling Systems: The Whatever It Takes Pregame Show is proudly sponsored by Coors Light and Byers Auto!
Download Lettermen Row's free app
Want an easier way to get free premium content from Lettermen Row?
The Lettermen Row app is here! Get all of the Ohio State news, analysis, videos and everything else you've come to expect from us in one free, convenient spot. It's now available in both the App Store and Google Play. Check it out!
The Lettermen Row app can be found for free here:
Sign up for the Scarlet Sunrise newsletter
If you enjoy the Scarlet Sunrise posts, please consider having our newsletter delivered to your inbox every weekday morning.