Zach Harrison returning for another year with Buckeyes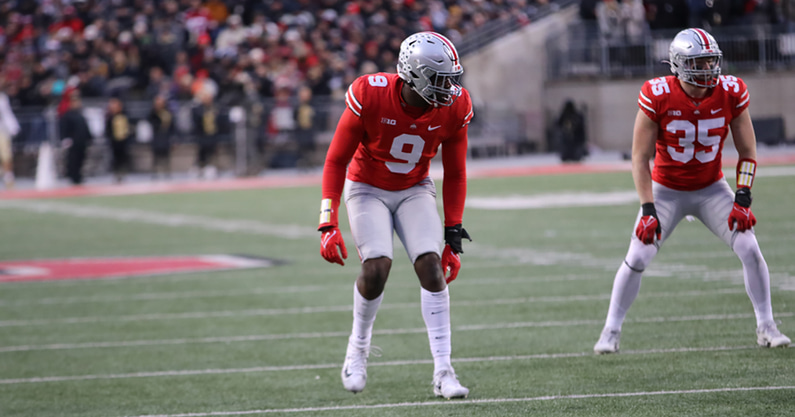 COLUMBUS — The work isn't done for Zach Harrison.
He's coming back to Ohio State to finish it.
Harrison entered the Buckeyes program with massive expectations as a five-star recruit out of in-state Olentangy Orange High School. Ranked as the No. 12 overall player and No. 2 defensive end in his class, the Buckeyes junior doesn't feel like he has accomplished everything he set out to when he signed with Ohio State in the 2019 recruiting class.
In part because of goals that he has not yet checked off the box, Harrison announced via Instagram on Friday that he will be returning for a fourth year with Ohio State instead of heading to the NFL draft as an early entrant.
"That's definitely part of my decision," Harrison said. "I feel like there's definitely some things I've left on the table that I feel like if I come back, I can accomplish.
"But that's something I just have to factor in, sit down with my mom and dad and make those decisions."
In his post, Harrison simply wrote "9/3/22" in reference to the Buckeyes season opener against Notre Dame in September.
That game against the Fighting Irish will be the first of Harrison's senior season as he looks to become a more well-rounded player under Buckeyes defensive line coach Larry Johnson. And that will be his first opportunity to improve on his junior season.
That was his first full season as a full-time starter in which he tallied just four sacks and eight tackles-for-loss in eight games.
"I feel like I had a good year," he said. "But like I said, there's definitely some things I left on the table that I could cross off the list if I were to come back for next year."
Now, Harrison has chosen to extend his Ohio State career and give himself one more shot at improving his NFL draft stock and another run at winning a national championship with the Buckeyes.