Clemson softball coach's unique connection to Oklahoma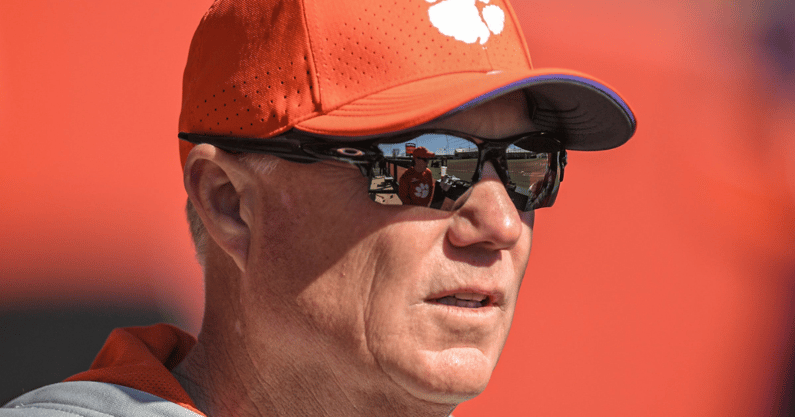 For Lorie Fausett Rittman, this weekend's Super Regionals between No. 1 Oklahoma and No. 16 Clemson at Marita Hynes Field will be a rollercoaster of emotions. 
The wife of Clemson softball head coach John Rittman, Lorie is a Tiger through and through. And she'll certainly be cheering for her husband to shock the softball world this weekend in Norman. But it wasn't long ago that Lorie was a Sooner herself. In fact, she's more familiar with the Oklahoma softball program than most, playing third base for OU from 1985-1989. 
"I'm Sooner born and Sooner bred," Lorie told SoonerScoop.com. "This weekend, though, I'm all in for Clemson. I guess, either way, I win. But obviously, I'm rooting for my husband." 
Softball has always been a large part of Lorie's life. She and Rittman actually met at a youth softball tournament in 1991, as she was helping her dad's travel team and Rittman was coaching at Minnesota. A California native, she grew up playing the sport for her dad. And former Oklahoma coaches Marita Hynes (1977-1984) and Michelle Thomas (1985-1993) recruited her to OU.  
"For me, it was the best decision I ever made," Lorie said. "Marita was a big reason for me being there. We were close, and I was close with Michelle. I've kept in contact with my teammates. We were a family." 
She remembers her recruiting visit in 1984, attending an OU football game and immediately falling in love with the school. She's remained a Sooner football fan ever since.
And even more so now, as she and her husband know OU head coach Brent Venables well. Venables and John overlapped at Clemson from 2017-2021. He often brought his daughters to Clemson's softball camps and has stayed in touch with the Rittmans since leaving for Oklahoma. Venables congratulated Rittman earlier this year after Clemson started the season 37-1. She also sits next to Clemson head coach Dabo Swinney during games, as they have a suite next to theirs. 
"They're great people. They're great coaches. They just buy into their whole program," Lorie said of Swinney and Venables. "I didn't really know much about college football before OU. My recruiting trip was my first taste of college football. And I was lucky enough to be at OU with Keith Jackson, The Boz, Patrick Collins, Lydell Carr, Tony Casillas, Barry Switzer – I was in awe, really. I've been a college football fan forever because of that. And I obviously still keep up with how OU is doing."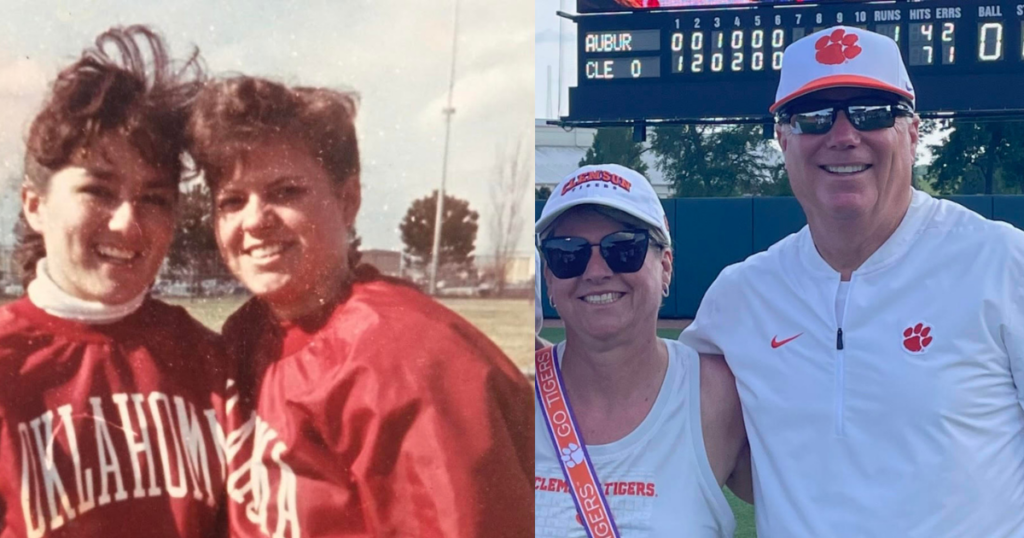 Lorie has fond memories of Norman, spending most of her days practicing and playing at Reaves Park, before Marita Hynes Field was built in 1994. And she spent most of her off days at O'Connell's before it moved to Campus Corner in 2007 and was replaced by Headington Hall. 
And while the softball program wasn't what it is now, she still feels a part of the program. 
"Of course, we were not what it is today. But on some level, I'd like to think we may have paved the way for what it is now," Lorie said. "What Patty has built there is remarkable and I couldn't be prouder to be an alum of that program. If you're a softball fan, you can't help but be aware of Oklahoma and what they've done and what they've built."
So a lot has changed in the 34 years since Lorie donned the crimson and cream. 
Oklahoma has become a softball powerhouse, which she has followed closely as an alum. And her husband has literally built the Clemson program from the ground up. Clemson hired Rittman in 2017, two years before the program's inaugural season in 2019-20. Prior to that, he spent time as an assistant at Kansas (2015-17), Washington (1993-1996), Minnesota (1991-1992) and Oregon (1988-1990). Most notably, he was the head coach of Stanford from 1997-2014). He also coached Team USA as an assistant, along with OU head coach Patty Gasso, from 2001-2008. 
Rittman is sure to be well-prepared for the Sooners. 
"To be the best you have to beat the best, and Oklahoma is the best right now," Lorie said. "I mean, we're a four-year program. To be able to host two regionals and now go to two super regionals – it's remarkable. It's a great opportunity for Clemson and hopefully, they can shock the world." 
Lorie is also excited about a trip down memory lane in Norman. She already has plans to meet up with one of her former Sooner teammates, Sandy Ochoa. 
So for her, and her husband, it'll be an emotional few days, as her life comes full circle. 
"Oklahoma will always have a special place in my heart," Lorie said. "It's pretty crazy. I'm so proud of my husband and all that he's accomplished. It'll be a fun weekend for me, for sure."