Oklahoma baseball set to defend Phillips 66 Big 12 Championship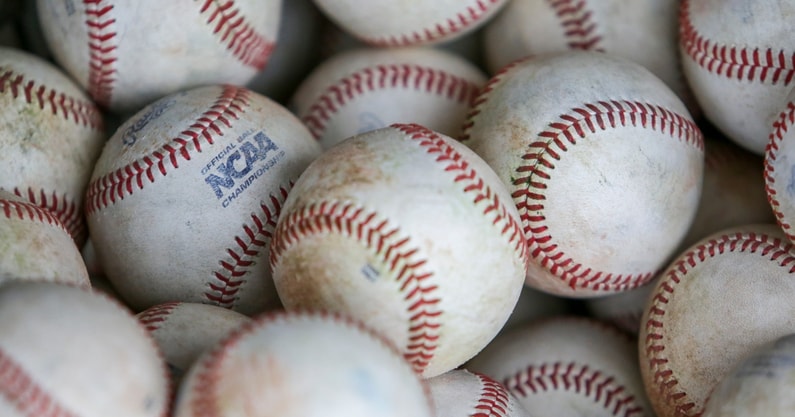 When you're living life on the NCAA Tournament bubble there's only one sure fire way to punch your ticket into next week's Big Dance. Win the whole stinkin' thing. Amirite, Jake Taylor?
Oklahoma baseball returns to the Phillips 66 Big 12 Championship this week in a bit of a precarious position. There's a belief the body of work should be good enough to earn an at-large bid. The metrics would tell you they're safe. Its strength of schedule is ranked 13th in the country. That's first among Big 12 schools. Its non-conference strength of schedule is ranked 13th nationally and hovering around 36th in RPI going into the weekend.
However, Oklahoma heads into the Bedlam opener Wednesday against Oklahoma State not entirely sure if hotel rooms will be needed next week. There's some work to do before making those travel arrangements. Thanks in part to what the Sooners were unable to do during conference play finishing seventh in the league.
"There's a reason why we have a meeting that tells us to schedule RPI. That's why some of them (projections) have it in there because because our RPI is good," said Skip Johnson ahead of his Sooners traveling to Arlington. "Let's just go schedule someone and get to 40 wins. That's not what it is supposed to be.
"There's a reason why we have RPI. We're the fourth-leading RPI in our conference. Our conference is just a small sample of our season. It's only a third of our season, really. Twenty-four games. You look at it maybe a little over a third.
"The body of work that we've done. Take away some of the things not having Easton (Carmichael) and not having Dakota (Harris) it plays a big difference. Are we a seasoned team right now? Absolutely not. Could we get better? Absolutely. I mean that's college baseball in and of itself. It's amateur baseball in itself. You never know really who is going to show up, so to speak."
For Johnson and the Sooners sake, they hope it's not what they've shown in three of the first four installments of Bedlam this season. Finding the strike zone has been an issue. Defense has been inconsistent leading to the wrong end of the big inning.
The Oklahoma pitching staff walked 27 batters and hit six over the course of the four games (1-3) already played against the Cowboys. Free bases given to a high-powered offense? Not a recipe for success. OSU has outscored OU 48-11.
"I think it's starting off on a good foot from the very get go. I think that's the biggest thing you have to do. You just got to go in there and play defense, throw strikes and try to score early and try to win innings," said Johnson. "I think that's the separator when you go into tournament type games. We've had some success in that deal so I think that's the biggest deal."
The winner of the Bedlam opener will advance to winner's bracket action at 7:30 p.m. Thursday, with a short turnaround for the loser in an elimination game 12:30 p.m. Thursday afternoon.
OKLAHOMA VS. OSU PITCHING MATCH-UP
Carson Atwood (1-2, 25.1 ip, 10 BB, 18 SO) vs. Carson Benge (2-1, 32.2 ip, 21 BB, 34 SO)
Because of the quick turnaround for teams on a short week, Oklahoma will be piecing things together in the opener. It's a comfortable position for Atwood who took the ball in the Sooners opener in Arlington last season and threw three innings of scoreless baseball vs. West Virginia.
"Short short rest. It's going to be a lot different for those guys," said Johnson. "So you have to piece it together. You have to figure, 'hey this guy for three or four (innings)' … this other guy for five or six … And try to get some of these other guys back on track to one or two day short rest. That's how you have to do it. It's not conducive to amateur baseball. These kids are used to seven days in between or six days in between not four or five."
It worked out for Oklahoma a season ago but losing the opener makes for a long road back through the loser's bracket.