Oklahoma breaks NCAA win streak in stunning fashion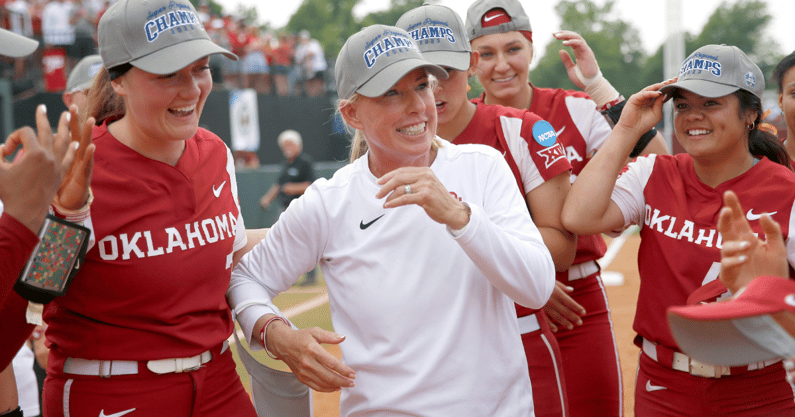 Heading to the top of the seventh, Oklahoma's 47-game win streak looked in jeopardy. 
There were moments over the previous 47 games that No. 1 Oklahoma looked in trouble. The Sooners trailed by two entering the seventh against Texas and Oklahoma State earlier this season. Both times they rallied. 
This felt different, though. Clemson truly had Oklahoma on the ropes, leading the Sooners 7-4 with only three outs to go. It's the largest deficit OU faced this season. 
But, as they've done all season, they responded in stunning fashion. A three-run home run by junior Kinzie Hansen with two outs sent the game to extras. And a solo home run from junior Tiare Jennings in the top of the ninth won it, 8-7. 
Oklahoma now owns the longest winning streak in NCAA history at 48 wins in a row, topping Arizona's 47 set in 1996-97. And it's not something that was ever on OU's mind Saturday or this season. 
"I'm telling you, as much as you all think that we think about it, we know about it but it wasn't ever brought up," coach Patty Gasso said. "It wasn't in my mind like, 'Oh gosh, we're gonna end up with the tie with Arizona.' Not at all. It's an honor. It's a privilege. Somebody eventually will break it, I would assume. But to do it with these players, there's no other team I think that I've ever had that could do what they've done this far."
For the players, the win streak wasn't something they claim they were even aware of heading into the weekend. Jennings said she didn't know until the last press conference on Wednesday. And Hansen said she "saw it on Twitter last night and I was like, 'Oh, really? Cool.' We don't talk about it."
"They don't read papers or things," Gasso said of her team.
Still, this team understands how special it is to own that record. Even if they don't want to talk about it. 
"Definitely not taking anything lightly," Jennings said. "What we did, that's hard to do and I'm definitely proud of this team for doing it. But like coach said, records are meant to be broken and we're just going to go after it and keep doing our thing. If it's meant to be, it's meant to be. If not, so be it, we're going to be better because of it. It's definitely a huge honor for the girls, but again it's hard to do."
Best Oklahoma team ever?
Gasso said Friday that breaking the breaking streak would be special because of her relationship with former Arizona coach Mike Candrea. She said she remembers Candrea's Arizona teams dominating her Sooner teams early in her career. 
"What Arizona did back in the day was phenomenal," Gasso said. "He is the reason why I had to learn to do things differently because when I was here as a young coach he was run-ruling the daylights out of us and I just had to take it and learn and I told him that."
Now, similar to Arizona in the 90s, Oklahoma has become the program to beat in softball. Gasso has built a dynasty in Norman, as the Sooners head to their seventh consecutive Women's College World Series. That's where Oklahoma hopes to win the ultimate prize – greater than any record – a third consecutive national title. OU would just become the second program to win three consecutive national championships, joining UCLA which did it from 1988-90. 
And for Gasso, who has had some of the best softball teams in NCAA history winning six national titles, this team could be her greatest ever if they finish this streak with another trophy. 
"I'll have a bunch of phone calls from other players telling me I told them they were the best team to ever play here," Gasso said. "This team right now is the best team I've ever seen."