Oklahoma opens Big 12 Tournament with 9-5 Bedlam victory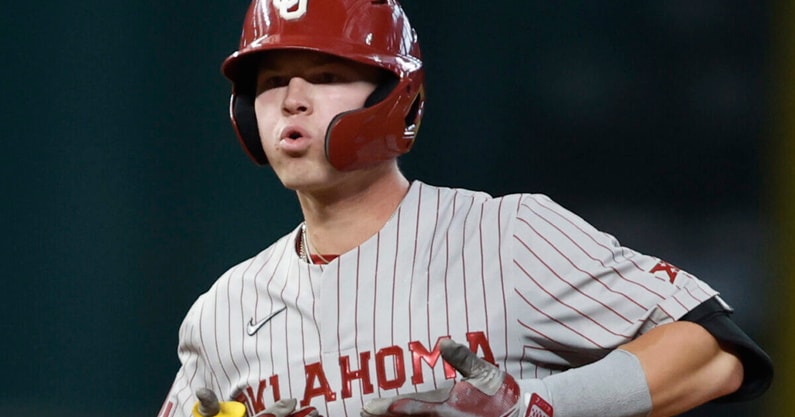 Every win matters a little more this time of the year for Oklahoma.
The Sooners' opening round 9-5 victory Wednesday night over No. 2-seed Oklahoma State at the Phillips 66 Big 12 Championship was needed for a multitude of reasons.
The obvious: Oklahoma advances into Thursday night's winner bracket contest.
The needed: Oklahoma took a step closer to solidifying itself in next week's NCAA Tournament.
Oklahoma Takeaways
A refreshing brand of baseball. The shoe was on the other foot as Oklahoma took advantage of a season-high 13 walks.
John Spikerman returned to the leadoff spot and reached base five times, starting Wednesday night's Bedlam affair with a nine pitch at-bat that resulted in a leadoff walk. Kendall Pettis followed with a seven-pitch walk and Carson Benge had already thrown 16 pitches and Oklahoma was threatening.
"Yeah, I felt like I was just trying to take one pitch at a time. Separating balls and strikes like we talked about. We had 13 walks today as a team. And then just we were just focused on seeing the ball," Spikerman said. "I couldn't tell you what my average was coming into the game. I'm not worried about it. I just know the only thing that matters is going out there and competing."
Dakota Harris opened the scoring with a two-run single first. Easton Carmichael added a two-out RBI single and Oklahoma had opened a 7-0 lead following another three-spot in the third.
A sense of urgency Skip Johnson liked to see from his team playing for its postseasons lives this weekend in Arlington.
"Yeah, I mean, the sense of urgency was there," Johnson said. "We've seen that at times, with our club this year. I thought going into last weekend might have been a little bit of a letdown, but I thought our guys came out ready to play and ready to perform."
Carson Atwood (2.1 innings pitched), James Hitt (2.2) and Carter Campbell (4.0) limited the high-powered Oklahoma State offense, sending the Sooners to their fifth consecutive win in the Big 12 Tournament.
Up Next
Oklahoma advances to the winner's bracket where they play the winner of West Virginia/Texas Tech at 7:30 p.m. Thursday. Both the No. 1 (Texas) and No. 2 seed lost their opening-round game for the first time since 2018.