The captain: OU softball's Grace Lyons going out her way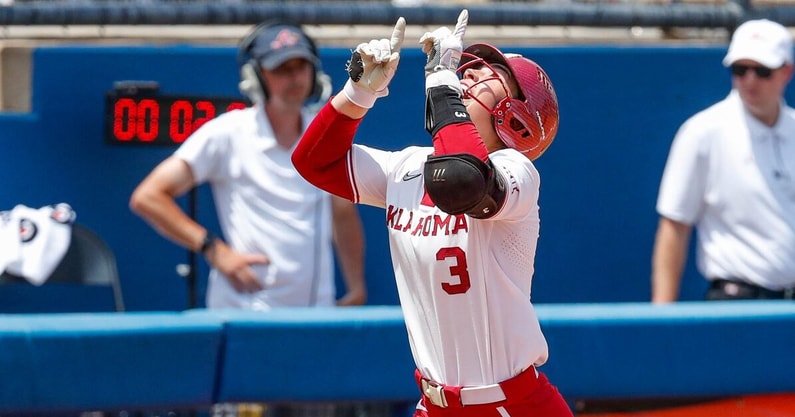 There are superstars galore on the OU softball team. Hitters who can come through in the big moments. Pitchers who can shut the door on opposing offenses in the blink of an eye.
But there's only one captain for Oklahoma. That honor was given to shortstop Grace Lyons. She'll be the first to admit the beginning part of this season wasn't what she was hoping for. But as we've hit the postseason, she's back. The Lyons that OU fans have cheered for like crazy through the years has returned.
The unselfish nature of the team begins with Lyons. She can hit anywhere in the order, from the No. 3 spot to being in the eight-hole a couple of times during the postseason. It doesn't matter. Just get the job done.
"I've said it and I'll say it again until someone else comes along: she's the best shortstop I've ever seen," head coach Patty Gasso said. "She's a complete player — offensively, defensively — she makes plays look so easy. She's calm, very humble. I just love her style. It's very smooth, but it's very team-first.
"And it's got a big smile, but she's never 'Look at me' she never wants the credit. She wants you to think every play she makes is a play she should make. So that wow-factor, she doesn't care about those things. She doesn't care about awards. I hope one day to coach somebody that good, but they're hard to find." 
Lyons is hitting .312 during OU's 48-game winning streak. All eight of her home runs have occurred during this historic run, and she's driven in 25 runs.
But c'mon, when you start talking about Lyons, it's the defense. There feels like there's at least one play a game where she just does something that no other shortstop can do in the game. Or makes what looks like an incredibly difficult play into something routine.
Nobody has had a better seat for it all than her double-play partner, second baseman Tiare Jennings.
Said Jennings: "I think her five-six hole plays that she makes day in and day out is just unreal. Even if it's a close play, I'm like, 'oh she's out. That runner's out.' I have no doubt when it comes to a ground ball to Grace Lyons. Just the way she feels, just so smooth. I've learned a lot from her."
Lyons has three errors this season for OU. However, she hasn't committed one since April 1 and has helped turn 11 double plays.
On the field, she has shown her worth. But what has stood out is learning about Lyons' impact off the field. That goes even before they're on campus, said sophomore pitcher Jordy Bahl.
Said Bahl: "She was the host when I came and visited and was a junior in high school, so I've been familiar with Grace Lyons for a really long time. And getting to play with her I've just learned a lot from her maturity and her consistency."
There aren't too many stressful times for this team. Lyons, though, with her cool and calm demeanor, has been someone who has helped them navigate through those occasions.
She's a captain that leads by example and sets the tone for the rest of the team.
"She never gets too high or too low and it's a great characteristic from a captain because we always look to her in those moments," third baseman Alyssa Brito said. "And then off the field, she's a great person. She's very vocal and bold about her faith and I think that bleeds into everyone on this team. So with that, I think we're changed so much by her."
A difference in every way you could want. All that's left is for Lyons to end things her way. What would that way be? With a third straight national championship. OU begins its quest vs. Stanford in the Women's College World Series 1:30 p.m. Thursday.