Nick Saban responds to Lane Kiffin's comments about Kevin Steele and the Alabama defense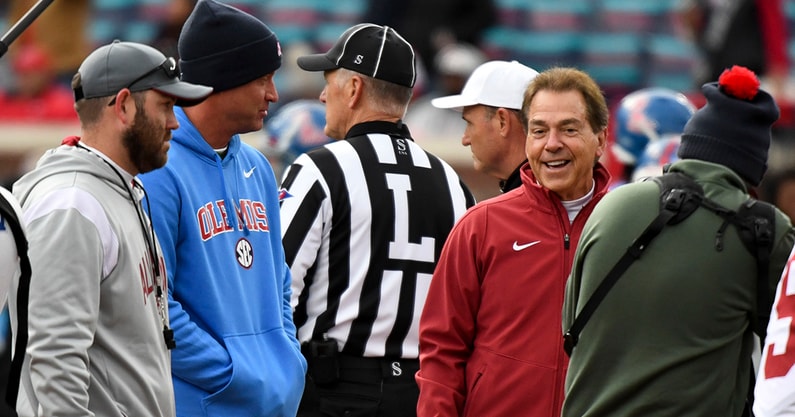 Alabama week got off to an early start on Sunday when Ole Miss head coach Lane Kiffin held a zoom press conference and provided some interesting comments about the Crimson Tide's defense.
Kevin Steele is the defensive coordinator on Nick Saban's staff but according to Kiffin the fourth-year coach of the Rebels does not believe Steele is the one calling the shots on that side of the ball.
During his Sunday media availability claimed that Alabama's cornerbacks coach Travaris Robinson is really the one calling the plays on defense and not Steele. Those comments quickly made the rounds and the national media helped fan the flames started by Kiffin.
Less than 24 hours later Saban addressed the comments made by his former offensive coordinator during his weekly press conference.
"Kevin Steele is the defensive coordinator," Saban said during his opening statement. "He has all the defensive coordinator responsibilities. The only thing that we try to improve on from an administrative stand point was game day and administration of getting the signals in quicker. That's the only thing we worked on as a staff. Full staff made a contribution to it and I think it was a lot better (against South Florida) than it was in the Texas game."
Kiffin is familiar with Robinson and the style of defense he installs. Both have been on opposing sidelines and also shared a sideline together at Alabama.
Both Kiffin and Saban's press conferences were taking place simultaneously and the former was asked what he saw on film to cause him to make the statement he did on Sunday.
"We saw things on TV copy that just, it was different," Kiffin said. "First off, of what the play looked like. The calls and stuff. So, we looked into that further and, it ain't no secret, people in these buildings know each other. Obviously got some information that way, too."
There is also the very recent connection with Kiffin's current defensive coordinator has with Alabama and its coaching staff.
After five seasons in Tuscaloosa Pete Golding made the move to Ole Miss with Kiffin hiring him away from Saban's staff.
On top of it being both team's conference opener and the Southeastern Conference's West Division looking up for grabs at the moment, this week also adds in the mix of Golding returning to his former team four games into the season.
"The topic hasn't really came up, yet," said defensive end Isaac Ukwu on Monday. "We just are doing introductory type meetings (for Alabama). …None of that stuff has came up. He's just been treating it like any other week. Obviously, we know the opponent that we have to go down to Tuscaloosa and play. But it hasn't been anything like extra personal or anything on the top."