John Gaddis came to Ole Miss to compete for a championship and can make that a reality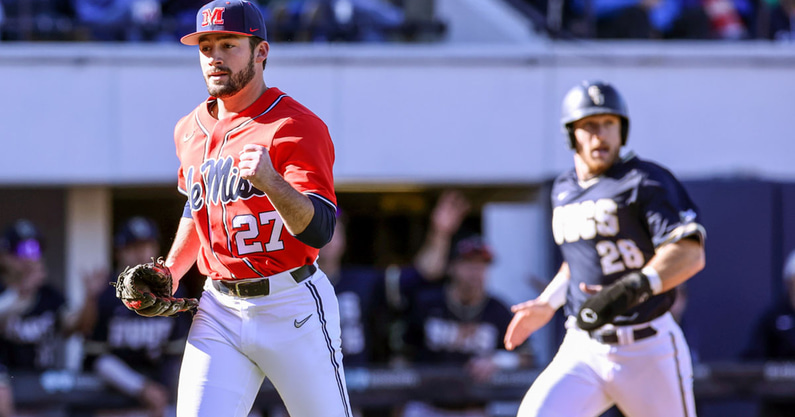 OMAHA, Neb. — John Gaddis put off medical school to come to Ole Miss as he felt it gave him the best chance to compete for a national championship before his baseball career is over. Now, Gaddis can make that a reality himself on Wednesday.
Ole Miss announced Tuesday that Gaddis will get the start against Arkansas with a berth to the College World Series national championship series on the line. The Rebels need to only win once over the next two days while Arkansas must beat them twice.
Gaddis can put an if necessary game out of reach in his biggest start as a Rebel. That statement has been true all week in Omaha for each Ole Miss pitcher that has taken the mound.
Dylan DeLucia and Hunter Elliott have done their part, pitching career performances against Auburn and Arkansas, respectively, to put Ole Miss in the position it is.
Starting 2-0 in Omaha for the first time since 1956 has put Ole Miss in the enviable position of having plenty of rested pitchers if a bullpen game is needed.
Monday's win helped put head coach Mike Bianco's concerns over how to handle his pitching staff the rest of the week to bed.
"So this was, as I thought about it (Monday morning), and trying to go through the pitching plan and different scenarios and how we would use the bullpen, knowing that if you lose you've got a lot of innings to get through over the next few days," Bianco said. "Fortunately we didn't have to use that, but we were ready to empty the tank and use whoever tonight and not worry about the next day to win this game."
Gaddis has faced this Arkansas lineup earlier this season had success but it was in a relief role and not extended innings.
After Derek Diamond started the May 1 game, giving up four runs off eight hits in 4.2 innings, Bianco then turned to Gaddis out of the bullpen. Gaddis went 2.1 innings and allowed two hits in the nine batters he faced.
Wednesday's game is going to be different in the sense Gaddis will be coming out fresh at the start of the game and not inheriting a mess or a deficit out of the bullpen.
Gaddis has experience and success this postseason already. He last pitched in the Coral Gables, Fla. Regional against Arizona in the championship game. Gaddis worked two innings and allowed one run off two hits in Ole Miss' blowout win over the Wildcats.
If everything goes according to plan and Gaddis manages to get deep into the game the bullpen is ready to go.
The only pitchers used outside of Elliott and DeLucia here in Omaha is Josh Mallitz, Mason Nichols and Brandon Johnson. None of the bullpen arms used have thrown more than 20 pitches, which Johnson did against Arkansas.
All three will be available as Wednesday's game should be considered an all hands on deck situation with the potential to get to the weekend and also secure two days off.
Prior to Johnson appearing in Monday's game he had not thrown a competitive postseason pitch since Coral Gables. Bianco opted to run Johnson out with a large lead against the Razorbacks who did give up a two-run home run in the ninth inning.
"You're winning games because we haven't been in a game closer than four runs," Bianco said. "So I don't like bringing the closer, as you can see tonight, when you have a big lead. They're just used to pitching like that. They're used to pitching with a lot of adrenaline, and tight ballgames. So there's times where we just won't run them out there because the lead's so big and because we've played so well, scored so many runs and pitched well in front."