LSU kickoff announced — setting the stage for a defining stretch of games for Ole Miss football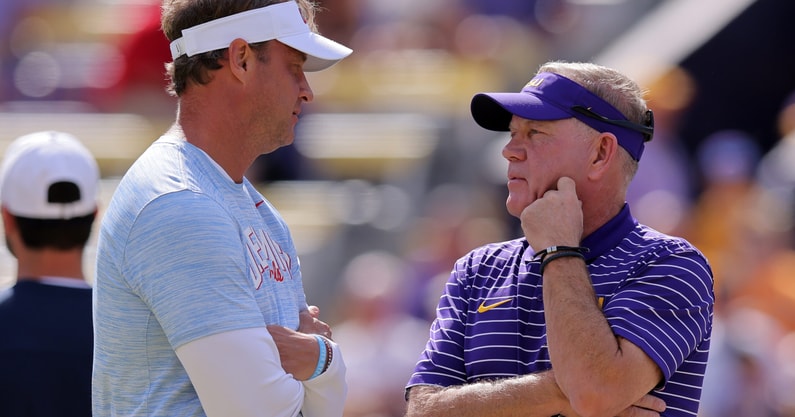 Could Ole Miss' upcoming three-week stretch define the 2023-24 campaign? 
Maybe. Maybe not.
But, if nothing else, it will provide the Rebels some crystal-clear clarity on their standing as an SEC West contender or pretender. 
Up first is a road date with Alabama Saturday at 2:30 p.m. CT on CBS. The Crimson Tide has historically dominated the series. Actually, the Rebels have all of 10 wins since the teams started playing back in 1894.
Alabama has won seven in a row. The last win for Ole Miss came back in 2015, and also in Tuscaloosa, where the Rebels have two all-time wins. That meeting was the second of back-to-back Ole Miss wins in the series — a first in program history.
"The stage is set," former Ole Miss offensive lineman Bradley Sowell said of the matchup, during the Spirit's weekly Ole Miss Morning-After show. "Ole Miss stepped up to the plate (and has) a guy making $9 million dollars (in head coach Lane Kiffin).
"The expectation should be, while the SEC West is the way it is, for us to win this thing. We have a better quarterback (Jaxson Dart) than Alabama this year. Ole Miss will be able to score down there. Can we stop them? I don't know.
"If I'm Alabama, I'm lining up with two tight ends and I'm making (Ole Miss) love it."
RELATED: Nick Saban raves about Lane Kiffin's work at Ole Miss ahead of matchup
Alabama announced Monday it's turning back to dual-threat quarterback Jalen Milroe to lead the Crimson Tide offense. 
Alabama is the first of a three-game gauntlet, of sorts, for the Rebels. While they'll return home for two, they'll be welcoming No. 12 LSU, as well as fellow SEC West rival Arkansas. 
Kickoff for LSU was also released on Monday. The teams will face off in the annual 'Magnolia Bowl' at 5 p.m. CT on ESPN. Like with Alabama, Ole Miss and LSU have been playing since 1894, so the September 30 showdown will mark the 112th all-time meeting between the schools.
LSU has a 65-41-4 series lead.
"You've got two coaches who know (Alabama head coach Nick) Saban inside and out," Sowell said, in referencing Kiffin and Rebel defensive coordinator Pete Golding. Kiffin hired Golding away from Alabama in the off-season. Golding served as Saban's DC in each of the previous three seasons.
Sowell added, "They worked extensively with him. If these two can't get together and figure out how to make Saban have a long day, that would be interesting to me.
"I think we're at a time these next two weeks where Kiffin can get into a different kind of status at Ole Miss, because he really doesn't have those (marquee) wins."