Ole Miss 2022 commitment Timi Gagophien not signing on Wednesday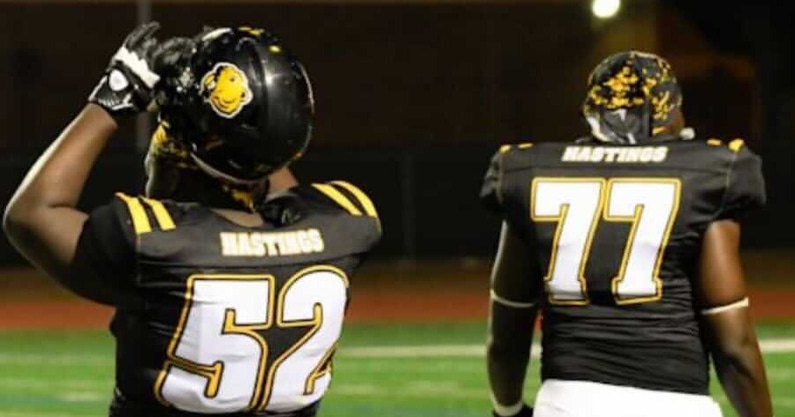 On3 consensus three-star offensive tackle Timi Gagophien won't be signing with Ole Miss on Wednesday. 
The recruiting calendar, on Monday, flipped to a dead period, which runs from Jan. 31-Feb. 28. Schools aren't allowed to make in-person recruiting contacts or evaluations on or off the member institution's campus or to permit official or unofficial visits by prospective student-athletes during the period.
Ole Miss was already prepared for a quiet National Signing Day.
Gagophien, a 2022 prospect, who committed to Ole Miss last July, was the only known high school target left for the Rebels. Another possibility is East Mississippi Community College defensive lineman Elijah Davis. 
The Rebels have focused almost exclusively on the NCAA transfer portal after adding 17 high school and JUCO recruits in December. Ole Miss has brought in 11 transfers, headlined by the commitments, and enrollments, of USC quarterback Jaxson Dart and tight end Michael Trigg over the weekend.
Gagophien is ranked as the No. 622 overall player in the country and the No. 40 offensive tackle by the On3 consensus — a complete and equally-weighted industry-generated average that utilizes all four major recruiting media companies. He's No. 96 in Texas. 
Gagophien told the Ole Miss Spirit Monday night he'll have to take some junior college classes to meet eligibility standards at Ole Miss.
He and his family relocated to Canada last year.
"I have been committed to Ole Miss for a while now, and my plans have not changed," he said. "But I will have to go to JUCO for the classes I missed when out of the country. 
"I love everything about Ole Miss; it has everything a player might want. But the play style is really what I love. They dominate and leave a mark at whatever field they're on."
He doesn't know, exactly, when he'll make it to Ole Miss, only saying, "when I'm eligible." The 6-foot-6, 290-pound Gagophien held offers from, among others, Ole Miss, Houston, Western Kentucky, UTSA and Tulane.