What to Watch For: Postseason still in play for Ole Miss baseball at LSU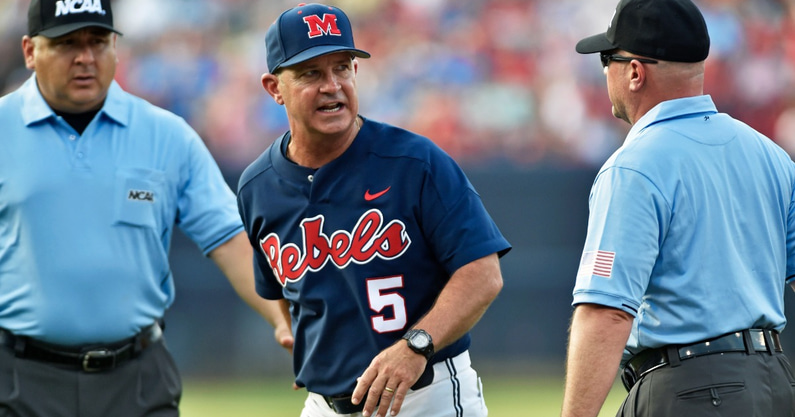 Ole Miss baseball game notes provided by Ole Miss Athletics Media Relations
LEADING OFF
• Ole Miss baseball plays its final SEC road series of the season, heading to Baton Rouge, Louisiana, to take on No. 14 LSU.
• In its last trip to Alex Box Stadium, Ole Miss won two-of-three games in 2019 to secure its first series win at LSU since 1982.
• In last season's series, the Tigers took two of three games from the Rebels at Swayze Field.
• TJ McCants batted .429 in the series, posting a double, a home run and four RBIs.
• Ole Miss is coming off of a 4-1 win over No. 11 Southern Miss on Wednesday at Pete Taylor Park in Hattiesburg, Mississippi.
RELATED: Drew McDaniel's strong night continues turnaround of Ole Miss pitching
• Ole Miss picked up a sweep of Missouri this past weekend at Swayze Field, the Rebels' first sweep of an SEC opponent this season and just the second three-game sweep of the year.
• Hunter Elliott earned SEC Co-Freshman of the Week honors for his performance in Saturday's start, picking up his first SEC win of his young career.
• Kevin Graham paced the Rebels with a .667 batting average on eight hits, becoming the first Rebel this season to have five hits in a game with a 5-for-5 showing on Sunday.
• Graham went yard twice in the game, the first multi-home run game of the slugger's career.
• Kemp Alderman posted a 4-for-4 day on Saturday, finishing the series with seven hits, a .636 average and five runs driven in to tie Graham for the team lead during the week.
• Both Graham and Alderman followed up with home runs at Southern Miss. It was the fifth time this season that the Rebels have gone back-to-back.
MAY SWEEPS
Ole Miss picked up its first SEC sweep of the season against Missouri, outscoring the Tigers 25-8 over three games at Swayze Field. The Rebels racked up 35 hits over the weekend, keeping this clean with just a pair of errors in the field.
BACK AND BETTER THAN EVER
In two appearances since returning from appendix surgery, right-hander John Gaddis has posted 5.2 shutout innings out of the bullpen, picking up a save in the process.
INJURY UPDATE
Last making an appearance on April 22, true freshman pitcher Riley Maddox has been shut down for the remainder of the season. Maddox will undergo Tommy John surgery.
GREAT IN A PINCH
After filtering in and out of the starting lineup at the beginning of the year, senior Ben Van Cleve has settled into a role as the Rebels' best option off the bench in a pinch-hitting situation. Van Cleve is batting .333 this season as a pinch hitter, including recording a base knock in four of his last seven pinch hit opportunities.
SOUTHPAW SATURDAY
Earning the first SEC win of his young career, left-handed pitcher Hunter Elliott was named the SEC Co-Freshman of the Week for his efforts in Saturday's start against Missouri. The Tupelo, Mississippi, native tossed a career-high seven frames of one-run ball, matching his career-high for strikeouts with nine. Elliott is the first Rebel to receive an SEC weekly award this season.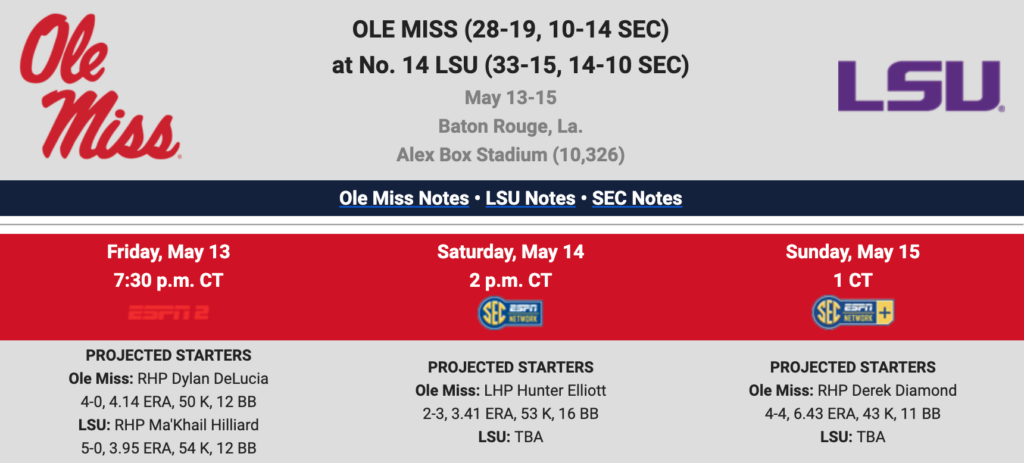 ELLO GOV'NA
Ole Miss earned a 5-2 win over Mississippi State at Trustmark Park on Tuesday, regaining control of the Governor's Cup for the first time since 2015. The win pulled the Rebels within one in the all-time series for the trophy, with Mississippi State leading 20-19.
#MLBREBS
Ole Miss has four former players currently on MLB rosters in Chris Ellis (Baltimore Orioles), Lance Lynn (Chicago White Sox), Mike Mayers (Los Angeles Angels) and Drew Pomeranz (San Diego Padres).
SAC DADDIES
Peyton Chatagnier ranks 16th in the nation in sacrifice flies, pacing the SEC with six. Three of Chatagnier's sacrifices came in the same game as the junior plated Reagan Burford three times in the Friday night win over VCU. Meanwhile, Burford ranks 47th in the country and seventh in the SEC with five sacrifice flies. Overall, Ole Miss ranks No. 12 in the nation, leading the SEC with 28 sacrifice flies on the season.
REBS DIG THE LONG BALL
Ole Miss has been doing much of its damage this season by sending balls over the fence, ranking 18th in the nation with 78 home runs on the year. The Rebels have two double-digit home run hitters in Tim Elko (17) and Jacob Gonzalez (14) and have had 13 different players go yard. The Rebels have hit back-to-back home runs five times this season, including launching three in a row twice.
TRIPLE THREAT
Jacob Gonzalez lashed his third triple of the season in the Rebels' Governor's Cup win over Mississippi State at Trustmark Park, becoming the first Rebel with at least three triples in a season since Tate Blackmon legged out four in 2017.
PACK SWAYZE
Ole Miss ranks fourth in the nation in both total and average attendance this season. In the 25 home games this season available in the most recent data, 253,903 total fans have packed the stands at Swayze Field, good for an average of 10,156 per game.
CAP'N CRUSH
Tim Elko has slugged 17 home runs this season, ranking third in the SEC and 17th in the nation, eclipsing his total from last season of 16. The 17 home runs are tied for the fifth most in a single season in program-history. The Lutz, Florida, product has hammered 39 homers in his career, the fifth most of any player to ever don a Rebel uniform and one big fly away from Rebel great Brad Henderson's total.
WE LOVE FREE BASES
Ole Miss has shown patience at the plate and has made it pay off. The Rebels have received 256 free passes via walks and HBPs, with 106 of those runners coming around to score.
SHOW STOPPER
Senior right-handed reliever Brandon Johnson is one of 66 players tabbed to the NCBWA Stopper of the Year Watch List. Johnson is one of nine SEC players and one of four from the SEC West named to the watch list.
CONSISTENCY IS KEY
Ole Miss baseball is one of five programs to host at least 10 NCAA Regional appearances since 2004, joining Florida State, Florida, LSU and North Carolina. The Rebels are also one of eight programs to earn at least five regional hosting bids since 2014, being joined by Florida State, Florida, LSU, Louisville, TCU, Vanderbilt and Texas Tech.
THE BOYS ARE BACK!
Ole Miss baseball returns nearly the entirety of its potent offense from the 2021 season with eight of nine positional starters returning to the Rebel lineup, Ole Miss is poised once again to put up gawdy numbers on the scoreboard.

Percentage Return from 2021
• Games Started – 88.6%
• Runs – 88.5%
• Hits – 91.8%
• Doubles – 91.7%
• Triples – 100%
• Home Runs – 90.6%
• RBIs – 91.3%
• Walks – 85.1%
JUCO PRODUCTS
Ole Miss has nine junior college products on the 2022 roster, five of which are new additions. Four of the five JUCO players come from schools within the Mississippi Association of Community Colleges Conference.
THAT'S GOLD, JERRY
Ole Miss' Hayden Dunhurst and Jacob Gonzalez were two of 55 players named to the 2022 Golden Spikes Award Preseason watch list, announced by USA Baseball. The Rebels are one of just eight teams with multiple players on the list, joining LSU, Arizona State, Arkansas, California, Florida, Texas and Vanderbilt.
STARS AND STRIPES
Ole Miss head coach Mike Bianco has been tapped as the manager for the 2022 USA Collegiate National Team for this upcoming summer, marking the Rebel skipper's managerial debut for the Red, White and Blue. It will be the second time donning a Team USA uniform for Bianco, who served as the pitching coach for the Collegiate National Team in 2013. Under Bianco's guidance, the USA posted a 1.87 ERA, a 20-3 record and 222 strikeouts. The remaining 2022 Collegiate National Team staff, as well as more information about the 2022 Collegiate National Team schedule, will be announced at a later date.
MISSISSIPPI MADE
Of the 41 players on the Ole Miss roster, 11 hail from the state of Mississippi. The 11 local products are tied for the most for the Rebels since 2017.
SWAYZE CRAZIES
Ole Miss led the nation in attendance in 2021 with 303,859 fans entering the gates at Oxford-University Stadium/Swayze Field across 40 games. The Rebels' average attendance of 7,596 also ranked first in college baseball, with Ole Miss ranking as one of just three schools to average more than 4,000 fans per game. During the season, Ole Miss welcomed four of the top-10 single game crowds and two of the top-three series crowds ever seen in Oxford, setting the record in the three-game set against Arkansas.

Top-10 Single-Game Crowds
4. April 10 vs. Arkansas – 11,857
5. April 23 vs. LSU – 11,788
7. April 24 vs. LSU – 11,653
8. April 10 vs. Arkansas – 11,524

Top-3 Series Crowds
1. April 10-11 vs. Arkansas – 33,423
3. April 22-24 vs. LSU – 32,476
HELLO FROM THE OTHER SIDE
Ole Miss baseball has bolstered the roster with three new lefties in transfer John Gaddis and true freshmen Hunter Elliott and Luke Ellis. Relief arm Jackson Kimbrell also returns to the Rebel roster.
STARS IN THE MAKING
Ole Miss has six players ranked in D1Baseball's Top 2022 MLB Draft College Prospect Rankings. All six Rebels are ranked inside the top-150, tied for the most in the top-150 in the nation. Additionally, a pair of Rebs find themself in the top-100 for the 2023 rankings.

Rebels in the Top 2022 MLB Draft Prospect Rankings
• Hayden Dunhurst – No. 27
• TJ McCants* – No. 49
• Derek Diamond – No. 63
• Jack Washburn – No. 101
• Kevin Graham – No. 124
• Drew McDaniel – No. 133

Rebels in the Top 2023 MLB Draft Prospect Rankings
• Jacob Gonzalez – No. 2
• Jack Dougherty – No. 55

* – Draft eligible sophomore
STUDS AROUND THE DIAMOND
When D1Baseball released its top-50 position power rankings this offseason, Ole Miss was well represented, landing at least one player at every single position. The Rebels' full rankings can be found below:
Rebels in the Top-50 Position Rankings
• Jacob Gonzalez – No. 2 shortstop
• Hayden Dunhurst – No. 4 catcher
• Tim Elko – No. 5 first baseman
• Peyton Chatagnier – No. 13 second baseman
• Justin Bench – No. 25 third baseman
• Kevin Graham – No. 16 outfielder
• TJ McCants – No. 32 outfielder
• Derek Diamond – No. 40 starting pitcher
• Brandon Johnson – No. 41 relief pitcher
• Jack Dougherty – No. 62 relief pitcher
• Jack Washburn – No. 75 starting pitcher
• John Gaddis – No. 76 starting pitcher
• Drew McDaniel – No. 115 starting pitcher
RESPECT FROM THEIR PEERS
Ole Miss baseball landed a league-high five players on the Preseason All-SEC team, having a player recognized at four of five infield positions.

Ole Miss Preseason All-SEC Selections
• Jacob Gonzalez – Shortstop – First Team
• Hayden Dunhurst – Catcher – Second Team
• Tim Elko – First Base – Second Team
• Peyton Chatagnier – Second Team
• Kevin Graham – Second Team
YOU'RE GONZO GO FAR, KID
Bursting onto the scene last season with one of the greatest true freshmen seasons ever in a Rebel uniform, shortstop Jacob Gonzalez quickly established himself as one of the nation's elite young talents. In addition to being named D1Baseball's National Freshman of the Year, the California native joined Stephen Head as the only Rebs ever to be named an All-American as a freshman, earning the honor from both D1Baseball and the NCBWA. Starting all 67 games at short, Gonzalez led all true freshmen in hits and runs scored. Poised for another big season, the sophomore has reeled in a myriad of preseason honors for 2022.
Gonzalez' Preseason Honor Round Up
• Preseason All-America (Baseball America, Collegiate Baseball, D1Baseball, NCBWA, Perfect Game)
• First Team Preseason All-SEC
• D1Baseball No. 2 '23 College Draft Prospect
• D1Baseball No. 3 '23 College Draft SEC Prospect
• D1Baseball No. 2 ranked shortstop
COME TO THE SIP
With a pair of electric arms departing for the Major League Baseball Draft in Gunnar Hoglund and Doug Nikhazy, Ole Miss baseball utilized the transfer portal to bring in some talent on the mound in Division I transfers John Gaddis and Jack Washburn. Both bring quality experience to the Rebel roster, with Gaddis pitching four seasons at Texas A&M-Corpus Christi and Washburn moving to Oxford after two seasons at Oregon State.
The Gaddis File
• 2021 All-Southland Second Team
• 13 appearances with 10 starts in 2021
• Won five games with a team-low 2.25 ERA
• 72 strikeouts in 64.0 innings of work
• 7.0 or more innings in 6-of-last-7 starts
The Washburn File
• Son of former MLB star Jarrod Washburn
• 21 appearances with five starts in 2021
• 3.12 ERA with 43 strikeouts in 34.2 innings