Ole Miss football announces hiring of Keynodo Hudson as new cornerbacks coach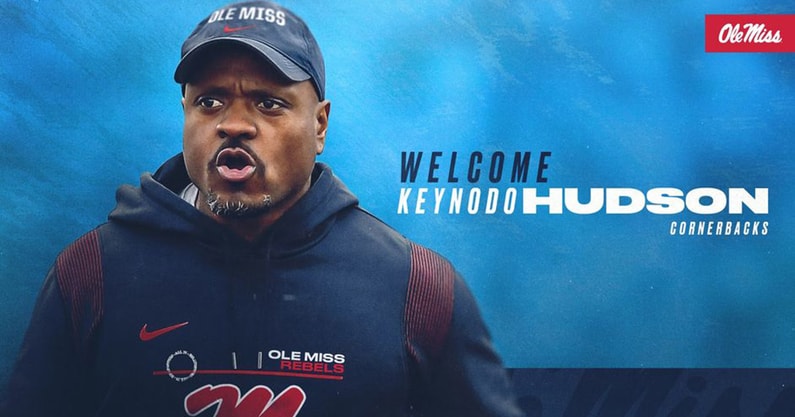 Ole Miss football made official on Tuesday what had been known for a few days with the announcement of Keynodo Hudson the newest cornerbacks coach.
Hudson is the second new hire on defense by head coach Lane Kiffin and the second official hire under new defensive coordinator Pete Golding. He comes to Ole Miss after spending the last two seasons at Western Kentucky
Previous stops in Hudson's career include Big Ten and Pac-12 and has spent multiple seasons on Kiffin's staff at both Florida Atlantic and USC.
"Coach Hudson has tremendous experience coaching the secondary and is another strong addition to our defensive staff," Kiffin said in a statement on Tuesday. "We look forward to reuniting with Coach Hudson and him developing our cornerbacks and making an impact in recruiting, which he has done throughout his career."
Hudson replaces Sam Carter who lasted one season on Kiffin's staff overseeing the Ole Miss cornerbacks room. Carter was hired on Jan. 28 of last year.
The Tampa native mentored a defensive backfield that helped WKU rank No. 3 in FBS in 2022 with 19 total interceptions. The Hilltoppers' ball-hawking defense led the entire country with 32 total takeaways last year.
Last week Kiffin announced the hiring of Wes Neighbors III as the new safeties coach, joining Hudson and Golding as the three major shakeups to the Ole Miss defense this offseason.
The only change to the Ole Miss coaching staff on offense has been the hiring of John Garrison to take over the offensive line that occurred between the Egg Bowl and Texas Bowl. Garrison replaced Jake Thornton.
HUDSON COACHING CAREER
2004-08: University of Charleston (Secondary)
2009-11: Mainland HS (Defensive Coordinator)
2012-16: USC (Defensive Administrative Assistant)
2017-18: Florida Atlantic (Cornerbacks)
2019-20: Illinois (Defensive Backs)
2021-22: WKU (Cornerbacks)
2023-Present: Ole Miss (Cornerbacks)