Ole Miss head coach Lane Kiffin, on Egg Bowl rivalry: "I get it now."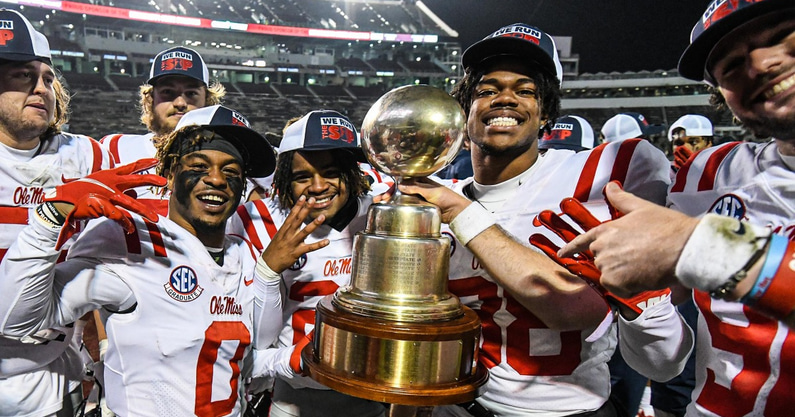 Two years ago, Ole Miss was a 4-8 team and in need of a new coach following an Egg Bowl loss that few people would comprehend unless they saw the final minutes with their own eyes.
On Thursday, however, a program that was in shambles celebrated on that same field in Starkville after locking up their first 10-win regular season in program history and second-straight Egg Bowl victory.
What was different from 2019 to 2020 was the arrival of Lane Kiffin to Oxford and taking over a program and guiding from no postseason to a New Year's Six bowl berth.
Kiffin was hired in December of 2019 but was instantly hit with a pandemic that made his first year as head coach of an SEC program in need of repair and turned it into a Top 10 program after only one normal regular season.
A belief was felt by Kiffin and by players that a 10-win season or better was a possibility immediately after last season concluded in Tampa.
"I would have foreseen this, this season," Kiffin said.  "I don't know if you would ask me two years ago when I first got here but after spending a year with the offensive firepower and coming back, you know, I don't know if would have predicted it if you told me the quarterback would have been hurt and all three receivers would have been hurt, I don't know if I would have predicted it.
"But, our defense held us together through those injuries and did it again on Thursday."
Throughout the course of the game, Kiffin started to realize and grasp the rivalry between Ole Miss and Mississippi State.
Following Jerrion Ealy's 15-yard touchdown run late in the fourth quarter, Kiffin celebrated and made a hand gesture to the crowd that the game was over at that point.
Those emotions may have gotten the better of Kiffin, but the second-year head coach also had a moment of clarity regarding the Egg Bowl.
"I probably shouldn't have done that, but I get it now," Kiffin said. "Like I said, it was different coming here than Alabama. There is a lot of said to you on the way out. They're players say a lot of things during the game and it gets emotional and it gets competitive. I did kind of get caught up in that."
Kiffin has begun to cement his legacy at Ole Miss.
Albeit a very small sample size through only 22 games, but a legacy nonetheless is forming.
For now, Kiffin and the rest of the team gets the chance to prop their feet up and relax as they will not learn their postseason fate until Dec. 5.
A New Year's Six bowl berth is expected with the two landing spots presumably between the Peach Bowl and the Sugar Bowl, at least in Kiffin's eyes.
"Well, I hope we are (going to a New Year's Six bowl), because they just all celebrated like we are," Kiffin said