Ole Miss in the MLB: Checking in on the professional baseball Rebels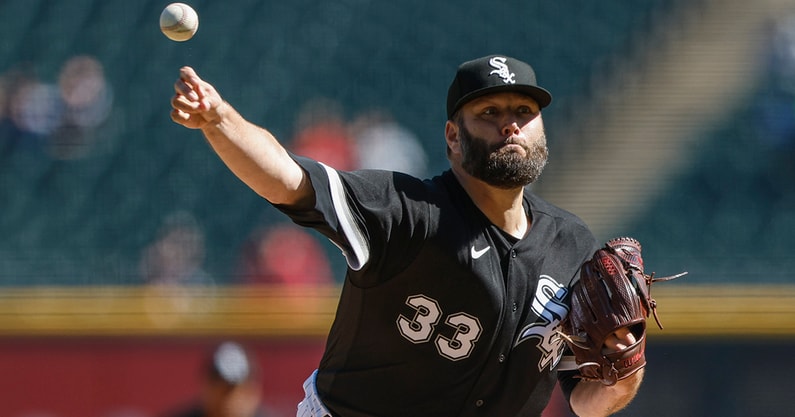 The 2023 Major League Baseball season is a little over a month old and already plenty of storylines have come from it. With over 30 games under all 30 teams collective belt it is also a good time to see how former Ole Miss players are doing in 'The Show.'
As of April 28 four former Ole Miss players were on MLB teams: Lance Lynn, Drew Pomeranz, Nick Fortes and Chad Smith. There are 22 former Rebels on Minor League Baseball teams as of last Friday.
Here is how the four Rebels in the big leagues are doing in their respective 2023 campaigns.
LANCE LYNN – CHICAGO WHITE SOX
This season has not gotten off to a great start for Lynn who is 0-4 in his first six games of the year. After a strong showing representing Team USA in the World Baseball Classic the results have not translated over to the regular season.
Lynn has allowed 26 runs – all earned – off 37 hits while striking out 42 batters and issuing 15 walks in 32.1 innings of work. He has given up eight home runs, which is tied for third most among MLB pitchers this season. The strikeouts are 17th most among MLB pitchers.
The White Sox are currently 10-21 and sitting in fourth place in the American League Central Division.
NICK FORTES – MIAMI MARLINS
In his third season Fortes has become a reliable catcher for the Marlins and powerful at the plate.
Through 20 games this season Fortes is hitting .222 (12-for-54) for five runs batted in and a home run. In his career Fortes is hitting .235 with 14 home runs and 36 RBIs.
From behind the plate Fortes has thrown out two of the 10 runners that have attempted to steal bases against him.
The Marlins are currently 16-15 and sitting in second place in the National League East Division.
CHAD SMITH – OAKLAND ATHLETICS
The 2023 season has been one of ups and downs for Chad Smith but he is currently on the Athletics 40-man roster.
In the offseason between last season and this year Smith was traded by the Colorado Rockies to the Athletics. Smith was then sent down to the minors to start the season but the reliever has since returned.
Smith has made eight appearances for the Athletics and accrued a 6.30 ERA. In 10 innings pitched he has a 1-1 record and allowed seven runs – all earned – off 11 hits while striking out six batters and issuing walks to five others. Smith has also given up one home run.
The Athletics are currently 6-25 and sitting in fifth place in the American League West Division.
DREW POMERANZ – SAN DIEGO PADRES
The last time Pomeranz took the mound in a MLB game was two years ago but injuries have sidelined him since. While still on the Padres roster Pomeranz started 2023 on the injured list, where he still resides.
Pomeranz missed the 2022 season after having surgery to fix his flexor tendon and entered this season on the IL due to inflammation on his elbow that was discovered during Spring Training.
A minor league rehab start with San Diego's AAA affiliate was set for Pomeranz last month but a neck strain scratched it.
The Padres are currently 13-17 and sitting in fourth place in the National League West Division.
Below is a list of the former Ole Miss players who are now playing in the Minor League Baseball system.
Taylor Broadway – Worcester Red Sox (AAA / Boston Red Sox)
Chris Ellis – Norfolk Tides (AAA / Baltimore Orioles)
Grae Kessinger – Sugar Land Space Cowboys (AAA / Houston Astros)
Mike Mayers – Omaha Storm Chasers (AAA / Kansas City Royals)
James McArthur – Lehigh Valley IronPigs (AAA / Philadelphia Phillies)
Errol Robinson – Memphis Redbirds (AAA / St. Louis Cardinals)
Ryan Rolison – Albuquerque Isotopes (AAA / Colorado Rockies)
Parker Caracci – New Hampshire Fisher Cats (AA / Toronto Blue Jays)
Will Ethridge – Hartford Yard Goats (AA / Colorado Rockies)
Brady Feigl – Midland Roundrocks (AA / Oakland Athletics)
Dough Nikhazy – Akron Rubber Ducks (AA / Cleveland Guardians)
Houston Roth – Bowie Baysox (AA / Baltimore Orioles)
Anthony Servideo – Bowie Baysox (AA / Baltimore Orioles)
Kevin Graham – Hillsboro Hops (High-A / Arizona Diamondbacks)
Brandon Johnson – Quad Cities River Bandits (High-A / Kansas City Royals)
Cooper Johnson – Hickory Crawdads (High-A / Texas Rangers)
Derek Diamond – Bradenton Marauders (Single-A / Pittsburgh Pirates)
Tim Elko – Kannapolis Cannon Ballers (Single-A / Chicago White Sox)
Gunnar Hoglund – Stockton Ports (Single-A / Oakland Athletics)
Justin Bench – ACL Giants (Rookie / San Francisco Giants)
Hayden Dunhurst – ACL Royals (Rookie / Kansas City Royals)
Dylan DeLucia – ACL Guardians (Rookie / Cleveland Guardians)