Ole Miss men's basketball returns home for challenge against No. 4 Auburn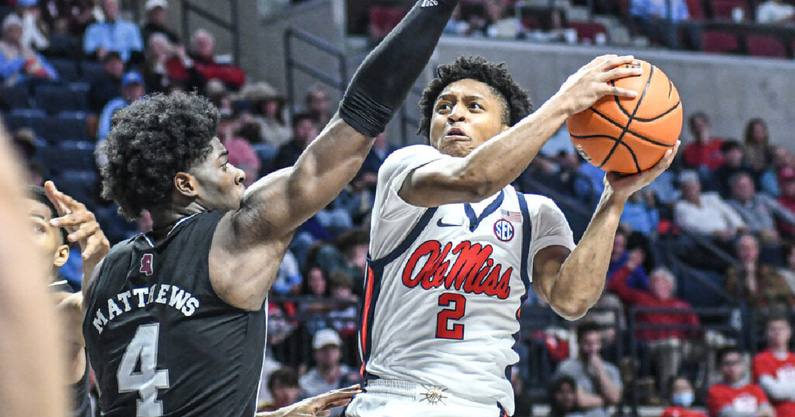 On Tuesday, Ole Miss men's basketball team turned in a performance that head coach Kermit Davis described as "soft" in their loss at Texas A&M.
The Rebels left College Station with their second loss in SEC play in a week that had potential to be a jump start to a strong January. A win against the Aggies would have set up the chance to split the week with a manageable schedule the rest of the month.
Since Tuesday, Davis has worked to get his team to respond to that effort in a positive way with No. 4 Auburn coming to Oxford on Saturday.
"We've addressed it in practice and tried to be a more physical team," Davis said. "We better be against Auburn. They're one of the most physical teams in college basketball."
Auburn comes into Saturday's game with a 13-game winning streak dating back to Nov. 25. Their only loss was in double overtime to UConn.
The Tigers are paced by freshman Jabari Smith, who leads the Tigers with 16.1 points per game to go with 6.4 rebounds and just under one assist a game.
In Auburn's win over Alabama on Tuesday, Smith finished with a game-high 25 points and tied for a game-high seven rebounds.
"Knowing Jabari, obviously he's got great maturity as a young guy," Davis said. "Everybody, they begin talking about his character and how hard he works and how mature he is, doing all the little things over again. But his talent just pops off.
"What he did in the first half against Alabama in that environment as a young guy, man that was unbelievable. He scored at all three levels."
The Rebels will be tasked with trying to do what 16 other teams have failed to do this season in trying to contain Smith.
They will be doing so with out senior Jarkel Joiner, who is recovering from a procedure he had on his back to help with lower pains he has been dealing with for nearly a week. Joiner is out for at least six weeks.
In recent years the Rebels have had an advantage over the Tigers, winning six of the last 10 meetings between the two teams.
One thing that might be in Ole Miss' favor is that they have a 4-2 advantage over Auburn in the last six games played at the SJB Pavilion. Though of course those were very different teams for both squads.
"We've just had some really good games and played really well in those games," Davis said of his recent success against Auburn. "We shot the ball well. We worked well on matchups like last year, we won in overtime with Devontae (Shuler's) shot. You have to play well against Auburn and I hope it's another terrific matchup (Saturday night)."
Ole Miss (9-6, 1-2 SEC) and No. 4 Auburn (15-1, 4-0) are set to tipoff at 7:30 p.m. CT. The game will air on the SEC Network.