Defense, not offense, could be the key to an Egg Bowl victory for Ole Miss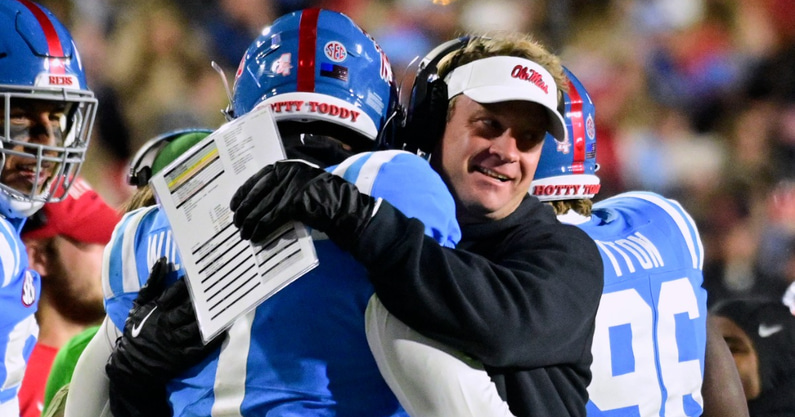 Much is being written and said about quarterbacks Matt Corral, Will Rogers and their respective offenses, but it is the defenses that could hold the key to success in Thursday's Egg Bowl.
No. 8 Ole Miss (9-2, 5-2 SEC) and Mississippi State (7-4, 4-3) have two of the nation's top offenses, with the Bulldogs rounding into form over the last month, but not much is being discussed about the other side of the football.
For the Rebels, their defense has been the talk for a while due to being one of the worst in Division I last season. They found something that clicked midway through the season.
Thanksgiving night is another gut-check for the Ole Miss defense, and if the Rebels can get yet another big-time performance, they'd could very well make history with their first-ever 10-win regular season.
Rogers is the second-best passer in the country, throwing for 4,113 yards and 34 touchdowns. Only Western Kentucky's Bailey Zappe is better with nearly 4,700 passing yards.
The Rebel pass defense has been spotty at times, especially in the secondary. The key will be if the dominant pass rush of Sam Williams and Chance Campbell can get in the backfield and disrupt Rogers enough to keep him from finding a rhythm early.
Mississippi State's pass-first philosophy plays into the hands of an Ole Miss defense that has had success in getting to opposing quarterbacks.
Rogers averages 52 pass attempts per game and completes 76 percent of his passes.
"He's not as mobile as some of the other quarterbacks we've faced in terms of what he likes to do, but he's definitely capable (of running)," Campbell said of Rogers.
"That's always something you have to respect because he has the speed and the athleticism to be a good running quarterback. He's also super accurate, so they're completing a super-high percentage of their passes.
"So, knowing that and understanding that and trying to be quick on your breaks and get to receivers and try to close some of those windows will be important."
The task is a little more difficult for Mississippi State's defense.
The Rebels have a more balanced attack on offense.
While the Bulldogs are a pass-heavy offense, Ole Miss has managed to get its run game to a level that compliments Corral's arm.
Not every game has seen 300 yards passing and 300 yards rushing, but for the most part, running backs Jerrion Ealy, Snoop Conner and Henry Parrish, Jr. have all done a solid job of keeping defenses honest.
The challenge is getting through one of the nation's top run defenses. Mississippi State ranks seventh in the country in the category, holding opponents to 95.9 yards per game on the ground and 10 rushing touchdowns through 11 games.
"It's challenging is what it is," said Ole Miss head coach Lane Kiffin on Monday. "Very good opponent coming up. Extremely hard place to play. Very loud. A full place that makes you have a lot of challenges to play in a place like that in the SEC.
"One of the best rush defenses in the also that gives you a lot of problems. Very multiple and has lot of really good, long, strong players on defense. They've done a phenomenal job recruiting, too."