Game Notes: Ole Miss picked up seventh win in last nine games vs. Vanderbilt on Saturday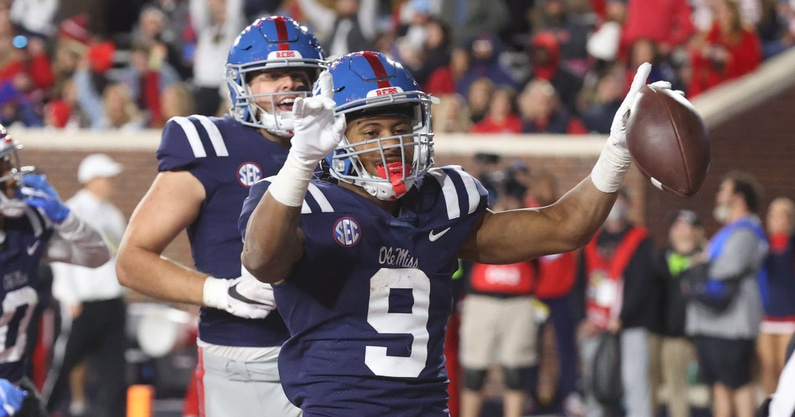 SERIES INFORMATION
• Tonight marked the 96th meeting all-time between Ole Miss and Vanderbilt.
• It is the third-most played series of all-time between Ole Miss and its 2021 opponents (Mississippi State, LSU).
• The Rebels lead the series 52-40-2 overall.
• The original record vs. the Commodores is 54-40-2, with wins in 2013 and 2014 by Ole Miss vacated due to NCAA ruling.
• Ole Miss is now 26-6 in games played in Oxford.
• The Rebels have won four straight games in Oxford.
• Ole Miss has won seven of the last nine contests on the field vs. Vanderbilt.
CAPTAINS
• Jerrion Ealy (RB), Tavius Robinson (OLB) and Braylon Sanders (WR) 
STARTERS
• First career start for DB Miles Battle.
• Nick Broeker, Matt Corral and Jeremy James are the active Ole Miss leaders with 21 consecutive starts.
• Other notable career starts include WR Dontario Drummond (29th), DB Keidron Smith (28th), QB Matt Corral (25th), DE Sam Williams (25th), WR Jonathan Mingo (24th), OL Nick Broeker (21st) and OL Jeremy James (21st).
GENERAL NOTES
• Attendance for tonight's game was 50,819.
• With the win, Ole Miss improved to 9-2, its best record through 11 games since 1990 when the Rebels finished the year with a regular season record of 9-2.
• The Rebels improved to 7-0 at home this season … It marks the first time in program history that the Rebels have won seven on-campus games within the same season.
• It's the Rebels' first undefeated season at home (on the field) since 1992.
OFFENSIVE NOTES
• Ole Miss scored on its opening drive for the seventh time this season in 10 games (5 TDs, 2 FGs).
• In his final home game as a Rebel, QB Matt Corral finished the game 27-of-36 for 326 yards and two touchdowns.
• Corral has thrown a touchdown pass in 22 of his last 23 games.
• Corral ranks No. 3 in career passing yards with 8,038 yards … Corral is only the third Ole Miss QB to surpass 8,000 yards.
• Corral has thrown 56 career passing TDs, No. 3 in program history.
• Corral is now No. 3 in Ole Miss career record book in completions (585) … He is just the fifth Rebel QB to surpass 500 career completions.
• Corral is No. 5 in Ole Miss history in career passing attempts (871).
• Corral is No. 3 in career total offense with 9,314 total yards.
• RB Jerrion Ealy leads the Ole Miss rushing attack with nine carries for 55 yards and one TD.
• Ealy is now tied for eighth in program history with 20 career rushing TDs.
• Ealy also hauled in a TD reception, the third of his career and first of the season.
• WR Jahcour Pearson tallied his second career 100-yard receiving game with 101 yards on four catches.
• It marks the eighth time an Ole Miss receiver has surpassed the 100-yard receiving plateau.
• Pearson joins Dontario Drummond as the only two Rebel WRs to tally multiple 100-yard games this season.
• Drummond hauled in seven catches for 79 yards and his team-leading eighth TD of the season.
DEFENSIVE NOTES
• It marked the third straight game and fourth overall this season that the Ole Miss defense didn't allow a first half touchdown.
• Ole Miss has now forced at least one turnover in 20 of the 21 games in the Kiffin era.
• The Rebels have intercepted at least one pass in four of the last five games.
• DB AJ Finley and LB Chance Campbell led the defense with eight total tackles.
• DB Deantre Prince registered his second interception of the season.
• DL Tavius Robinson set a career high with 1.5 tackles for loss.
SPECIAL TEAMS NOTES
• K Caden Costa was a 1-for-1 on field goal attempts.
• Costa's 14 field goals on the season are tied for the most ever by a true freshman (Joshua Shene, 2006).
• P Mac Brown punted four times for an average of 42.2 yards per punt.
• Dontario Drummond recorded a career-best 32-yard punt return, the longest by any Rebel this season.