Ole Miss women's basketball holds Gonzaga to NCAA Tournament record low for points in first-round win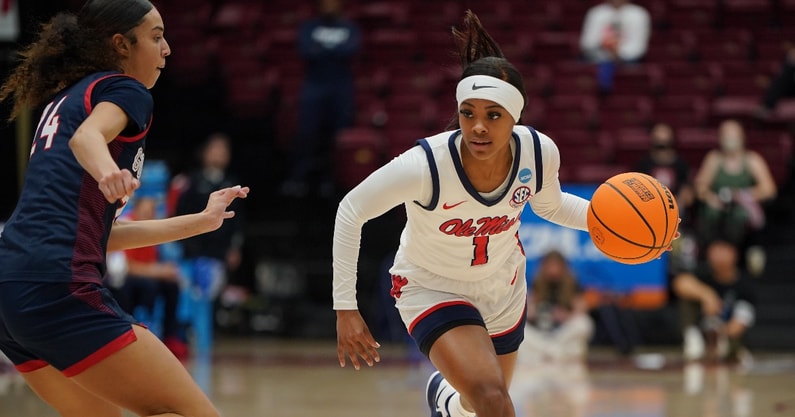 STANFORD, Calif. – Appearing in its second straight NCAA Tournament, eighth-seeded Ole Miss practiced what it preaches in "We Defend" by holding off the nation's best three-point shooting team in ninth seeded Gonzaga, 71-58 from Maples Pavilion on Friday night.
The Rebels picked up its first NCAA Tournament win since 2007 and advance to the Round of 32 for the 11th time in program history.
Ole Miss (24-8, 11-5 SEC) shattered multiple marks in program NCAA single-game Tournament records, in a cohesive team victory with three finishing in double-figures in the 23-point win over Gonzaga. (28-5, 17-1 WCC).
Coming out of a shooting slump, Snudda Collins led the team with 15 points off of three triples and five field goals. Angel Baker and Madison Scott joined her with 11 points each. Scott registered her 11th double-double of the season by leading Ole Miss with 10 rebounds.
Dishing out a team-high in assists (4) was Myah Taylor.
As a team, Ole Miss broke a program NCAA Tournament record in fewest points allowed by holding Gonzaga to 48.
It was the eighth time this season the Rebels have held an opponent to under 50 points. Led by Collins, the Rebels drained a program NCAA best seven triples with Baker, Taylor, Ayanna Thompson and Elauna Eaton joining in on the mix. The 23-point victory tied the largest by Ole Miss in an NCAA Tournament game as well.
Following the first bucket of the game going to the Zags, Ole Miss started off offensively on a 6-0 run led by Baker. Ole Miss entered a shooting slump, being held without a field goal for over five minutes in the opening frame. Between the line and a smooth jumper, Scott scored the Rebels final four points of the first quarter to take a close 12-10 advantage.
Taking command for Ole Miss was Davis, making it happen on all facets of the court.
While carrying the Rebels off the glass, she ensured Ole Miss remained neck-and-neck with Gonzaga. Back-to-back triples from Collins provided Ole Miss with its largest lead of the night to date, up by eight in the waning minutes of the second quarter. The Rebel offense continued to cook, pulling ahead to carry a 34-21 lead into the half.
Following the break, the Rebels did not cool off one bit in hitting its first four field goals to begin the second half. Holding Gonzaga to multi-minute scoring droughts, provided Ole Miss the opportunity to extend its lead with its sights set on a win. A quick 12-2 run gave the Rebels breathing room by 25-points at 53-28.
With its foot still on the gas, Ole Miss put an appearance in the Round of 32 within sight by staying hot from beyond the arc. Defensively, Ole Miss locked down Gonzaga to yet another scoring drought while continuing to hit shots on its end of the floor. The Rebels had padded its lead enough to walk out of Maples Pavilion with the 71-48 win over Gonzaga.
The Rebels advance to the Second Round of the NCAA Tournament for the first time since 2007, meeting No. 1 seeded Stanford on Sunday at 8:30 p.m. CT on ESPN.