Ole Miss women's basketball needed "a little bit of everything" with latest signing class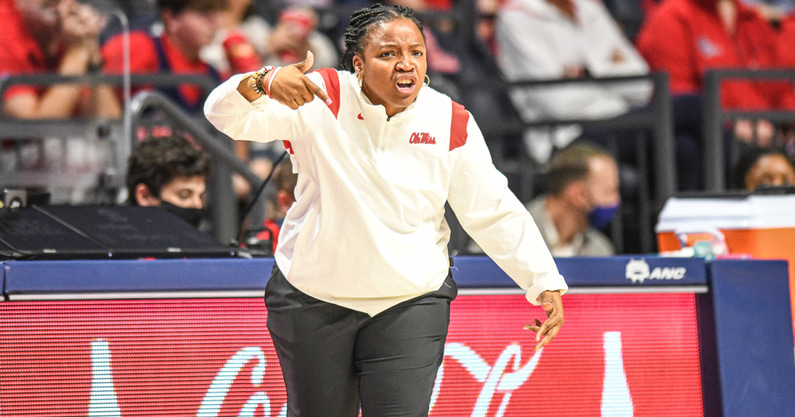 Coming off one of its most successful seasons in program history there was going to be a challenge for the Ole Miss women's basketball team to maintain that production.
Yolett McPhee-McCuin knew the task at hand and went to work on trying restock the cabinet.
Nobody knows how the new crop of players will be but the fifth-year head coach has a positive outlook regarding the latest signees that were announced on Wednesday.
The Rebels transfer class, as the transfer portal has helped create, for the 2022-23 team checks off items on the shopping list McCuin had when she went to work after last season ended in March.
"We needed a little bit of everything," McCuin said.
Ole Miss retains three of its major production on offense with Madison Scott, Snudda Collins and Angel Baker all returning this fall.
The biggest challenge was finding someone to fill the void left by Shakira Austin, knowing it is not possibly to replace her entirely.
Austin is now playing in the WNBA after being drafted third overall by the Washington Mystics last month.
McCuin went to portal and came back with 6-foot-4 center Rita Igbokwe who played in 80 games at Pittsburgh. Igbokwe's stature and prescence under the basket is something that attracted McCuin to her and see her as a player who can be dominant on the defensive end.
"What I'm excited about with Rita is a physical post presence, she's a shot blocker and she's a rebounder," McCuin said. "Anything else that we get from her as far as her scoring around the basket, developing her with giving her more tools to her game is going to be a plus. But I can tell you walking in the door, she's going to rebound and she's going to protect the rim."
Shooting was not Austin's problem as much as it was finding consistency on the defensive side the floor. Getting Igbokwe to become that defensive force down low would be a strong upside in replacing Austin.
While there are still shooters on the current Ole Miss roster, McCuin wanted to continue stocking the bench with as many guards as possible.
The addition of Maya Taylor and Brooke Moore accomplishes that, but McCuin is still in the market for one more point guard which could come from the international market.
Taylor is coming from Mississippi State and the Olive Branch, Miss. native wanted to keep her ties to her home state and that was a plus when McCuin recruited her.
McCuin did not know if Taylor would be receptive to her contacting once Taylor got in the portal, but interest was mutual and Taylor became a Rebel.
"It was a shot in the dark," McCuin said. "When (Taylor) got into portal I reached out and said, 'Look, you may not even respond but I want to let you know that I would love to have a conversation with you.' She took a couple hours and then responded back.
"With Brookey and Mayah, we're still recruiting and we'll probably go international with this," McCuin said. "It's going to be huge and that's something that I want. I love fifth year seniors as point guards. They're so much more mature. They've been through so much but we're also trying to stagger it by bringing in a freshman."
A boost at forward comes in the form of Elauna Eaton. The redshirt sophomore comes over from Arkansas after spending two years in Fayetteville.
McCuin and Ole Miss was in on Eaton's high school recruitment but with Eaton being an Arkansas native she initially chose the Razorbacks. Once Eaton entered the portal, McCuin did not have to do much legwork in getting her to Oxford.
"Sometimes we go in and recruit kids we know we're not going to get (out of high school), but we recruit them for the second time," McCuin said. "I didn't think we'd get (Eaton). She wanted to play for her state initially. But I knew if it didn't work out we'd get the call and guess what; we got to the call. Soon as she went in the portal. We didn't have to go to Elauna, Elauna called us."
The class is not completed yet with McCuin working on some potential international players to add to the roster as well as possibly a couple high school players to add into the mix next season.