Ole Miss women's basketball turns focus to Mississippi State after bounce back win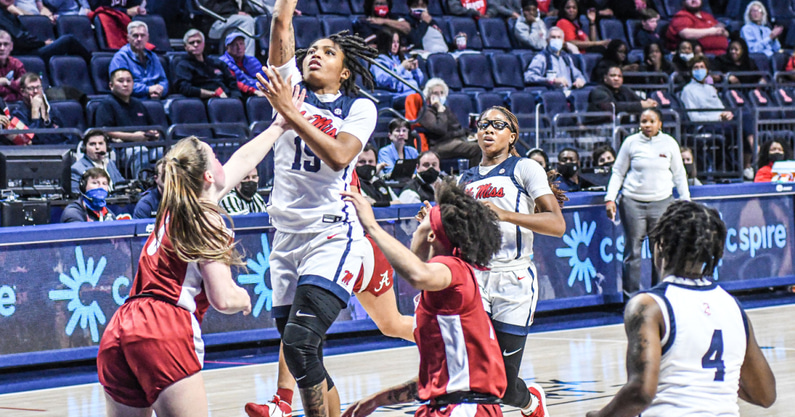 It was mission accomplished for the Ole Miss women's basketball team on Thursday night, defeating Alabama by 30 points to get back in the win column of conference play.
Coming off the loss to No. 7 Tennessee — their second of the season — on Sunday, the Rebels responded demonstratively and kept their season on track.
Keeping focus was crucial and Ole Miss head coach Yolett McPhee-McCuin instilled that into her team ahead of the Alabama game.
"We took one on the chin versus Tennessee and that really got us to look at some things that we really needed to look at," McCuin said after the Alabama game. "There was no panic in our locker room. That was only our second loss and we forgot what that sting felt like."
The Rebels had four scorers in double-figures against the Crimson Tide led by Lashonda Monk's 19 points. Angel Baker finished with 18 points while Snudda Collins had 15 points and Madison Scott scored 14 points.
A successful night on the court was celebrated but was short-lived as less than 72 hours later in-state rival Mississippi State comes to Oxford.
Last season's game at the SJB Pavilion between the Rebels (14-2, 2-1 SEC) and Bulldogs (11-4, 2-1) never took place as a winter storm hit Oxford in late February.
Mississippi State was actually heading to Oxford but turned around between there and Starkville as conditions worsened.
Along with the threat of more winter weather forecasted for Saturday night and into Sunday in Oxford, COVID-19 might keep the game from happening for a second season in a row.
The Bulldogs had to postpone their game at No. 19 Kentucky due to not having the required minimum of scholarship players available, according to reports. It was the second time this season the game between the two teams has been postponed.
Despite the two factors that could keep the game from happening, McCuin was hopeful on Thursday that they will get Sunday's game in.
"It's hard to navigate through everything that's going on with COVID, so I'm just hoping that we have an opportunity to come out and compete here," McCuin said. "We need games, so we're just going to be hopeful until we hear something different the game is on on Sunday.
"I will play that game at 9 a.m. in the morning with nobody here if we had to. It's that important, not because it's Mississippi State, but we want another opportunity to get a win. So for us, we want to play."
Ole Miss and Mississippi State are scheduled to tip off at 2 p.m. CT on Sunday. The game will air on the SEC Network.