On3 Things to Know: Ole Miss took a step back at Arkansas, looking to rebound against Missouri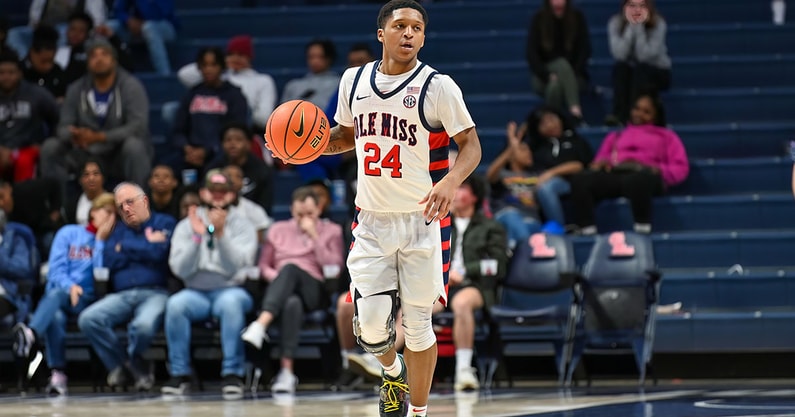 The Ole Miss men's basketball team got its first Southeastern Conference win of the season last week at South Carolina but then took a step back with a road loss at No. 25 Arkansas on Sunday.
Now, Ole Miss (9-10, 1-6 SEC) returns home to host Missouri (14-5, 3-4) on Tuesday at 6 p.m. CT before traveling to Stillwater on Saturday to take on Oklahoma State in the Big 12/SEC Challenge.
Consistent guard play has been an issue for Ole Miss this season with Matthew Murrell, Daeshaun Ruffin, Amaree Abram and TJ Caldwell all getting their chances. Murrell has been the Rebels leading scorer but went down with a right knee injury midway through the second half in Fayetteville.
No update has been provided on Murrell but Ole Miss could be without him for an undetermined period of time. Due to that head coach Kermit Davis is going to have to get more out Ruffin, Abram and Caldwell
Ruffin played in his first game back after missing the previous two games due to being sick and has struggled to gel with the offense all season after returning from his ACL injury.
"You definitely want to get back to the way you were before or the way you were feeling before," Ruffin said on Saturday. "For me, personally, it's just about getting better each and every game and each and every day. Win, lose or draw I feel like as long as we're playing the right way and keep getting better it doesn't matter."
Lets take a closer look at the upcoming matchup, with game notes provided by Ole Miss Athletics Media Relations.

SERIES HISTORY VS. MISSOURI
Ole Miss and Missouri met for the first time in January of 2013 after the Tigers joined the SEC, with the Rebels earning a win at home over No. 10 Missouri 64-49 in the Tad Pad.
After losing the second matchup a month later, Ole Miss won the next eight contests beginning and ending with victories in the SEC Tournament. The Tigers have gotten the best of the Rebs recently, winning the previous three matchups.
When playing in Oxford, Ole Miss leads the series 7-2 and are tied at four wins each under head coach Kermit Davis.
LAST MEETING: March 9, 2022 (L, 60-72, TAMPA, SEC TOURNAMENT)
• Ole Miss and Missouri were tied at the half at 32-32, before a big second half from the Tigers propelled them to a win in the first round of the SEC Tournament.
• The Rebels were led by Matthew Murrell with 16 points, four rebounds and two steals, while the Tigers' top scorer was Kobe Brown with 16 points.
SCOUTING THE TIGERS
Missouri enters their contest with Ole Miss with a 14-5 record overall, going 3-4 in the SEC. The Tigers won nine straight to begin the season before falling to No. 6 Kansas at the Hy-Vee Hoops Border Showdown on Dec. 10. Victories over UCF and No. 16 Illinois sent the Tigers into conference play, where they started with an 89-75 win over No. 19 Kentucky. Since their SEC-opener Missouri has lost to Arkansas, Texas A&M, Florida, and Alabama, picking up wins over Vanderbilt and Arkansas.
Four Tigers average 10 or more points per game this season, led by Kobe Brown at 15.7 per contest. The senior forward also leads the team in rebounding, averaging 5.6 per contest.
Missouri's offense averages 83.1 points per game, which ranks 13th in the nation and second in the conference. Led by D'Moi Hodge at an SEC-best 2.5 steals per game, the Tigers lead the country with an average of 11.4 per contest, forcing a conference-high 18.5 turnovers per game. Missouri also ranks highly in assist-to-turnover ratio (15th, 1.46), assists per game (16th, 16.9), and fast break points (12th, 16.0).
A DEFENSIVE GOAT
Entering Ole Miss' game against Missouri, senior transfer Myles Burns has recorded 399 collegiate steals in his basketball career. Joining the Ole Miss program from Loyola New Orleans of the NAIA, Burns brought 358 steals from his four-year NAIA All-American career and has collected 41 since coming to Oxford.
Counting his stats from the NAIA, Burns would become just the sixth person in NCAA history across all divisions to collect 400 career steals.
THEM REBS MOVE FAST
Ole Miss has been quick to react on defensive rebounds and turnovers, outscoring their opponents on fast-break opportunities by 85 this season (212-127). The Rebels has recorded more fast-break points than the other team in 15 of their 19 games so far.
BLOCK PARTY
The Ole Miss defense currently averages 65.5 points allowed per game, only letting their opponents top 70 points three times this year. A major part of their defensive identity has been enforcing the paint, as the Rebels rank 24th in the country and fourth in the SEC in blocks per game (5.0).
They are led down low by senior transfers Theo Akwuba (25 total blocks, 1.3 per game) and Jayveous McKinnis (23 total blocks, 1.3 per game).
On January 3 at No. 7 Alabama, Akwuba and McKinnis combined for seven blocks, with Akwuba's four bringing his collegiate career total to 200.
He and McKinnis (255 career blocks) are the only two teammates in college basketball with over 200 swats in their careers, and each rank among the top-10 in active career leaders.
THE MAGIC NUMBER IS 20
Junior guard Matthew Murrell has scored 20 or more points six times this season, and averages 14.9 per game. A large part of his offense has come from deep, as he has made 38 threes on the year.
Over a four-game stretch against Mississippi State, Auburn, Georgia, and South Carolina, Murrell averaged 19.8 points, 5.0 rebounds, and 3.3 assists per game, whlie shooting 44.1% from the field and connecting on 10 threes.