Sights and sounds from Ole Miss' "Juice Fest 22" event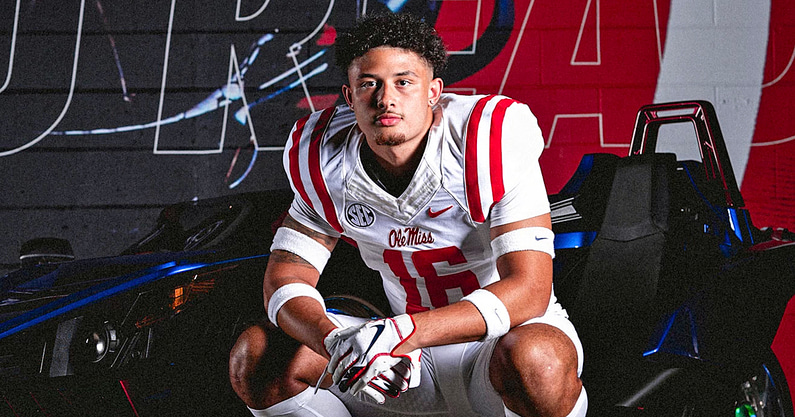 Ole Miss hosted an event last weekend that upwards of 12 On3 Consensus four-stars from the 2023 and 2024 classes.
Moss Point (Miss.) defensive lineman Jamarious Brown didn't attend but he got things rolling on Friday when he announced his commitment. After that, it was Good Counsel (Md.) athlete Neeo Avery's turn on Sunday when he announced his verbal pledge to Lane Kiffin and Co. And then East Forsyth (N.C.) tight end Jayvontay Conner committed shortly after. Finally, the commitment spree was over when Southwest Mississippi Community College offensive tackle Izavion Miller committed later that evening.
But, that wasn't all that happened over the weekend in Oxford, Miss.
We have compiled some of the sights and sounds from that mass visit.
Four-star wide receiver Ayden Williams hangs out with the man of the weekend
The On3 Consensus four-star wideoute from Ridgeland (Miss.) was in town once again for yet another unofficial visit. He has taken an official visit to South Carolina and has one scheduled to Tennessee in September.
Some speculate that Ayden Williams is close to making a decision. If he does make one soon, all signs point to Ole Miss.
Three-star tight end Jayvontay Conner is seen kicking it with tight ends coach John David Baker on the field
Originally from Opelika (Ala.), Jayvontay Conner will wrap up his high school career in North Carolina at East Forsyth. The 6-foot-4, 230 pound tight end was brought in by John David Baker for a visit and the 2023 prospect virtually committed on the spot.
Lane Kiffin pays homage to four-star defensive lineman Jamarious Brown's hometown, Devin Booker
After On3 Consensus four-star Jamarious Brown committed on Friday, Kiffin made this tribute video to honor his hometown as well as Phoenix Suns point guard and Moss Point native, Devin Booker.
2024 four-star defensive lineman Kamarion Franklin poses in front of a decked-out Polaris Slingshot with 2025 safety Jarcoby Hopson
The junior prospect from just up the road in DeSoto County had a chance to meet with Kiffin and take some pics with the Polaris Slingshot before departing for a visit to College Station, Tex.
Kamarion Franklin already holds notable offers from Alabama, Georgia, LSU and Tennessee, among others. Randall Joyner and wide receivers coach Derrick Nix have been recruiting the Lake Cormorant (Miss.) defensive lineman for quite some time and will be fighting tooth and nail with the SEC blue bloods.
In the third image with Franklin is his Lake Cormorant teammate, 2025 safety Jarcoby Hopson. The 6-foot-3, 210 pound sophomore recruit is going to be a blue chip prospect when the rankings come out and he already holds offers from Arkansas, Florida State, LSU, Mississippi State, Ole Miss, South Carolina, Tennessee, Texas and Texas A&M, among others.
Three 2024 blue chip prospects from Arkansas take in Juice Fest 22
Charleston Collins, Braylen Russell and Walker White all made the trek from the Natural State to Lafayette County last weekend to hang out with Juice and the Ole Miss staff, take pics on the field and to check out Oxford.
White, Ole Miss' No. 1 quarterback target in the 2024 class was the ringleader for he and his Arkansas pals upon arrival. He talked about his trip and Collins and Russell's experience here.
Four-star running back Christopher Johnson poses for a pic after his one-on-one meeting with Lane Kiffin
The 10.4 100-meter dash running back from Fort Lauderdale, Fla., was also in Oxford for the festivities. Miami seems to be the leader right now, but Kiffin has been known to recruit the Sunshine State well and they are after the dynamic athlete from Dillard High School.
2024 four-star wide receiver Braylon Burnside chops it up with a few former Ole Miss Rebels after competing in Saturday's camp
Another notable junior prospect who was in town, Starkville (Miss.) wide receiver Braylon Burnside put on a show during the camp portion of the weekend. Here he's posing with former Rebel receivers Mike Espy and Shay Hodge.
The Rebels are the early favorite for the 5-foot-11, 185 pounder.
Three-star tight end Jayvontay Conner posts his own photos with the Ole Miss blue Polaris Slingshot
Four-star athlete Neeo Avery releases his commitment video
The On3 Consensus four-star athlete from Glen Burnie, Md., chose the Rebels over Kentucky, Maryland and Oregon last weekend.
At 6-foot-4.5, 225 pounds, Neeo Avery brings elite athleticism and measurables to Joyner's room.
Four-star running back Christopher Johnson ends his time in Oxford with a photoshoot with running backs coach Marquel Blackwell and analyst Joc Upton
Ole Miss adds a PWO in 2022 St. Frances Academy wide receiver Andre Jacobs. Here, he poses with defensive line coach Randall Joyner and 2023 commit Neeo Avery
Avery brought a friend with him and he was offered an opportunity to walk on in January. The 6-foot, 184 pound wideout graduated in 2022 and will report to Oxford in 2023.