Spirit's Take: Here's what Ole Miss is adding in On3 Consensus four-star Brycen Sanders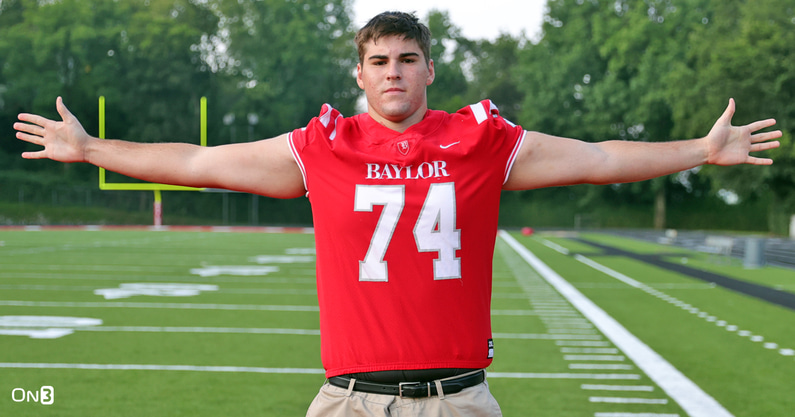 Ole Miss and head coach Lane Kiffin have been surgical in their pursuit of 2023 prospects. And on Monday, they added their third blue chip prospect when Baylor School (Tenn.) interior offensive lineman Brycen Sanders announced his commitment to the Rebels.
The 6-foot-6, 290 pound offensive lineman chose Ole Miss over finalists Oklahoma and Tennessee. He also holds notable offers from Arkansas, Auburn, Florida State, Georgia, Kentucky, LSU, Louisville, Michigan State, Vanderbilt, Stanford, Cincinnati, TCU, Purdue, Mississippi State, Duke, Georgia Tech and Virginia Tech, among others.
After announcing a Top 4 of LSU, Oklahoma, Ole Miss and Tennessee in March, he eventually eliminated the Tigers a few months later to focus on the Rebels, Sooners and Volunteers. He took official visits to all three programs in order to get a closer look and Kiffin and Co. were able to stave off the in-state Vols and the Brent Venables-led Big 12 squad.
The On3 Consensus four-star lineman from Chattanooga, Tenn., is ranked the No. 245 overall prospect in the 2023 class, according to the On3 Consensus, a complete and equally weighted industry-generated average that utilizes all four major recruiting media companies. He ranks as the nation's No. 14 interior offensive lineman and as the No. 5 rising senior in the Volunteer State.
SPIRIT'S TAKE
Sanders is as versatile an offensive lineman as you can get. He has played every single position on the line throughout his high school career and gives the Ole Miss staff a ton of flexibility. His 6-foot-6 frame still holds some room to add some good weight without compromising his athleticism and quickness.
The Chattanooga, Tenn. prospect uses his track and field and wrestling background to help him on the interior when battling talented defensive tackles in Tennessee's toughest classification. As a wrestler, he utilizes the hand-fighting and stamina to win one-on-ones and to wear his opponent down in the fourth quarter. As a shot putter, he has brute strength which helps him anchor the line at Baylor at several positions.
He has the skill set and talent to challenge for snaps as soon as he gets on campus due to his versatility and experience playing at a high level in Tennessee's Division II-AAA.
Impact Potential: 8.2/10