Spirit's Take: Here's what Ole Miss is getting in On3 Consensus four-star athlete Ahmad Brown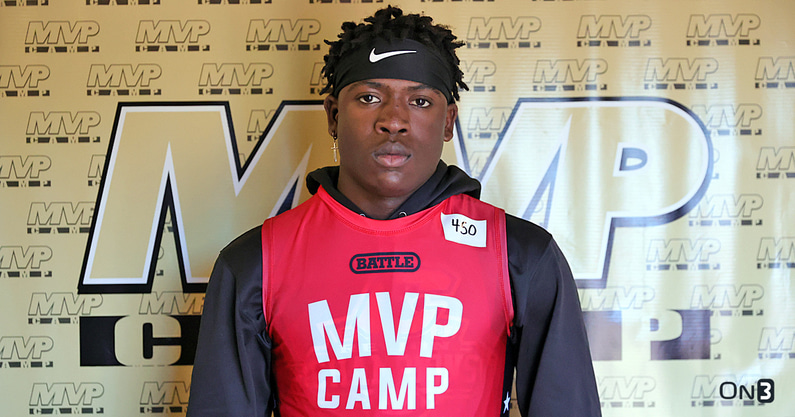 Crisp County (Ga.) athlete Ahmad Brown arrived for his official visit at Ole Miss on June 17. Upon arrival, he wasted little time getting acquainted with the Ole Miss football staff, the campus and the program.
Then, he figured he wouldn't waste anymore time when he announced his commitment via his personal Twitter account.
The 6-foot-1, 195 pound athlete from Cordele, Ga., chose the Rebels over notable offers from Clemson, South Carolina, Vanderbilt, Tennessee, Georgia Tech, Louisville, Arkansas, Michigan State, Cincinnati, Missouri, Nebraska, Purdue, Florida, Kentucky, Minnesota, Virginia and Auburn, among others.
According to On3's Consensus rankings, Brown is the 374th-ranked overall prospect in the 2023 class. He is the No. 18 athlete and No. 33 prospect in the state of Georgia. 
Upon receiving his offer from Ole Miss in May, Brown called it his "dream school". Heading into the weekend, it was Dabo Swinney and Clemson who held a rather large lead for the dynamic playmaker from the Peach State. Alas, Clemson's lead was erased quickly and now he is a part of Lane Kiffin's 2023 class which is now ranked 17th in On3's team rankings.
Kiffin's recruiting class now holds a blue chip rating of 80% with Brown and fellow On3 Consensus four-stars Suntarine Perkins, Brycen Sanders, Marcel Reed and On3 Consensus three-star Daniel Demery.
Brown is being recruited by co-defensive coordinator and resident Peach State sharpshooter, Chris Partridge. The Rebels have had great success in Georgia under Lane Kiffin and Partridge has led the way, signing On3 Consensus four-star linebacker Jaron Willis in 2022 and landing Otis Reese and Mark Robinson via NCAA Transfer Portal.
As a junior, Brown hauled in 27 receptions for 541 yards and six touchdowns. He also ran for 276 yards and nine more touchdowns while also chipping in 25 tackles and three interceptions on defense.
SPIRIT'S TAKE
In 2021, Brown lined up at defensive back, wide receiver and quarterback, impacting the game on both sides of the ball. The three-sport star also competes on the hardwood and in track and field. The versatile athlete from Georgia has been clocked as fast as 11.09 in the 100-meter dash and was an efficient guard for Crisp County, averaging 8.2 points and 6.9 rebounds per game.
The 2023 prospect will most likely find his home in the secondary in Oxford and can also lend his skill set in the special teams game as well. In his last two seasons in high school, Brown has accumulated 1,149 passing yards and nine touchdowns, 859 rushing yards and 12 touchdowns, 534 receiving yards and six touchdowns and 29 tackles, three interceptions and one tackle for loss on defense.
His versatility and frame give the Rebel staff a myriad of options when it comes to where Brown ends up. The foot speed is there to play on an island as a cornerback, defending receivers in one-on-one situations and he has the physicality to play close to the line of scrimmage as an in-the-box safety.
Impact Potential: 7.2/10