On3 consensus four-star Suntarine Perkins becomes first Ole Miss commitment for 2023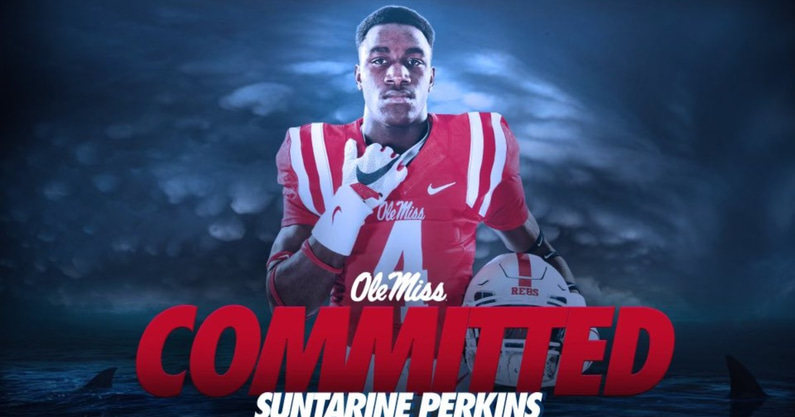 Ole Miss kicked off its 2023 recruiting class with a bang on Sunday.
The Rebels picked up a commitment from Raleigh, Miss., linebacker Suntarine Perkins. The On3 Consensus — a complete and equally weighted industry-generated average that utilizes all four major recruiting media companies — has Perkins a four-star and the No. 72 prospect in the country.
Perkins chose Ole Miss over Georgia, Arkansas, Florida State, LSU and others.
"Well, I have finally made my decision," Perkins wrote, in making the announcement via his personal Twitter account. First off, I wanna thank God for giving me the ability to play the game I love. Second, I wanna thank my parents and my family for raising me to be the young man I am today. Also, I wanna thank my coaches and players for the support and love."
Perkins is trained by former Ole Miss wide receiver Shay Hodge.
He also counts Donte Moncrief, another one-time Rebel wideout, as a mentor. Moncrief, like Perkins, is from Raleigh.
"They like to give comparisons in recruiting," Hodge said, in an exclusive interview with The Ole Miss Spirit. "He's another version of (Diwun Black). A little bit shorter, but all the intangibles. He's quick, big and strong. He's like an old-school player, like when they put the leather helmets on. He's coming to rock your world every time he comes, whether he's running the ball or tackling, which, in college, I think he's going to play defense. He's going to end up being a linebacker. He'll probably start out at safety or something, but he'll end up at linebacker or a rush end or something.
"He's an old-school cat, man. He's downhill at you, he's running through your face when he tackles you, he's tough, he's strong, he's got great athleticism (and) he can jump out the gym. There's nothing he really can't do. If he wants to play receiver, he can play receiver. If he wants to play corner, he could play corner. Very good speed. He's faster than whatever you think he is. I think he runs like a 4.5 (40-yard dash). He's faster than you think he is from watching him on film.
The 6-foot-1, 200-pound Perkins, an Under Armour All-American, visited Ole Miss twice in November. He also tripped to Georgia.
"The biggest thing is he's very versatile," Hodge said. "He started in the 8th grade with (our 7-on-7 team), and we had a bunch of seniors. The cat was so good, we would put him on (now-LSU wide receiver) Deion Smith at practice. (Now-New Orleans Saints linebacker) Demario Davis, (Perkins) was like his baby when he saw him. He was like, 'That's going to be the dude right there.' We always knew Deion was the guy, and we would put (Perkins) on him. He was in the 8th grade and Deion was in the 10th or 11th grade at the time. He would make plays against Deion, and he'd never played corner his whole life. He played linebacker, running back and I'd throw him in at receiver sometimes. 
"He's always been that dude, man. Early on, I made this bet on Twitter (that he would be) the best player in 2023. This was when he was going into 9th grade. I posted it and, boom, it blew up. That was like my third or fourth time doing that. I had to do that for Deion, too. When I'd talk to coaches, they were saying other receivers were better, and I'm like, 'I see them all at the same time in the same setting. I know which one is the best one. By far the best one.' Just knowing what you're talking about, it means a lot. I'm enthusiastic when I'm talking about recruiting and ranking players and how good is this player. Those are the things that make me super happy."