The latest 2022 NFL Draft projections for former Ole Miss quarterback Matt Corral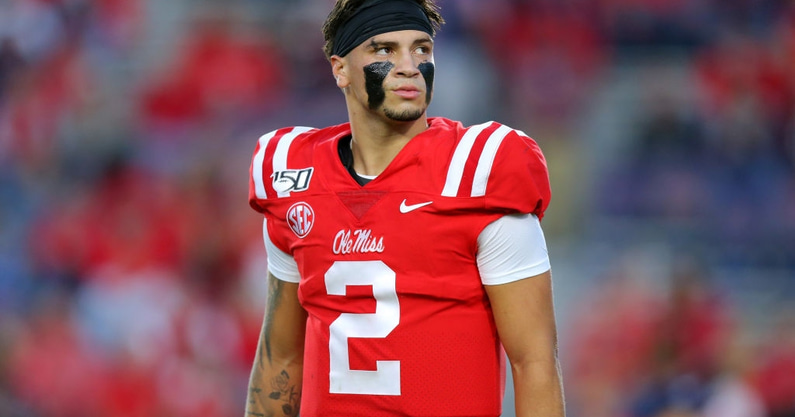 The final four of the NFL Playoffs are this weekend with Championship Sunday, meaning most of the 2022 NFL Draft order is set — give or take any late trades closer to draft day.
With the top 28 picks finalized and the deadline to declare for the NFL Draft ending last week, the initial wave of mock drafts are coming out and former Ole Miss quarterback Matt Corral looks to be primed to go high in the first round.
Daniel Jeremiah and Bucky Brooks of NFL.com each have Corral going as the 11th overall pick to the Washington Football Team, or whatever their new name will be come next week.
In both Jeremiah and Brooks' mock drafts, Corral is also the second quarterback taken off the board behind Pittsburgh's Kenny Pickett. They each have Pickett going ninth overall to the Denver Broncos.
Pro Football Focus' first mock draft is thinking along the similar lines, slotting Corral 11th to WFT behind Pickett at ninth to Denver.
Now, when it comes to CBS Sports' mock drafts, things are a little different. Ryan Wilson has Corral going inside the top 10 at No. 9 to the Broncos as the first quarterback taken.
On Wednesday, Chris Tapasso throws in the what-if of Denver trading with Green Bay and landing Aaron Rodgers as their next quarterback and throwing off the draft order.
Tapasso also had Liberty's Malik Willis as the first quarterback off the board to the New York Giants as the fifth overall pick. With the shifting around due to his trade scenario between the Packers and Broncos, Tapasso has Corral dropping down to the 20th overall pick to Pittsburgh and the successor to Ben Roethlisberger.
Pickett is projected to be the WFT's pick at No. 11, according to Tapasso.
There is plenty of time for all of this to be completely different four months from now when the NFL Draft takes place in Las Vegas April 28-30. Pro Days will begin in the coming weeks and months and the NFL Combine always shakes mock drafts up.
But, it appears Corral will be the first Ole Miss quarterback to go in the first round since Eli Manning in 2004.
Though, not everyone was as high on Corral's prospects. ESPN's Mel Kiper listed his top 25 prospects for the upcoming draft and Corral barely made the cut, coming in at No. 25.
Pickett (No. 16) and Willis (No. 17) were the only other quarterbacks in Kiper's top 25.
The Rebels are heavily represented in this year's NFL Draft with 14 other players joining Corral.
Jerrion Ealy, Snoop Conner, Jake Springer, Chance Champbell, Sam Williams, Jahcour Pearson, Dontario Drummond, Braylon Sanders, Ben Brown, Mark Robinson, Orlando Umana, Jaylon Jones and Deane Leonard all declared for the draft.