5 bold predictions for Oregon at Ohio State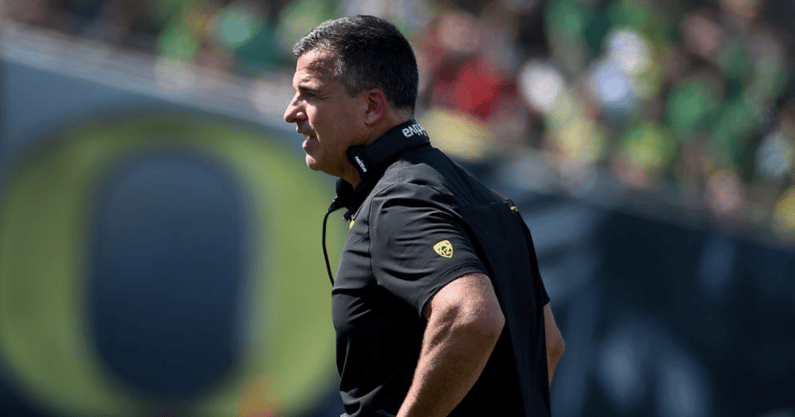 Oregon flies out to Columbus today in advance of one of the premiere of matchups of the 2021 college football season.
There's obviously a ton on the line for both programs; a decisive win for the Buckeyes could cement them in the conversation as early national title favorites. A win for the Ducks would put them back in the College Football Playoff picture and serve as the marquee win their resume needs.
With the highly-anticipated showdown just two days away, here are five bold predictions for how things will unfold at the Horseshoe.
Oregon will cover the spread
The ScoopDuck staff made their predictions Tuesday, and unanimously chose Oregon to lose to Ohio State. With so many questions marks surrounding the Ducks throughout this week, it's simply hard to come up with a scenario where they win convincingly. Maybe that could change if Kayvon Thibodeaux is full-go.
But at the very least, I think the Ducks are more than capable of covering the 14-point spread and avoiding the beatdown that many Oregon fans believe they are walking into. Even if Oregon ultimately comes up short, I believe it will hang around late on Saturday and make a game out of it.
Troy Franklin will play a major role
There was a palpable sense confusion and disappointment throughout Autzen Stadium last Saturday when it became apparent that freshman receiver Troy Franklin was not starting for the Ducks, despite being listed at the top of the depth chart. Franklin was MIA all afternoon against Fresno State, and it turns out that was due to a minor injury.
It sounds as through Franklin is fully healthy and will be available against the Buckeyes. If that is the case, he could provide an immediate spark to an Oregon passing game that was lacking rhythm in the season-opener.
Jamal Hill will make an immediate impact
Jamal Hill and DJ James have both been cleared to play for Oregon after missing most of August, and the season-opener, due to an indefinite suspension. Both will need to hit the ground running against an Ohio State receiving corps that is scary good.
Hill in particular could be an x-factor for the Ducks. Whether it is due to the sudden plethora of injuries at inside linebacker, or because the Ducks want to better match up with Ohio State's wideouts. Oregon could be in nickel for much of the afternoon Saturday. Hill has shown a tendency to deliver game-changing moments in big games and will have the chance to do so again Saturday.
Brandon Dorlus will have another big performance
Maybe this isn't much of a bold prediction. Dorlus was sensational against Fresno State — so much so that Pro Football Focus rated him as the top defensive end in the nation for Week 1. There's no reason to believe he won't have another big game Saturday; it seems like he's truly primed for a massive year.
If Thibodeaux isn't able to go, though, Dorlus' performance will be even more significant as the Ducks look to pressure Ohio State quarterback CJ Stroud.
Oregon will go for it on fourth down multiple times — and succeed
This is a more difficult thing to predict, as game situations can vary. But if Oregon is playing from behind early, it will have to start taking some shots in order to stay in the game.
I wouldn't be surprised if Mario Cristobal and Joe Moorhead are willing to roll the dice in order to swing the momentum of the game when those opportunities present themselves — especially with a national audience watching.