After departures of Travis Dye and CJ Verdell, what's next for Oregon's running back room?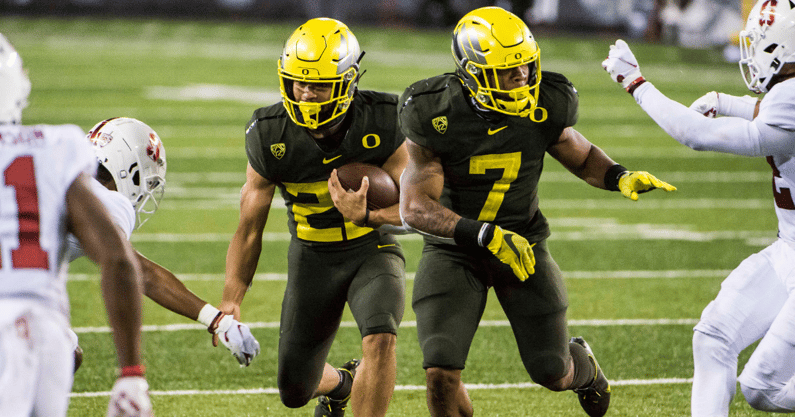 It isn't often that a program loses two of its top-10 all-time rushers in a span of four days.
But such is the case for the Oregon Ducks, who exemplified this week just how quickly a roster can transform in the modern era of college football.
Travis Dye ran for 3,111 yards for the Ducks in four seasons. CJ Verdell ran for 2,929 in the same timespan. The two backs are No. 5 and No. 6, respectively, on Oregon's career rushing list and combined for 59 total touchdowns during their time in Eugene.
But both have played their last game in an Oregon uniform. Verdell declared for the NFL Draft Monday, and Dye transferred to USC last Friday.
The pair of departures leave the Ducks with a noticeable void in their running back room, but also a massive opportunity.
Oregon has some exciting young players in the fold, and now two additional scholarship spots to add reinforcements via the talent-stocked transfer portal, or the 2022 recruiting class.
There are a number of different possibilities for how Oregon could fill out its running back rotation for the 2022 season. Here is a quick glance at where things stand at the moment.
The returners
Oregon's trio of highly-touted backs are going to finally get their chance to shine, it would appear.
Byron Cardwell, Sean Dollars, and Seven McGee are all former 4-star signees who came to Eugene with high expectations but have been buried on the depth chart thus far.
It's a testament to the sheer depth Oregon carried at running last season the Ducks are still in relatively good shape there even after losing Dye, Verdell, Trey Benson, and Cross Patton during the month of January.
Oregon's three returners bring plenty of promise, but also a few question marks.
Cardwell had a bright true freshman campaign and served as the backup to Dye after Verdell went down with a season-ending injury. He finished the year with 417 yards on 61 carries (6.83 yards per carry) and three touchdowns.
At the moment, Cardwell would seem to be the favorite to start at running back for Oregon in Week 1. But it may be a lot to ask of a young player to take the immediate step from situational reserve to workhorse starter.
Dollars ran for 47 yards on eight carries in 2020 but missed the entire 2021 season due to injury. He's another talented ball carrier who seemed destined to become a key contributor when he arrived in Eugene, but it's unclear at this point what kind of player he will be after such a long injury layoff.
Like Cardwell, McGee also had a nice freshman campaign, finishing with 61 rushing yards on 14 carries and 84 yards on seven catches. He also served as Oregon's No. 1 option at punt returner for the final few games.
The biggest question surrounding McGee is if he will stick at running back, or if Dan Lanning and his staff will instead deploy him at slot receiver, where he spent the last part of the season due to Oregon's lack of depth there.
Transfer portal target
As soon as it became apparent Dye was set to leave Oregon, Lanning and his staff went to work recruiting a running back with a similar track record of Pac-12 success.
Former Colorado star Jarek Broussard — the 2020 Pac-12 offensive player of the year — is in the transfer portal and took a visit to Eugene this past weekend.
Broussard was impressed with Eugene, and called his trip "amazing."
At this point, Oregon and Michigan State are in a two-program race to land Broussard. The 5-foot-9, 185-pound Dallas, Texas, native would be a really nice addition for the Ducks.
In 2020, Broussard ran for 895 yards and five touchdowns in just six games during the COVID-shortened season. He averaged 149.1 yards per game and 5.7 yards per carry.
The next season, his production dipped as Colorado's 2019 starter, Alex Fontenot, returned from injury and totaled 98 carries to Broussard's 142.
But Broussard still eclipsed the 100-yard mark in two of the Buffs' final three games despite playing in an offense that was the worst in the conference by a wide margin.
If Broussard does commit to Oregon, it's easy to imagine him returning to his 2020 form, as he would spend his Saturdays running behind an offensive line that is set to return five starters.
2022 targets
After Oregon's mass departure of running backs this month, adding a player from the 2022 class is very much a possibility, and the Ducks are shifting their efforts toward a pair of big-time talents.
Over the weekend, the Ducks hosted Jordan James, a Georgia commit who is the No. 236 player and the No. 16 running in the class of 2022. James has been committed to Georgia since March of last year, and the Bulldogs are heavy favorites to land him at this point.
A more realistic addition for the Ducks is Andrew Paul, the No. 522 overall player who, as Ari Wasserman of The Athletic wrote last week, is the fastest rising prospect in the class of '22.
Oregon is set to host Paul, who also holds offers from Georiga, Clemson, and Notre Dame, among many others.