Could Jamal Hill be an option at linebacker for Oregon? 'Everybody here knows that we want to try guys at multiple positions'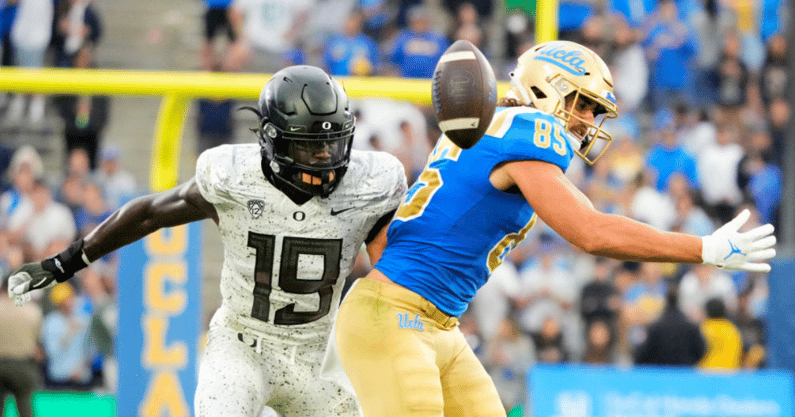 As Oregon continues to look for quality depth at inside linebacker, the Ducks may have an internal solution available to help bolster the position.
Jamal Hill, a senior defensive back who is entering his sixth year with the program, has been repping at linebacker this spring and could potentially make the full-time position switch there, according to Dan Lanning.
"I think position versatility for all our guys — everybody here knows that we want to try guys in multiple positions," Lanning said. "If we can be our best team with Jamal at linebacker we're going to work Jamal in that position. If we think we need him at quarterback, we're going to move him to quarterback. I'm not gonna really give out trade secrets.
"But wherever we can put guys in positions where they can help the team, that's what we're gonna look to do."
Since the end of last season, the Ducks' linebacker group has undergone a significant overhaul.
Former 5-star signees Noah Sewell and Justin Flowe have both departed the program, as has former 3-star signee Jackson LaDuke. As a result, juniors Jeffrey Bassa and Keith Brown are the only returning inside linebackers who saw notable playing time last season.
Bassa's 62 tackles were the second-most on the team last year, and his 647 defensive snaps were the most for any Oregon inside linebacker. Brown played 204 snaps in 11 games and excelled during his first career start in the Ducks' Holiday Bowl win over North Carolina.
In order to bolster the depth in the offseason, Lanning and defensive coordinator Tosh Lupoi added former Iowa standout Jestin Jacobs and former Arizona State reserve Connor Soelle via the transfer portal.
A pair of former 4-star signees from the class of 2022, Devon Jackson and Harrison Taggart, are both back for their respective second seasons and will have an opportunity to fight for playing time between now and the start of next season. The Ducks also added 4-star linebacker Jerry Mixon from the 2023 class.
Even with all that talent, though, Oregon still appears a bit thin on proven talent at inside linebacker.
Hill could prove to be a difference-maker there. Although heights and weights are not listed on Oregon's updated spring roster, he appeared significantly bigger during the Ducks' first spring practice on Thursday than he did at this time last year.
Hill put his versatility on display last season and operated in several different roles. According to Pro Football Focus, he played 260 snaps at free safety, 107 at box safety, and 83 at nickle corner.
But the Ducks have options aplenty at all three of those positions, and Hill's talents might be better utilized in the front seven.
He has always been a physical player with a nose for the ball and played at 6-foot, 211 pounds last season.
Lanning also praised Hill's leadership qualities, which could also be a major asset as the Ducks look to replace the presence of Sewell.
"Jamal Hill, that's a guy on defense that's really stepped up and has shifted and been in different locations," Lanning said. "He's really showed some maturity there."