Dan Lanning provides injury updates following Oregon's first day of fall camp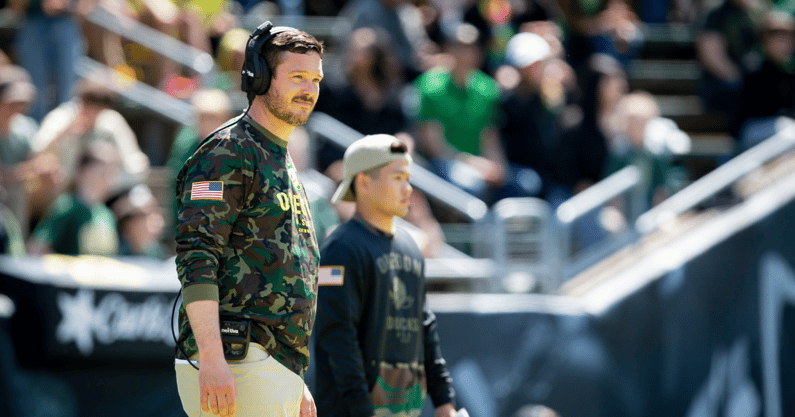 Over the past 12 months, injury reports have rarely brought good news for the Oregon football program.
The Ducks' linebacker, receiver, and defensive back groups were devastated by injuries last year with Kayvon Thibodeaux, Justin Flowe, Bennett Williams, and many others missing significant portions of the season.
During spring ball, Brandon Dorlus, Popo Aumavae, Dontae Manning, and Keyon Ware-Hudson were among the key Oregon players who were sidelined.
As the Ducks begin preseason practice, though, there is relatively little to report on the injury front. The program as a whole is as healthy as it has been in a long, long time.
"We're working — we're gonna play with the guys who are here and available," Oregon head coach Dan Lanning said on Friday. "We have a lot of those right now, which is good. It gives us an opportunity to practice the way we wanna practice.
"Some two-spot drills where instead of having 11-on-11 with guys going against each other where you're getting 22 people better, we have two fields going where you can get 44 people better, and 88 when you start going ones and twos and threes and fours and young guys. So, being healthy is obviously a really big benefit for us to continue to push and be available."
During the portion of Friday's practice that was open to reporters, all-conference offensive lineman T.J. Bass was the only player who was limited during warm-ups. Bass was not wearing a brace and appeared to be moving just fine.
Freshman receiver Justius Lowe went through warmups but was seen riding a stationary bike and pushing a sled once special teams and positional drills began.
During his post-practice media availability, Lanning was asked about the status of Bass and Lowe, and said that neither player's injury is significant.