Ducks' latest depth chart reflects youth movement at receiver; Troy Franklin listed as starter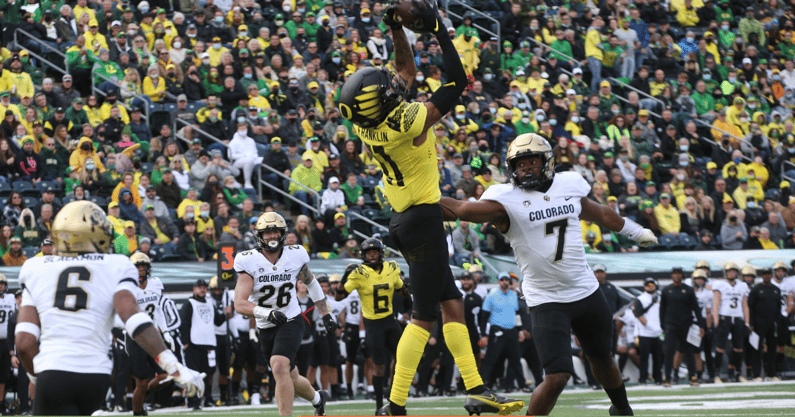 Not many Oregon recruits have generated as much excitement in recent years as true freshman Troy Franklin.
A consensus 4-star receiver and On3's No. 40 overall player in the class of 2021, Fraklin arrived in Eugene last winter and immediately made his presence felt. He was one of the breakout stars of Oregon's preseason camp and seemed to be in line for consistent playing time this fall.
It hasn't exactly worked out that way, though. Through 11 games, Franklin has played just 166 snaps, sixth-most among Oregon receivers. He's been buried on the depth chart behind the Ducks' veterans and hasn't had a chance to break out.
But it sounds as though the Ducks' ultra-talented pass-catcher is about to see a massive uptick in playing time, thanks in large part to his versatility.
On Oregon's latest organizational chart, Franklin is listed as the starter at "Z" receiver. Fellow true freshman Dont'e Thornton is listed behind Franklin with an "or" caveat, and Franklin is also listed as the backup at "X" behind Devon Williams, also with an "or" caveat.
Until this week, Franklin had been listed exclusively as a backup at "X" but hasn't seen the field much because Williams has been the Ducks' most effective receiver during the second half of the season.
During his Monday press conference, Oregon offensive coordinator Joe Moorhead was asked if Franklin has practiced at "Z" and if Oregon's coaching staff is comfortable with playing him there.
Moorhead's response seemed to indicate this move was coming.
"That's something we kind of talked about coming out of the (Utah) game," Moorhead said. "Troy, in terms of his football IQ and his ability to learn, (receivers coach Bryan McClendon) has cross-trained him. He'll be the backup at X, and he'll also get some reps at the Z, whereas Dont'e is more of a strict Z guy.".
During Oregon's loss at Utah, Thornton played 33 total offensive snaps and Franklin played 32.
Moorhead said McClendon has cross-trained both players across multiple positions — which isn't the case for every Oregon receiver.
"Troy is real sharp, he can pick up those positions," Moorhead said. "The skillset matches what we ask both those guys to do. With the number of guys we have, we're gonna have to have guys bouncing around at different positions."
The sweeping changes at Oregon's three receiver spots are a product of recent attrition at the position.
Mycah Pittman announced last week that he has left Oregon's program, and Johnny Johnson III and Jaylon Redd both suffered season-ending injuries.
True freshman running back Seven McGee played some snaps at receiver against the Utes and is now listed as the backup "H" option. He is also still listed as a reserve running back.
Redshirt freshman Spencer Curtis (H) and true freshman Isaiah Brevard (X) are two new additions to the organizational chart. Both have played just four offensive snaps this season.
"(Brevard) wasn't a mid-year enrollee like (Franklin and Thornton) so his learning curve was a little bit steeper throughout the course of fall camp," Moorhead said. "(Isaah Crocker) has done a real nice job in practice the past few weeks.
"Spencer Curtis, he's like a Swiss army knife — he's another guy who you can put in at any position and he's able to function really well… there are other guys behind those who are continuing to work, and get better.
"Whether it's this season, or into next year, I think they'll have a chance to contribute."