Ducks Lose OL Commit: What's Next?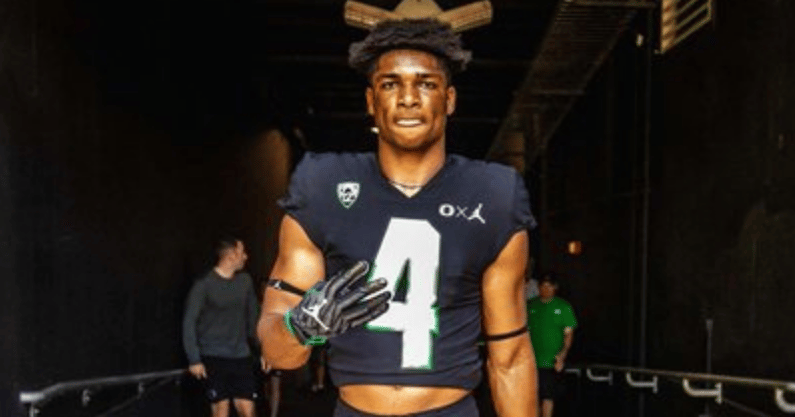 On Tuesday morning Mississippi Gulf Coast C.C. offensive lineman Percy Lewis confirmed most of our suspicions. Lewis decided to back off his verbal commitment that he made back in early March.
Fortunately for Oregon, Mario Cristobal and Alex Mirabal have done a great job recruiting the position group to this point. Of course that is assuming they can hold on to Kelvin Banks and Cam Williams as the local schools keep pushing.
We'll just assume that's the case for now and take a look at some other options. As you'll recall, last week in the Juice I provided my finish line for the 2022 class. Well, now there is one more spot for Oregon to work with.
Does Mario Cristobal go spot for spot here, meaning lose an offensive lineman, add one? Or does he let one of the other position groups use it?
Here's my best guess.
Last week I predicted wide receivers Darrius Clemons and Kevin Coleman would join the flock. Coleman followed his visit to Oregon with a visit to USC. And even though Oregon got blasted by Utah last week, USC got throttled by UCLA in front of Coleman.
I do think Coleman grew up a Duck fan and they have always been his childhood favorite.
I'll stick with the two for now.
The Ducks do need defensive linemen and I had Jeffrey M'ba and Cyrus Moss listed last week. I think Moss is taking a good hard look at Bama and if the Tide decide to take him, I think Oregon should be slightly worried. But I don't think they will.
As for M'ba, he's taking all his visits but the Ducks get the last shot in December. So we'll see how that one plays out.
The last name I listed was defensive back Keionte Scott. And I know Oregon has made a huge push here for him. I think the Ducks are in a great spot and up until now, I figured he'd be the last defensive back Oregon had room for.
But now you have another subtraction and keep in mind I was already keeping a spot open for transfer or a late signing day target. (Reminder: Josh Conerly is a February decision.)
With two spots left, if my predictions hold, Mario Cristobal has a tough choice to make.
There's a number of names on my big board left.
Here's how I see this playing out. You more than likely have a chance to close on defensive back Zeke Berry who continues to climb the rankings. As you'll recall he jumped in the On3 rankings Monday up to No. 59 overall.
His versatility looks like a really good fit for this Oregon defense and he's a West coast kid. Which means you have a better shot at landing and hanging on to him. I would say Oregon makes an even bigger push here than they have been.
Next is the obvious, Josh Conerly. Oregon has never let up on Conerly but I could envision this now becoming priority No. 1 moving forward for Mario Cristobal. The Ducks have had much success with coach Cristobal as the lead recruiter. It won't surprise me to see that be the case here.
Lastly, from the most realistic chances is newly offered athlete Justius Lowe. The in-state star also saw a good leap in the On3 rankings jumping into the On300 at No. 215 overall.
He's got the skillset to play offense or defense which is actually very helpful. If Oregon can't land Scott and/or Berry, Lowe is a great option. If Oregon can't land Coleman and/or Clemons, it's once again very helpful.
Now keep in mind, if you fill up, you have no room for what is going to be a very active transfer market. With Washington and USC looking for head coaches, expect some attrition. LSU DB Elias Ricks is already in the portal and looking to come back West.
And this is just the start. The portal will be as active as it has ever been.
Mario Cristobal might not want to cost himself at a great player loading up on 2022 signees. Of course if that means he's landing Conerly or other high-ranked players, he might not care. But that's a great problem to have.
And of course there's still Nyjalik Kelly whom Oregon looks good for but we'll have to see how the next few weeks go.