Oregon Ducks surge to No. 3 in ESPN power rankings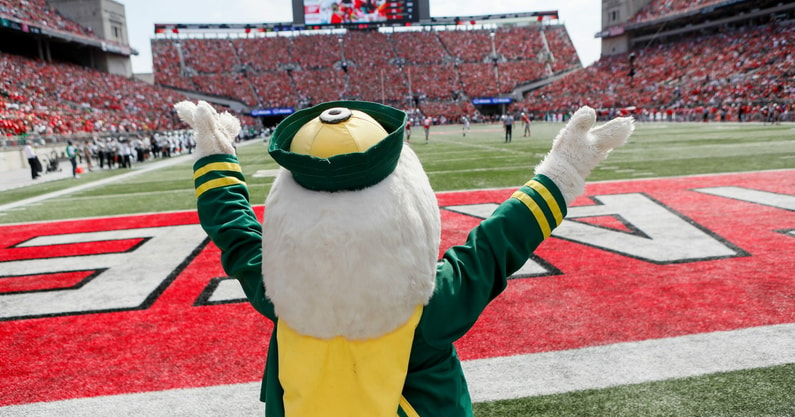 Oregon's statement victory at the Shoe over the weekend gave it a substantial boost in both the AP and coaches polls. After sitting outside the top-10 in the previous week, the Ducks landed at No. 4 in both polls and cracked the top-five for the first time since 2019.
According to ESPN, Oregon's stock is even higher than that.
The outlet released its weekly power rankings Sunday and tabbed the Ducks as the No. 3 team in the nation.
"The Ducks beat Ohio State for the first time in school history, and left no doubt they were the better team — even without star defensive players Justin Flowe and Kayvon Thibodeaux, who were sidelined with injuries," ESPN's Heather Dinich wrote.
"Oregon racked up 269 rushing yards and three touchdowns on 38 attempts and finished with 505 yards of total offense. Oregon's ability to sustain drives — including a 99-yard touchdown drive in the first quarter — wore out Ohio State's defense."
It's lofty praise for the Ducks. After Clemson lost in Week 1, it felt as though it would be difficult for any team to climb past Alabama, Georgia or Oklahoma without any of the three losing first.
But Oregon's performance In Columbus has quickly swung the national perception of the Ducks. They leapfrogged Oklahoma in the rankings, even after the Sooners put a 76-0 beatdown on FCS opponent Western Carolina in Week 2.
Ducks carrying conference
While ESPN's Football Power Index is slightly less bullish on the Ducks — they came in at No. 7 there — it's still encouraging to see that the national opinion of Oregon is reflective of what it accomplished in Columbus.
It's worth noting that the ESPN power rankings tabbed UCLA at No. 13 and Arizona State at No. 22. The Pac-12's reputation has taken a hit early in the season after the North teams imploded in unison in Week 1, and Utah and USC both suffered losses in Week 2.
It's still more than a month away, but the Oct. 23 showdown between Oregon and UCLA will be a marquee matchup if both teams stay the course.