How will Oregon's stout run defense hold up against UCLA star Zach Charbonnet?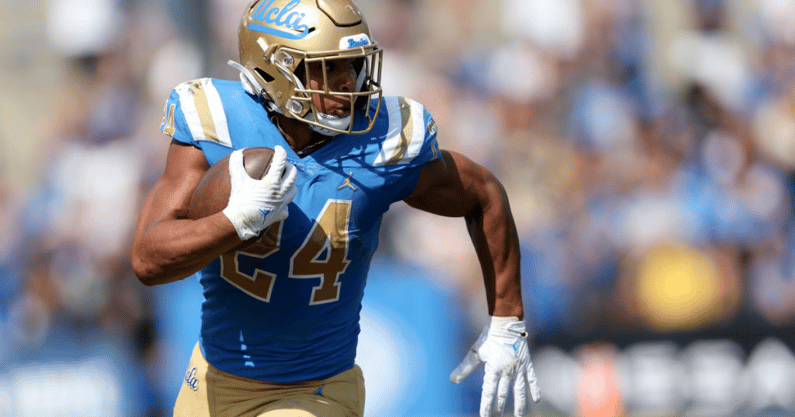 Through the first six games of the season, Oregon's run defense has been one of the best in the nation.
The Ducks have surrendered just 98 rushing yards per game, which ranks 13th in the nation.
However, they also haven't faced a running back like the one they will see on Saturday.
UCLA's Zach Charbonnet is one of the most productive backs in college football. The 6-foot-1, 220-pound senior has run for 615 yards and six touchdowns in 2022. The Athletic has tabbed him as a midseason second-team All-American, and a handful of NFL Draft experts have him projected as a day-two pick in next year's draft.
"That's probably the best running back, I would think, that we've seen this year," Oregon defensive back Bennett Williams said. "He can do it all."
On Saturday, an unstoppable force will meet an immovable object as Oregon's stout run defense aims to slow down Charbonnet.
If they can find a way to accomplish that, they will be the first team to do it this season.
Charbonnet has run for at least 100 yards in five of UCLA's six games this season. The only exception came in the Bruins' win over South Alabama when he was held to 78 yards. But even then, Charbonnet still averaged 6.0 yards per carry and caught three passes for 51 yards.
A former 4-star recruit who was the No. 42 overall prospect in the class of 2019, Charbonnet started nine games in two seasons for Michigan before transferring to UCLA ahead of the 2021 campaign. As talented as he is, UCLA's offensive scheme is part of what makes Charbonnet so effective.
"Sometimes you speak about great offensive nowadays, they don't run the ball," Oregon coach Dan Lanning said on Monday. "(UCLA) is a team that runs the ball — they run the ball really well. They'll scheme runs where they'll gain extra hats based off pullers and leverage and numbers counts. That's something they do a good job of. It's not just fast real fast; they mix the tempo.
"So we certainly have a sense going against that each day against our offense, but it's not necessarily the same. There are some slight differences."
Oregon's defense has been much-improved tackling since the start of the season and seems to have shored up some of the issues that plagued it in the season-opening loss to Georiga.
But that, too, will be tested against Charbonnet. His blend of size and speed is rare, and his 7.1 yards-per-carry rank second among Pac-12 running backs behind Oregon's Bucky Irving.
"It's gonna challenge our tackling," Williams said. "We've done really well stopping the run in the box so far, but this is a big test. The guys up front are going to have to rally to the tackle. It might not be the first guy who gets him down — we're going to have to have everybody running to the ball."