Jhop's Spring Preseason Pac-12 Projections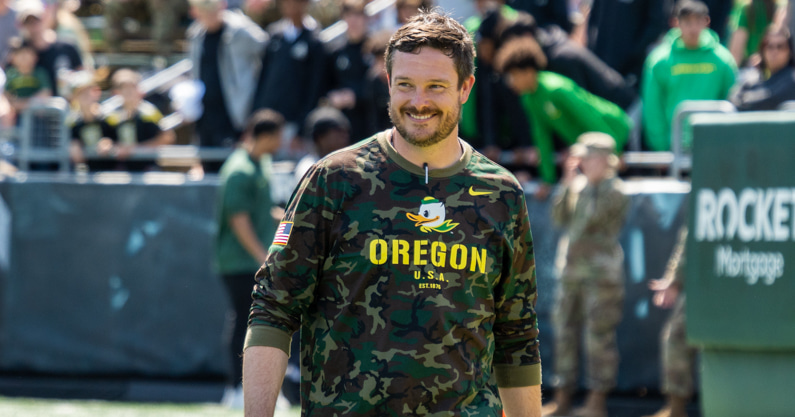 Well everyone else is doing one so why shouldn't I? So here goes.
With Spring now coming to a close, we might have a few more answers about where teams look good and don't. Everyone in the Pac-12 has question marks. There is no dominant no-brainer in the conference. And unlike most years, I do find myself a bit worried about the overall state of the conference headed into 2022.
The Pac-12 isn't bad, however it has gone from being a debatable 'second best conference' in my mind to being a debatable 'third best conference.' Obviously, the SEC remains the gold standard.
And believe me, I'm a Pac-12 homer. I'm usually on a pedestal boasting the conference. But there is some work to be done.
With that out of the way. Here are my Spring thoughts on the conference, who finishes where and the eventual champion.
Pac-12 South
Utah – Every list should begin with the Utes. Not because they won last year, well sort of. Sure they had some departures but not many. They will be good again. And if I'm not mistaken, virtually zero coaching changeovers. Their starting quarterback returns as do a lot of the talent on the line of scrimmage. They'll be good. They are the team to beat.
USC – Easily the second best team in the conference on paper from a talent standpoint. At the skill positions alone, they are a mile ahead of everyone else in the conference save Oregon. (Still ahead of Oregon, just not by a huge margin) Everyone is excited to see Lincoln Riley and his quarterback-friendly offense in L.A. Still, the line of scrimmage and defense are going to be a problem for the Trojans this season.
UCLA – Chip missed his window. He had USC at its worst for the last few years and failed to capitalize. Neither on the field or in recruiting. The USC South, in my opinion, has the top two and then a mess behind them, including UCLA. Chip should be able to feast on the rest and might even give Lincoln Riley troubles. But I don't think he has the firepower to win it all.
Arizona – Sure call me crazy, but I think Jedd Fisch has done just about everything to upgrade this teams talent he can do. Minus living (and ultimately dying) through the transfer portal. The team plays a more consistent brand of football now and seems to be going the right direction. They aren't there yet, but like OSU a couple years back, they are going the right direction.
ASU – I don't see the ASU love others do. The 17/2 odds that just came out reminds me how little folks pay attention to the conference outside of the conference. Ironically, Vegas is in the footprint. In any event, too many talent losses, a black cloud hanging over, and the coaching changeover will make Herm's last year his worst.
Colorado – Show us a sign of life Buffs. They've had moments but since Mel Tucker left for Michigan State, they've trended the wrong direction. Can they win a game is really the biggest question I have for them?
Pac-12 North
Oregon – I'm a Duck homer so of course I have to list the Ducks at No. 1. But seriously, they have the talent on paper and I do believe in this coaching staff. They will need to win some tough games this season and obviously we'll have an idea about this team week 1 in Atlanta. I don't think Oregon is dominant enough to smoke the conference, but they should win out.
Washington State – They will be tough. Really this will be the team nobody wants to face. They'll be physical and multi-dimensional on offense. By no means is this the team that will smoke the conference. But they will play a lot of close games and they'll need to come out on the right side to get there.
Washington – Well the Apple Cup should be fun this year. I think UW and WSU will be battling it out just behind Oregon. And while the Huskies have lost a lot of talent, they upgraded where it matters most, coaching. I know recruiting isn't going well but Deboer is a really good coach. He'll have them ready on game-day.
Oregon State – Continuing to trend the right direction under Jonathan Smith. But not there yet. And really that's a testament to how hard it is to climb back in college football for non blue bloods. Like Wazzu, OSU will be the team nobody really wants to face. They'll be tough and will have a surprise or two win this season.
Stanford – Can David Shaw get back to his old glory days? We all know there is a great coach there with a strong staff. Recruiting has fallen off a cliff under Shaw and that is haunting them at the moment. This also isn't a school you can just 'transfer into.' I think Stanford will have yet another tough season.
Cal – Justin Wilcox wants out of Cal. The COVID restrictions last year made this one of college football's most challenging jobs. That isn't lost on me. But when a coach wants out, it can go one of two ways. Really good or really bad. They push hard to win and get a new job or their hearts not in it and games are lost. Which Cal will we get this season?
Pac-12 Champs: Utah
For whatever reason I think folks are sleeping on Utah and I can't figure out why. They'll be good again. Will they dominate? No. But they will likely have an answer for USC, pushing them around at the LOS on both sides of the ball. And should they face Oregon, they will be tough. Not to mention Whittingham loves to beat the Ducks.
I'll probably catch some heat for picking Utah as I run an Oregon site, but I think the Utes are the team to beat and Oregon has a couple of holes they need sorted out by September.