Kayvon Thibodeaux still 'day-to-day' with ankle injury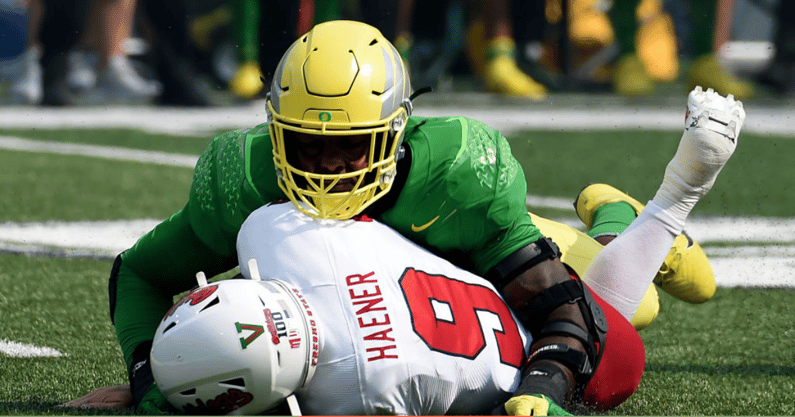 On Wednesday, Oregon coach Mario Cristobal held his last press conference in the lead up to the Ducks' massive showdown with Ohio State in Columbus Saturday.
During it, he did not provide any new details on the injury status of star edge rusher Kayvon Thibodeaux.
"Still day-by-day," Cristobal said when asked of Thibodeaux's status. "Trying to get there. Not there yet, but hoping that we will be."
Thibodeaux, who left Oregon's season-opener with an ankle injury last weekend, could play a decisive role in the matchup with the Buckeyes if he is able to take the field.
Cristobal said earlier this week that if Thibodeaux, or any player, is not able to practice during the week, they will not be able to play in a game. Cristobal was asked if Thibodeaux has been able to get any work done at practice during the week, but did not provide much in the way of details.
"We'll see. It's still early in the week," Cristobal said. "We're doing some things, just not doing a whole bunch. We're being — I wouldn't say cautious, but cautious.
"We're just doing the right thing to make sure that as we heal, we're doing it at the right pace so that we can be available as soon as possible."
For the short period that he was available to play against Fresno State, Thibodeaux displayed just how important he is to Oregon's defense. In the first quarter, he put a massive hit on Fresno State quarterback Jake Haener to force a fumble that the Ducks recovered and eventually turned into a touchdown.
He provided a constant threat on the edge every time Haener dropped back. Once Thibodeaux left the game, though, the Bulldog's offense began to click.
Thibodeaux, a sophomore, is a consensus preseason All-American and a projected top pick for the 2022 NFL Draft.