Kenny Dillingham provides details on Oregon's rushing attack; "the more running backs you have, the better"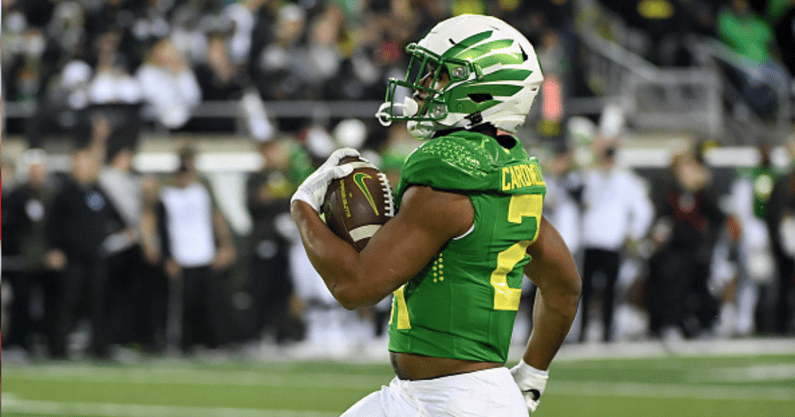 Oregon's running back room features as much talent from top to bottom as any Ducks' team has in recent memory.
The program is in the process of replacing two of the most productive ball carriers in school history in CJ Verdell in Travis Dye. But don't expect there to be a dropoff when it comes to production.
In Byron Cardwell, Sean Dollars, Noah Whittington, and Mar'Keise Irving, Oregon features four backs who have all found various levels of success at the college level early in their respective careers. According to the On3 Consensus, Cardwell, Dollars, and Irving were all 4-star recruits, and Whittington was a 3-star who led Western Kentucky in rushing as a second-year freshman in 2021.
If those four players didn't provide Oregon with enough options, the Ducks have also added true freshman Jordan James, a highly-coveted 4-star signee who held offers from Alabama and Georiga, among many others.
It's obviously a luxury to have a stable of running backs that deep, but will there be enough touches to go around this season?
"It's not about total touches for me, it's about yards per carry and explosive plays," Oregon offensive coordinator Kenny Dillingham said on Monday. "We wanna keep guys fresh, that way at the end of the game we have fresh legs. So, the more running backs you have, the better."
There is certainly precedent for multiple running backs thriving in a Dillingham offense. When he was the offensive coordinator at Memphis in 2018, the Tigers ranked fourth nationally in rushing yards per game. Darrell Henderson was an All-American that year and racked up 1,909 yards 22 touchdowns on the ground.
But Patrick Taylor Jr. and Tony Pollard also tallied more than 1,000 yards of total offense.
"I mean, we've used five before," Dillingham said when asked how many running backs he realistically plans to use. "We've had four before all be impact players for us; three who have gone over 1,000 yards of total offense at one point. Not saying that's gonna happen, but I'm saying we're gonna use whatever we've got, whatever our talent is.
"That way we're fresh in the fourth quarter."
During the portions of practice that have been open to media, there haven't been many moments that would indicate any sort of depth chart hierarchy at running back so far. That could change in the coming days as players progress to practicing in full pads.
At this point, Cardwell is believed to be the frontrunner for the starting job. As a true freshman in 2021, he ran for 417 yards and three touchdowns on 61 carries while serving as Dye's backup.
But he and the rest of Oregon's backs all bring something unique to the table, and as Dillingham said, the entire group could undoubtedly benefit from constantly rotating and staying fresh.
"It's this big energy; everybody wants each other to do well," Cardwell said during Oregon's media day. "I feel like that's where it makes it a lot more enjoyable. We're in practice, just coaching each other up, talking about making this move, making that move.
"It's really just everybody working as one to achieve our goal."